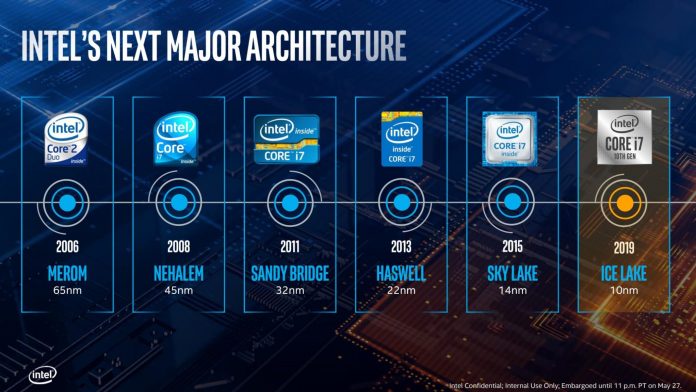 Intel usually introduces a new architecture for the processor every two years. The latest architecture has been delayed for four years because of the fabrication problem of 10 nm. In the Computex 2019 event in Taiwan this week, Intel finally inaugurated the Sunny Cove 10nm architecture in the 10th Generation Core processor which was previously known as the Ice Lake name code. One increase in Ice Lake compared to Sky Lake processors before the instruction per cycle was 18 per cent higher. For applications, the resulting performance is claimed to be 30-40 per cent higher. Together with the 10th generation Core processor, Intel also announced the Gen11 graphics engine which is called having 2x higher performance than the previous generation.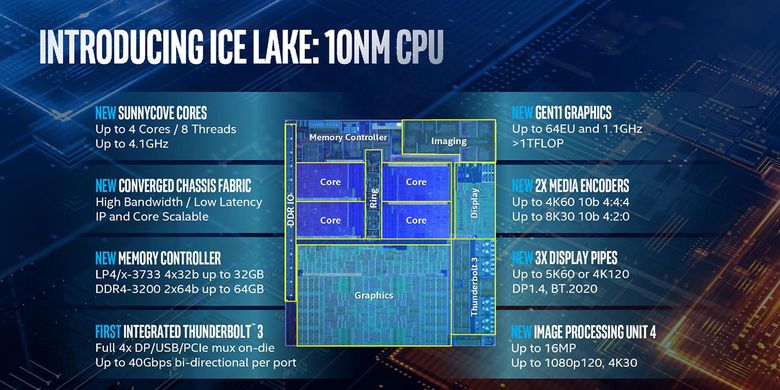 Other enhancements include the support of 4 Thunderbolt 3 connectors, each of which is claimed to have 4x USB 3 speeds, DDR4-3200 or 4×32 LPDDR4X-3733 memory, and the latest Wi-Fi 6 standard. The types of Ice Lake processors themselves have not been announced but will consist of Core i3, i5, and i7 series like their predecessor.
Also Read: ASUS Announces ZenBook Pro Duo (UX581) with Revolutionary ScreenPad Plus
The Ice Lake processor is intended for laptops and other portable devices that emphasize thin sizes. It is likely that there will be Y and U series variants that save power with 9-watt TDP, 15 watts and 25 watts. Between four and four CPU cores (with eight threads) can be embedded in the Ice Lake processor, the following L3 cache is up to 8MB. Meanwhile, the turbo boost speed can reach a range of 4.1 GHz.