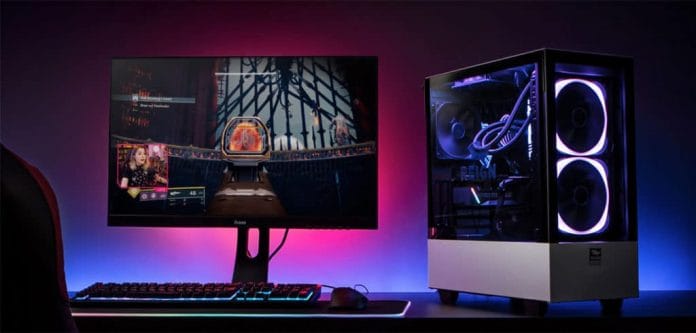 Novatech Ltd, specialist providers of high-end Gaming PCs, Workstations and Servers, has just launched three new Gaming PC's equipped with the latest NVIDIA 3080 Graphics Cards.
Novatech's Reign Paladin MKI, a 'workstation that meets a Gaming PC', the Reign Paladin MKI is designed for 1440p, 4K Gaming & Content Creation. Novatech are offering the option for gamers to build their own dream rig, using the base option of either an Intel or AMD machine and completely design a custom PC from scratch.
The two additional new Gaming PCs, Elite Panther and Elite Python are equipped with the brand new state of the art GeForce RTX 30 series GPUs to deliver the ultimate performance for gamers and creators. They're powered by Ampere-NVIDIAs 2nd gen RTX architecture-with new RT Cores, Tensor Cores, and streaming multiprocessors for the most realistic ray-traced graphics and cutting-edge AI features. Novatech's Elite Gaming PCs are complete machines for easy use, beautifully simple yet engineered for high performance.
Novatech's Elite Panther is quietly powerful, harnessing the raw processing capabilities of the Ryzen 9 3900X and GeForce RTX 3080 to tear through gaming along with photo and video editing, streaming anything else you want to throw at it! The Panther is illuminated by subtly RGB and housed in the sleep BeQuiet Pure 500, ideal for gamers and streamers alike.
Also Read: GeForce RTX 3080 Now Available for ORIGIN PC Desktops
Also Read: TCL QLED Android TV and RAY•DANZ Soundbar Win Two EISA Awards for Best Buy TV and Best Buy Soundbar 2020-2021(Opens in a new browser tab)
The Elite Python is designed for frame crushing performance, using the latest and greatest hardware offerings from Intel and NVIDIA, creating the pinnacle of gaming performance. Squeezing every last frame out of your game, no matter how big or tough it might be has never been easier. The Python is ready and waiting for you.
Elite Panther Specifications:
●        AMD Ryzen 9 3900X Processor
●        16GB RGB Memory
●        Brand new NVIDIA RTX 3080 GPU
●        2TB Hard drive
●        500GB NVME SSD
Elite Python Specifications:
●        Intel i9 Processor, 10th Generation CPU
●        16GB RGB Memory
●        Brand new NVIDIA RTX 3080 GPU
●        2TB Hard drive
●        500GB NVME SSD