Gadgets
AQUOX Launches Fruit & Vegetable Purifier + Surface Disinfectant + Sanitizer at 5,999 INR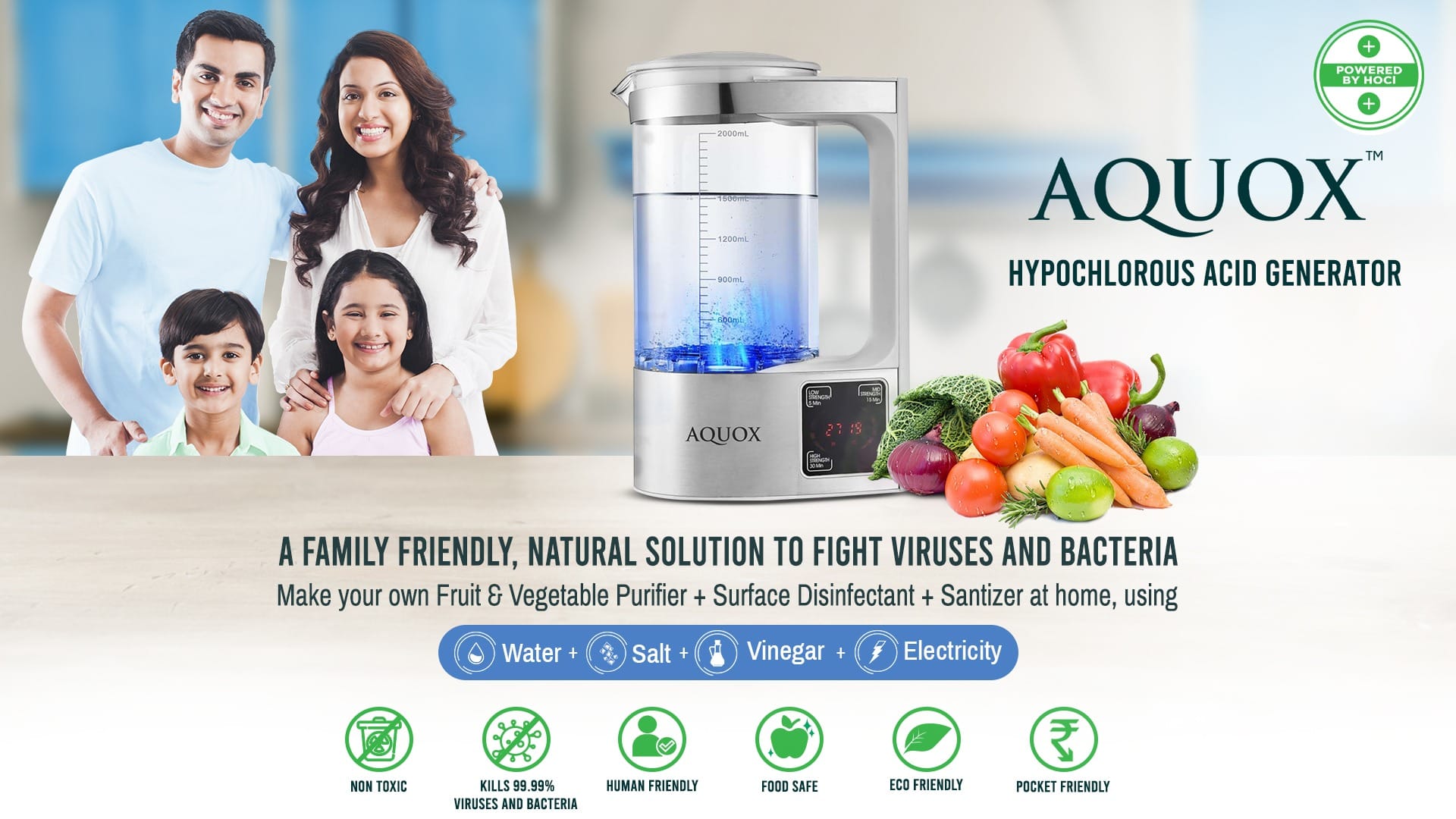 The COVID-19 outbreak has changed the way we live and operate. We all probably knew that most of the fruits and vegetables that we purchase from the market come coated with harmful contaminants like residual pesticides, and other infectious agents, Sanitising the fruits, vegetables, meat and seafood products have been crucial even before the spread of COVID-19 but the pandemic has forced us to get more serious about sanitising what we are bringing home to consume.
Solving the problem, AQUOX has introduced anatural, food-safe and chemical-free all-in-one fruit and vegetable purifier + surface disinfectant + sanitizer + sterilizer + deodorizer + degreaser, which is easy to make at home using Tap Water + Table Salt + Vinegar + Electricity in just 5 minutes.
The AQUOX AQ-DG 2000 effectively cleans and sterilizes fruits, vegetables, meat & seafood. Kills 99.99% bacteria, virus, pesticides and antibiotics from the surface of the food items and keeps them fresh for a longer period, thereby increasing their shelf life and making their consumption safe and healthy. Tested in Indian NABL Certified Lab for Biocode Efficacy that has been proven to effectively eliminating 99.99% of all pathogens as well as removing residual pesticides, microbes, fungi, yeast and molds.
Being 80 times stronger than conventional bleach based disinfection & cleaning products, AQUOX is clearly the multi-purpose solution that we need during these current times and for the future. It can be used across wide range of application to disinfect and sanitize food items, all kind of surfaces, floor, furniture, metal, glass, bathrooms, kitchenware, appliances, baby & pet products, toys, clothes, gadgets, personal care items, cars & more. Use AQUOX as a Hand Sanitizer, Deodorizer and air purifier to remove bad odour from bathrooms, cars, pet smell etc. AQUOX also acts as fast sterilizer and strong Degreaser to remove hard oil stains, grease and dirt from stoves, oven car engine & more.
Being 100% natural, non-toxic, chemical-free & alcohol-free, AQUOX is completely human-friendly, food-safe, kid-friendly, pet-friendly, non-corrosive and environment-friendly in nature.
AQUOX Generator runs on the globally popular HOCl technology used in healthcare, food processing, water treatment, baby products, sanitisation & industrial spaces. The 2-litre generator powers through an electrochemical activation process by converting normal tap water + salt + vinegar into electrolyzed water using electricity, which during the process changes the chemical compound of the solution to produce HYPOCHLOROUS ACID, the same germ-killer human body's immune system naturally produces.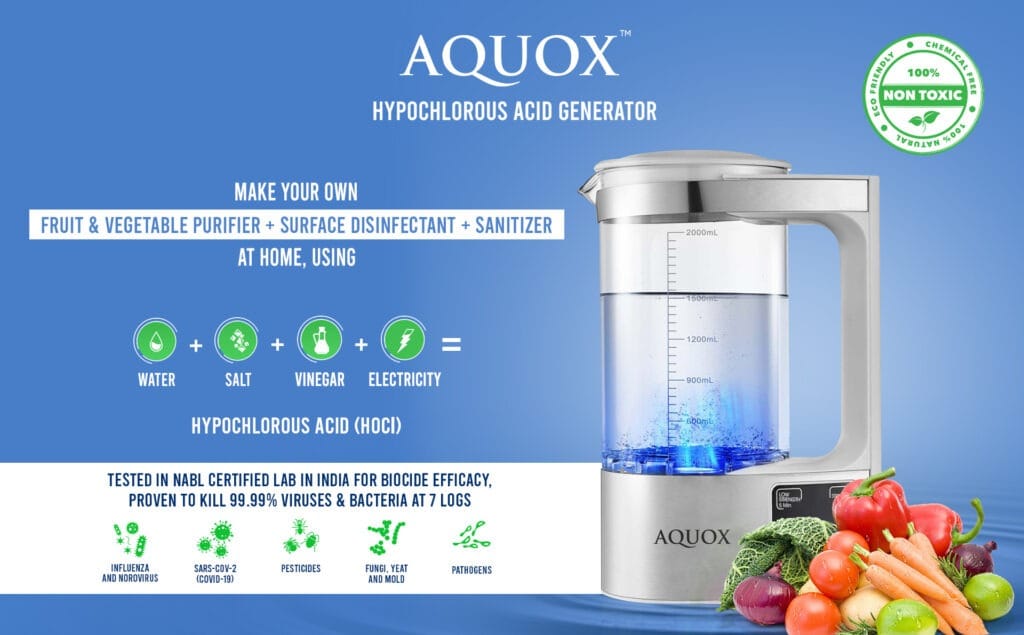 So, how do these generators transform tap water into a chemical-free purifying solution?
The magic of Hypochlorous acid-based electrolyzed water can be created in just 3 steps within 5 mins at home.
Pour normal tap water in AQUOX
Add table salt
Add vinegar
Power on the electricity to produce a powerful biocide that immediately eliminates any bacteria or virus once it comes in contact, within less than 30 seconds.
Backed by Research & Clinical studies
HYPOCHLOROUS ACID (HOCl) is an approved, natural disinfectant by WHO, USFDA, US EPA, EU ECHA and other statutory bodies worldwide and has been backed by various research and clinical studies. It has also been proven to be in in the list of disinfectants that can be used against SARS-CoV-2 (covid-19) virus, Influenza, HIV, HERPES and is also effective in killing bacteria, pathogens, germs, microorganisms, pesticides, yeast, mold, fungi, influenza & Noroviruses.
AQUOX is using the same technology to produce HOCl through its generators and offer a natural shield against deadly bacteria & viruses.
AQUOX is a one-time investment that saves money and time and can be used lifetime. Priced at Rs. 5,999 on Amazon.in, the ease of making the solution is highly superior and safe from the comfort of homes. This makes AQUOX AQ-DG-2000 a cost-effective and earth-friendly alternative to traditional, chemical based cleaning products and toxic disinfectants which are heavy on your pocket.
AQUOX Kit comes with accessories worth Rs. 2000/-, which includes a Generator, Measuring Cup, Stirrer, Measuring Spoon set, Efficacy testing kit and trigger spray bottles of 500ml, 300ml and 100ml.