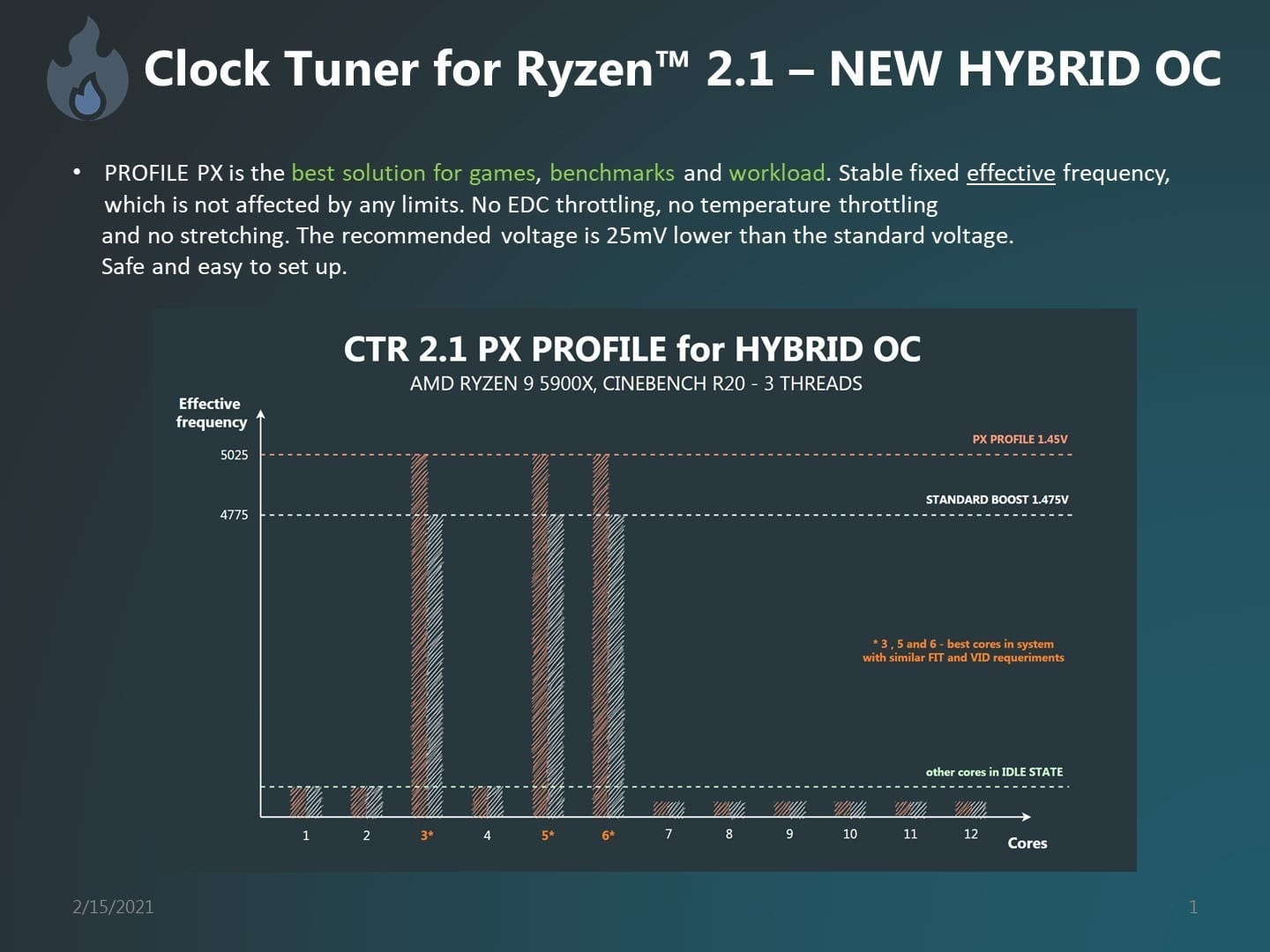 Software maker Yuri Bubliy (1usmus on Twitter) also revealed a roadmap with the introduction of its ClockTuner 2.0 software at the end of last year, which made it clear that there are more updates to come. Bubliy has now made ClockTuner 2.1 available through its beta program for Patreons.
This makes it possible to get some of the cores of a Ryzen 9 5900X at a clock speed of 5.025 GHz, while the vcore voltage is even slightly lower.
Also Read: HyperX Sets DDR4 Overclocking World Record at 5902MHz
We are of course no stranger to overclocking, but ClockTuner is rather an optimization tool that makes overclocking one of the possibilities. It makes the processor work more efficiently. One of the improvements is in the hybrid overclocking function and is called 'PX Profile'.
Bubliy has got the fastest threads of a Ryzen 9 5900X at 5.025 stable, while the vcore voltage has dropped from 1.475 volts to 1.450 volts. Of course, there is no guarantee that the other CPUs will also run at these clock speeds that depend on the quality of the chips. The remaining threads run at slower speeds for stability reasons. The diagnostic program must be 30% shorter with CTR 2.1 without compromising the accuracy of the measurements.
Furthermore, stability improvements have been made. The P1 Profile now has a higher priority than the P2 Profile, so the software in workloads is less likely to accidentally switch between the two stages. It is also possible to lock the profile of your choice and you can see which profile is active using the rocket icon. Furthermore, a system has been added that monitors the sensors for temperature, clock speed and voltage for activity.
The software is now in beta and will therefore only be available for download by joining 1usmus' Patreon program, it is not yet known when version 2.1 will be available to all users.