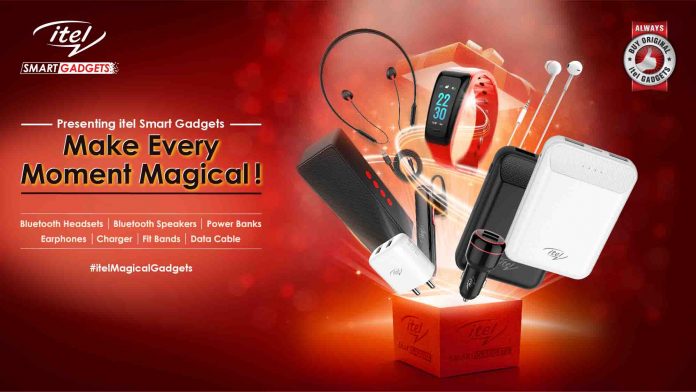 itel mobile forays into the accessories segment by announcing the launch of 'itel Smart Gadgets' to enhance and provide a superior mobile experience to its users. itel 'Smart Gadgets' is built on the brand positioning of 'Make Every Moment Magical' for consumers by harping on the relevance, that it would make their day to day life complete without any interruptions. The portfolio of itel smart gadgets aims to fuel the aspirations of both aspirers and minimalist set of consumers by providing them with trendy and quality technology at an affordable bracket of price.
The portfolio boasts of 14 brand new and exciting gadgets ranging from power, audio, speaker and fit band in an attractive price range of INR 100 to INR 1999. Designed to enhance the smartphone experience of its consumers, the product range offers a complete mobile solution to users which incorporate a wide range of technology and features.
While developing the product, itel has ensured that each product is quality-driven, light weighted, highly portable and equipped with best in class specifications which helps in empowering users to live life on their terms and at their own pace. itel smart gadgets range will be available in attractive color variants and will go on sale across offline stores starting today.
itel smart gadgets range consists of 14 new products under 4 categories including power bank, phone charger, car charger, data cable, phone battery, wired earphone, Bluetooth earphone, wireless earphones, wired speaker, Bluetooth speaker and Fit Band. Let's have a quick look at a few key products category wise:
1) Itel Power Bank
itel IPP-52 | 10000mAh Super Slim pocket size Power Bank
itel IPP-52 boasts of the ultra-slim and stylishly designed body along with multi-protection safety system to avoid any phone damage. Providing a massive capacity of 10000mAh, it allows 2.1A fast charging to support your devices throughout the day. This lithium polymer battery cell enabled power bank, comes with dual output with itel's high speed charging technology, which enables users to charge two devices simultaneously. This portable power gadget can be fully charged at a fast speed in 4.5- 5 hrs and can be carried anywhere.
itel ICC-11 Car Charger | 3.4A Fast Charging for Two
itel car charger comes with dual USB ports that are designed to provide appropriate power to each connected device. itel's assurance of best quality, charger's compact design, multi-layered protection and its compatibility with most cars in the market make it a must-buy for your cars. It detects optimum charging protocols and delivers total 3.4A full speed charging to your devices. A perfect companion on the go! 
Also Read: Make your mother more tech savvy on this Mother's Day with itel A25
2) itel Fitbands
itel IFB- 11
itel Fitband comes with HD color screen and 20 days long-lasting battery life. itel fitness tracker is a must-have when it comes to keeping a daily check on your calorie counts, footsteps, keeps a track of your sleeping time, etc. It's your perfect partner to your workout, swimming and jogging sessions with IP67 splash resistant technology. itel Fitband helps you with notification alerts of calls, messages and WhatsApp.
3) itel Speakers
itel IBS-10 Powerful Sound
The itel Bluetooth speaker is compact, portable and provides unmatched experience to the listener. It contains dual speaker of 5W each within 1 unit thus making output as 10W and comes with stereo stabilization and 1500mAh battery which makes it your perfect partner to turn any place into a music station or a disco. The wireless speaker also supports Bluetooth 5.0 along with music playtime of 6 hours. It comes along with three options so that you can listen to your favourite music anytime and anywhere—Aux connectivity, T-Card support along with Wireless FM. This will soon hit the market.
4) itel Earphones
Bluetooth Earphones| BT Necklace (IEB-62)
BT Necklace is attractive Bluetooth earphones that are ergonomically designed, sweatproof and houses a precision-engineered with less than 20gm weight combines with the best quality BT Chip and In- line remote and microphone that redefines the audio experience for the music lovers. These earphones have flexible around-the-neck design & have magnetic buds and produce uber sound quality with extreme bass and big sound that ensures long-lasting comfort. The Necklace earphones exhibit a standby of 120 ours and its battery provides a talk time of up to 6 hours and music playtime of 5 hours continuously.
Service Proposition
itel is offering a 12 months' warranty for its accessory portfolio, ranging from power banks, chargers, fit bands to Bluetooth headsets and speakers. The brand is also offering a 6 months' warranty for other accessories in the portfolio which includes batteries, earphones, USB cables.