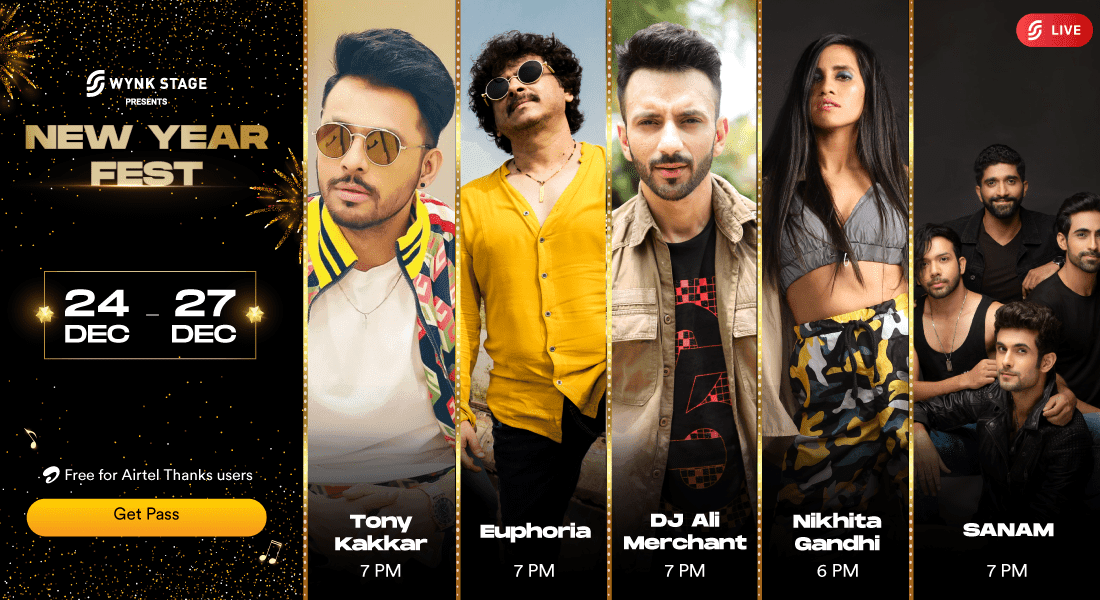 Following the huge success of its innovative Navratri and Diwali online concerts, Wynk Music – India's #1 music streaming app – has decided to host an exclusive New Year Fest from December 24-27 with LIVE performances by Tony Kakkar, Euphoria, DJ Ali Merchant, Nikhita Gandhi and Sanam.
All those interested can join these amazing artists from the safety of their homes as they deliver power packed LIVE performances on Wynk Stage to welcome 2021 in style. Wynk Stage's interactive UX will also allow all users to post messages and song requests, and interact with the artists in real-time.
Wynk stage is available to everyone, even those who do not otherwise subscribe to Airtel. All those interested can download Wynk Music (iOS, Android) to get started; a one-month subscription of Rs 29 to Wynk Premium will provide access to all the concerts spread across the four days.. All Airtel Thanks and Wynk Music Premium customers will get FREE access to these online concerts. In addition to tablets and smartphones, the New Year Fest can also be accessed on the web (for PC) at www.wynkmusic.in. 
Wynk Stage's New Year Fest Calendar
· 24th December 2020 @ 7 pm: Tony Kakkar
· 25th December 2020 @ 7 pm: Euphoria
· 26th December 2020 @ 7 pm: DJ Ali Merchant
· 27th December 2020 @ 6:00 pm: Nikhita Gandhi
· 27th December 2020 @ 7 pm: Sanam
Thus far, Wynk Stage, which uses advanced digital technologies to deliver seamless LIVE online events, has empowered 40+ musicians to showcase their skills digitally through a seamless journey. To entertain people during tough times, Wynk Music has lined up a series of online events that will be broadcast over the next 6 months and will provide local artists with a platform from which they can showcase their talents.