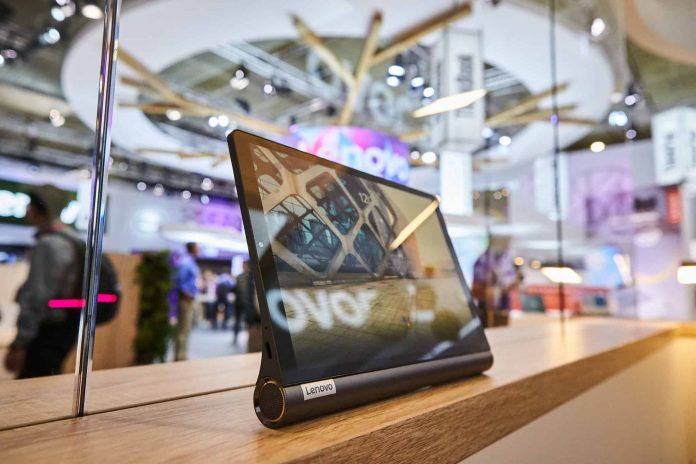 Lenovo unveiled an array of new smarter home, laptop, AR and mobile devices, designed to provide 'Smarter Technology for All'. Smart is used to signify innovation, breaking the rules and pushing boundaries but instead has become a byword for connectivity. As a result, Lenovo is focused on an ongoing vision and commitment to develop technologies that are not only smarter, but are available, accessible and benefit everyone. As a global technology leader Lenovo believes its duty is to develop world-changing technologies that can create a more inclusive, trustworthy and sustainable digital society – for everyone, everywhere.
Lenovo Goes All in on AI with Smarter Yoga PCs
Premium Yoga PCs from Lenovo are known for their computing power, first-rate craftsmanship, and immersive entertainment. When the undisputed world leader in PCs collaborates with trailblazing industry partners to deliver smarter technology faster to more consumers—meaningful innovation follows.
Lenovo Yoga C940
The 14-inch Lenovo Yoga C940 is the new 2-in-1 convertible laptop redefining smarter performance and design with its all-metal chassis and clever built-in features, like TrueBlock Privacy shutter, Windows Hello biometric authentication, and garaged pen with silo charging and Windows Ink. Enable Lenovo's exclusive Q-Control2 by pressing Function-Q to shift into Intelligent Cooling Mode for your PC to auto-adjust performance and optimize battery life based on tasks. There is an improved battery life of up to 17.5 hours6 in FHD, and up to 10.5 hours6 with a UHD display.
With the device lid open, Alexa replies instantly from across the room, providing pop-up notifications even when the screen is locked. The 10th Gen Intel Core i7 processor dynamically upscales video content on Windows Media Player to Super Resolution for a crisper image on an optional 4K HDR display. This flagship device supports fast Wi-Fi 6 and comes with a Dolby Vision® enabled9 display and a redesigned Rotating Sound Bar with Dolby Atmos® Speaker System for immersive audio in every usage mode. An engraved camera notch makes 14-inch Yoga C940's twice-polished aluminum lid easier to open, available in Iron Grey or Mica.
Lenovo Yoga S740
The Lenovo Yoga S740 is designed to help people save time for daily convenience. Seriously sleek with an all-aluminum body and color-matched keyboard, the 14-inch Yoga S740 is powered by up to 10th Gen Intel Core processors and touts a hands-free IR camera login and time-of-flight (TOF) sensor. Easy to carry around town at 1.4kg (3lbs) light and ultra-slim at 18.1mm (0.7in) at its thickest point, the Yoga S740's 14-inch optional 4K VESA400® HDR display with Dolby Vision9 features amazing sound with Dolby Atmos Speaker System, optional NVIDIA® GeForce® GPUs, plus an upgraded Eye Care2 mode made to help reduce eye strain from blue light emission. Great for the whole family, it will soon showcase a new child safety setting that reminds kids to limit their screen viewing time in one sitting.
Lenovo Yoga C940 (15-inch)
Lenovo Yoga C940 (15-inch) is the top-of-the-line 2-in-1 convertible with distinct design details such as a notched webcam bump on its lid for better grip, a garaged pen with silo charging, TrueBlock Privacy Shutter and Windows Hello biometric fingerprint authentication for confident security. Also included are high performance, fast Wi-Fi 67 connectivity, the latest Alexa features4 plus faster video and photo editing with 9th Gen Intel Core processors and an optional 4K VESA400 HDR display boosted to 500 nits of brightness and encased by ultra-thin.
Lenovo Yoga S740 (15-inch)
The Lenovo Yoga S740 (15-inch) comes stacked with up to 9th Gen Intel Core i9 mobile processor and a more powerful NVIDIA GeForce GTX1650 GPU, making this all-metal, ultra-slim laptop a portable and multi-tasking powerhouse. Combined with striking theater-like specs like a 15-inch FHD HDR display with Dolby Vision9 at 500 nits bright and thoughtful details such as TrueBlock Privacy Shutter, this chic laptop has a longer-lasting battery designed to amplify what you can do from nearly anywhere. Listen to music or watch videos in crystal-clear sound with Dolby Atmos Speaker System together with a Smart Amp, designed to boost voice and content audio in slim form factors.
Lenovo Yoga C740
The all-metal Lenovo Yoga C740 is available in a 14-inch or 15-inch screen size in two stylish hues, Mica or Iron Grey. Flip smoothly from laptop to tablet mode and back thanks to the soft rounded edges of this stylishly crafted convertible. Lightweight with design details such as a color-matched keyboard, this 2-in-1 device has smart features that respond to users' needs including its clever TrueBlock Privacy Shutter and more secure fingerprint login. Lift the lid of the 14-inch Yoga C740 to talk to Alexa from across the room4 and get instant results—even when the laptop screen is locked.
Lenovo Yoga C640
The 13-inch Lenovo Yoga C640 combines the performance of up to 10th Gen Intel Core i7 processing with the compact portability of a sleek 2-in-1, so there is no need to feel anchored. Whether plugged-in or mobile, easily transition usage modes from work to play with its 360-degree flexible hinge design. This new convertible with optional integrated, ultra-fast 4G LTE (Wi-Fi-only option is available with optional Wi-Fi 67 connectivity) frees users from reliance on hotspots and unsecured public Wi-Fi when on the go, plus, offers up to 20 hours6 of battery life thanks to optimized CPU performance.