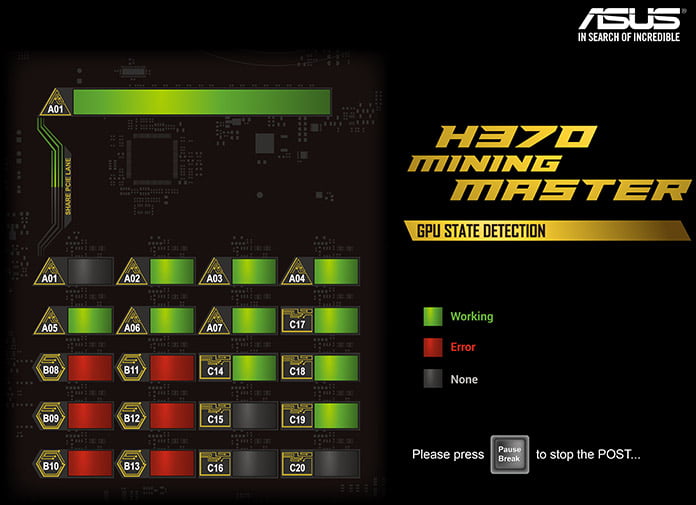 The Asus H370 Mining Master is a specially tailored to crypto MIning board and connects via USB up to 20 graphics cards. It should appear in the third quarter of 2018.
ASUS has just presented a new product dedicated to those who make crypto currency mining: it is called ASUS H370 Mining Master and boasts in particular the ability to support a total of 20 graphics cards (GPUs).
Mining crypto currencies requires monstrously powerful hardware that can perform complex calculations in such a way as to bring Bitcoin and other digital currencies onto the market. The company is therefore helping those who want to do it to bridge the gap, proposing a solution that allows you to enter up to 20 GPU: the graphics cards are connected via USB over PCIe and each port is controlled and managed individually through integrated diagnostics. This allows users to verify that each GPU is working properly and is fully connected.
The Asus approach simplifies maintenance, guarantees fewer PCIe disconnections and more accurate diagnostics. In fact, the new proposal allows you to do without the PCIe x1 cards, facilitating the configuration.
The mining activity is a game of numbers: it is worth doing it only if the value of the crypto currency generated exceeds the cost of production (and wasted electricity). Increasing the number of graphics cards supported in a motherboard is therefore a good way to turn the situation in your favour. ASUS is not the first company to launch a solution for the mining of crypto currencies, but last year had published a motherboard that supported "only" 19 GPUs: probably, given the success obtained, the manufacturer wanted to do more.
These are the official technical specifications of the ASUS H370 Mining Master Motherboard:
Dimensions: ATX, 12 "x9.1"
Socket: LGA 1151 for Intel 8th Gen Core / Pentium / Celeron processors
Memory: 2 x DIMMs (max 32GB), DDR4 2666/2400/2133 MHz, Non-ECC, unbuffered memory
PCIe: 1 x PCIe x16 slot
Storage: 2 x Serial ATA 6.0 Gb / s connectors
Networking: 1 x Intel Gigabit LAN
USB GPU Riser ports: 20 x Vertical USB ports over PCIe
USB: 6 x USB 3.1 Gen 1, 4 x USB 2.0 / 1.1 ports
Other ports: 1 x COM header.
The H370 Mining Master follows last year's B250 Mining Expert, which had room for 19 CPUs via PCIe ports. ASUS says that board had far more sales than it expected, which prompted the company to keep traveling down the crypto road and evolve its mining-tailored motherboards.
The prices of the ASUS H370 Mining Master have not yet been announced but the motherboard should be available by the Q3 of the year, as announced on the official post issued by the company.