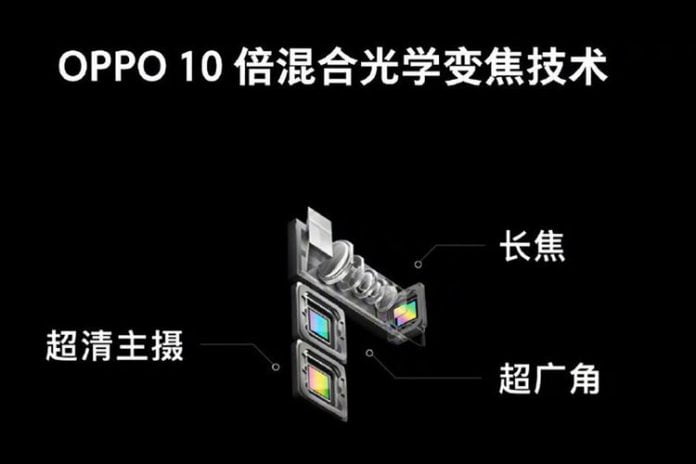 After having exhibited "Periscope Camera" technology with a 5x optical zoom level at MWC 2017, this week Oppo announced an update of the technology to reach 10x optical zoom with Phase 3 technology.
Periscope Camera
The "Periscope Camera" technology exhibited by Oppo is called having a lens focal range of 15.9 -159 mm. In other words, one lens can include ultra-wide-angle capabilities to telephoto with 10x optical zoom capability. However, the Oppo periscope lens, when zoomed will not extend to the front like the lens in the camera in general.  The lens will extend horizontally which means it will not eat cellphone space equipped with glass to reflect the image of the lens like a periscope on a submarine.  Thus, the three functions of the lens that is combined can be called to produce a smooth transition from 1x to 10x zoom with sharp images supported by the dual Optical Image Stabilization (OIS) feature.
Regarding the availability of this camera, Oppo calls the 10x optical zoom technology already in the commercialization stage, which means it's ready to be mass produced. Even so, it is not certain what phones will support such features considering the 5x optical zoom previously exhibited at MWC 2017 has not been available on Oppo phones until now.
Phase 3
In addition to the 10x optical zoom, Oppo also exhibited a technology called Phase 3, the fingerprint scanning technology on the screen. However, the sensor is not located at the bottom centre of the screen such as the in-display fingerprint scanner in general. Instead, users can scan their fingerprints on any screen surface. This technology can be created because the "sensing area" for the fingerprint scanner is expanded to 15x than usual, and the smartphone can also detect two fingerprints at once. However, this feature is also uncertain on the next Oppo smartphone. However, this technology will also not appear exclusively on Oppo considering that a Leaked video of Xiaomi smartphone with same tech has been trending.