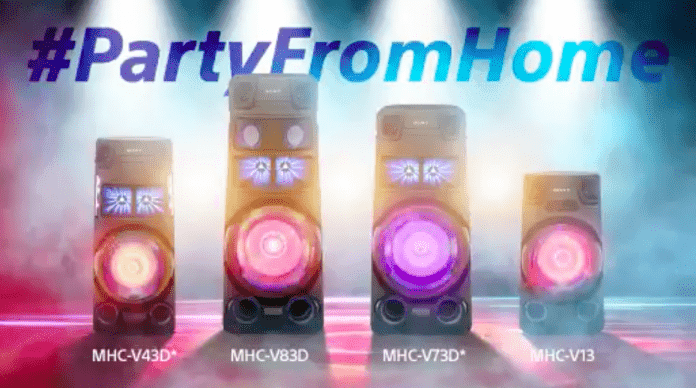 Sony India today introduced four exciting new models to its high-power One Box Audio System range with the MHC-V83D, MHC-V73D, MHC-V43D and MHC-V13, expanding choices for party lovers as well as families who prefer one-box styled systems with a smaller footprint and portable design. Packed with stunning sound and experiential party lights, these audio systems are set to unleash the inner pop star in you and make every moment at a party memorable.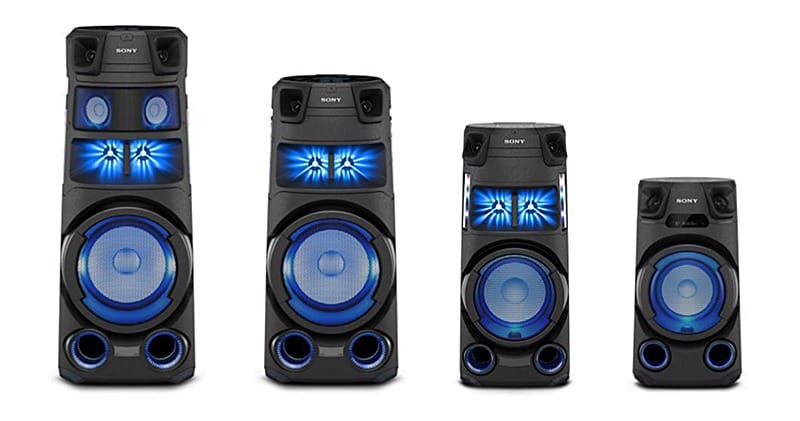 Omnidirectional Sound for MHC-V83D and MHC-V73D
The V83D and V73D boasts of Omnidirectional party sound feature with four tweeters at the front and rear to expand the sound stage upward.
Omnidirectional party lights for the ultimate experience
The V83D and V73D create unforgettable atmospheres with the all-new Omnidirectional Party Light and Speaker Light. The party speaker sends out waves of deep blue, sky blue and green lighting along with multi-coloured stripe lighting creating immersive party-like experience for all party lovers in an authentic nightclub or outdoor festival experience by lighting up both floor and ceiling. It also features an all new animation programming create more dynamic patterns, creating an incredible atmosphere to spice up the party.
Also Read: Sony Announces Imaging Edge Application For Turning Sony Camera Into Webcam
Improved fun features to unleash your inner pop star and keep guests entertained
Karaoke and Mic input – Karaoke sessions at home have never been better before. With the new DSP reverb module feature in the V83D, V73D and V43D blends vocals with background music to make the experience more seamless creating an immersive experience of singing in a concert hall. A pair of dedicated built-in microphone holders contain the cables and microphone, giving a tidy look and a stress-free experience.
Guitar input – All four products within the High-Power Audio Systems range allows for three different guitar modes to be selected for the ultimate jamming session: Clean for playing pop songs, Overdrive for rock and metal tracks and Bass for a bass guitar playing experience.
TAIKO mode for MHC-V83D and MHC-V73D – In TAIKO mode, you can play along on samplers including bongo, djembe, surdo and the Japanese TAIKO drum simply by tapping the top panel in time to the beat.
Availability and Best Buy
The range of One Box Audio Systems will be available across Sony retail stores (Sony Center and Sony Exclusive), www.ShopatSC.com portal, major electronic stores and other e-commerce website in India.
| | | |
| --- | --- | --- |
| Product Name | Best Buy | Date of availability |
| MHC-V83D | Rs. 56,990/- | 27th August 2020 onwards |
| MHC-V73D | Rs. 44,990/- | 18th September 2020 onwards |
| MHC-V43D | Rs. 31,990/- | 18th September 2020 onwards |
| MHC-V13 | Rs. 16,990/- | 26th August 2020 onwards |