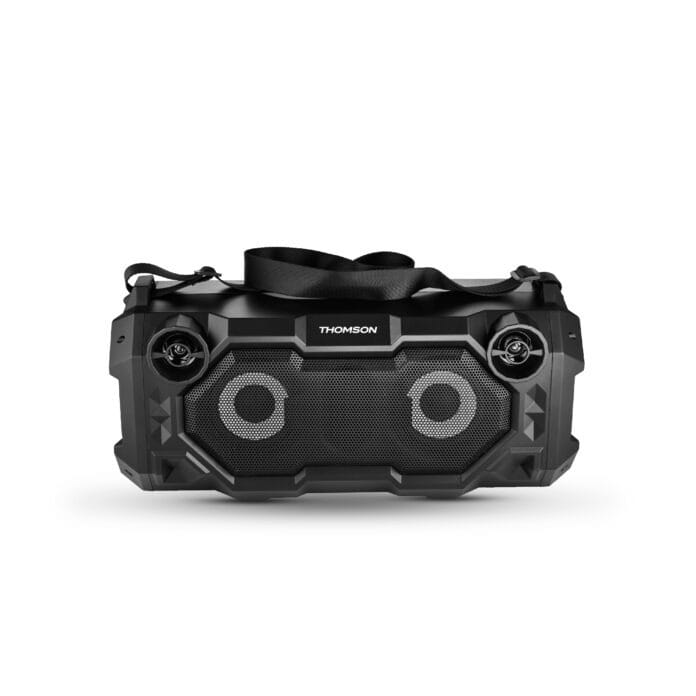 Thomson Audio recently launched its all new BBX03 truly wireless speakers in the Indian market. The new speakers are a strong mix of all the qualities that audiophiles have been hoping for.
Sure to satisfy customers with a limited budget looking for a superior sound experience. This boombox speaker is in a league of its own and would greatly transform the experience of home entertainment. Thomson has priced the speakers at INR 4,999/- despite being well ahead of everything else in this intensely competitive industry.
The BBX03 gives you all the volume and thump you like when it comes to technology. For connectivity, let's begin. Music and content from a multitude of devices are being sourced by today's generation. Both of these are welcome and communicate very quickly with these speakers. In addition to the standard Bluetooth, USB, AUX, Micro SD and Mic port list, you'll also find FM Radio that lets you dance to your favourite songs.
Good foundation, impeccable sound quality, sturdy design with LCD display and karaoke mode enabled via a wired mic are the key features that set this audio powerhouse apart. All looks fantastic and exudes an exquisite sense of complexity. It also has a potential for a playtime of up to 5 hours.
A complete remote feature with an equaliser that helps you to fine tune the pitch. The electricity is ideally matched with 35 watts, providing a theatre-like experience in the living room itself, without the need for extra speakers and amplifiers. The high and mid levels are both crystal clear throughout.
Product Specifications:
| | |
| --- | --- |
| Attribute | Specification- BoomBox BBX03 |
| RMS | 35W |
| Build Material | ABS |
| Driver Size | 4" x 2 |
| Frequency Response | 70Hz ~ 20KHz |
| Audio Input | BT/USB/microSD/Aux/FM |
| PlayTime | Up to 4.5 Hours |
| Control Buttons | Play/Pause/Track change/Volume +/- |
| Special Features | · 2 Speakers can be connected in TWS Mode, EQ Mode: Bass/ treble adjustment· RGB Lights· Digital LCD Display· Karaoke Enabled· Removable & Adjustable Carrying Strap |
| Battery Capacity | 7.4V 2000mAh |
| Selling Price | INR. 4,999/- |
Features:
Feel the power of 35watts: 35watts is big boy territory. Not only it gets you incredible volume but also get a clean sound.
Blue tooth connect: It has fast connectivity with your iPhone, iPad, or any other android phone. It pairs up fast and the connecting has range and clarity.
Karaoke enabled: With Karaoke you have the opportunity to sing along and share your talent with the world. This feature will get you grabbing the mike and singing your favourite tunes.
True wireless connectivity (TWS): Connect two boomboxes together and double your fun. 10watts becomes 20watts. The music fills every space. And the bass gets twice the punch.
Options and more options: FM Radio, USB, tf and AUX modes mean you have all the ways to make music pour out of this speaker.
Deep rich bass: Dual 3 inch woofers and two passive radiators make the bass thick and solid. Pump up the volume and you will feel each beat thump you in the stomach