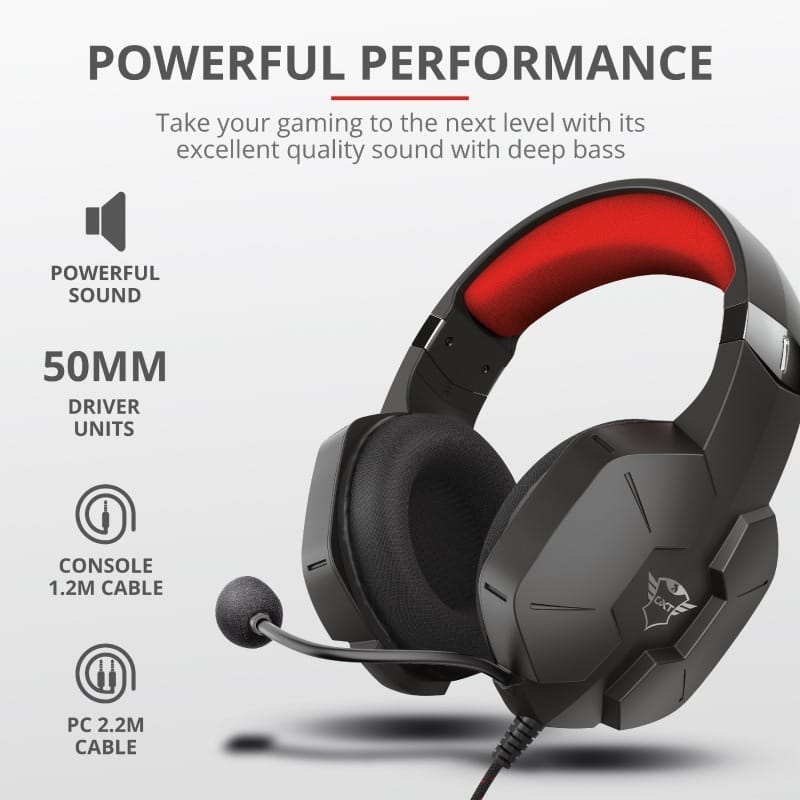 Trust Electronics Ltd, announced its GXT 323 Carus gaming headset range which includes the newly updated multi-platform 323 in classic Trust red and white colours, the GXT 323W in white and black to match the PlayStation 5 and the GXT 323X in black and green to match the Xbox Series X. These ultra-comfortable headsets are available from Amazon for £34.99.
The Trust Carus uses big, 50mm drivers, delivering high-quality sound with a thundering bass to ensure gamers hear everything that is going on during the game. Thanks to its omnidirectional flexible microphone, tactics and commands during game play can be heard as crisply as those coming through the headphones' speakers. With on-ear cup controls, users can change the volume or mute the mic at the press of a button making gaming as convenient as possible.
For comfort, the Carus range include large, comfortable ear pads made from meshed materials that will allows gamers to keep a cool head; even during the most intense gaming sessions.
Also Read: HyperX Expands HyperX Stinger Headset Lineup 
Whilst the headsets are compatible with most consoles, PC's and laptops using the 1.2 metre braided cable, Trust have gone the extra mile by introducing the Carus 323W for PS5 and the Carus 323X for Xbox Series X. Now gamers can really look the part by perfectly matching the colour scheme of their chosen next gen console with their headset, providing comfort and performance.