Intel spoke about Thunderbolt 4 at the beginning of the year since then there was no announcement and today Intel revealed new details about Thunderbolt 4, the next generation of its universal cable connectivity solution, delivering increased minimum performance requirements, expanded capabilities and USB4 specification compliance.
The most important thing to know about Thunderbolt 4 is that there is no increase in data transfer rate. The Thunderbolt 4 offers the same 40 Gb/s as Thunderbolt 3. As with the current version of the interface, Thunderbolt 4 will use the USB-C port, only this time USB-C 4.0. That is any Thunderbolt 4 port is also a USB-C 4.0 port, but not vice versa. At the same time, backward compatibility is also there.
Also Read: Realme Launches Realme X3 & X3 SuperZoom with Snapdragon 855+ in India; Price Starts at Rs 24999
The differences between the new interface and the old one are actually a minimum. Firstly with Thunderbolt 4, it will be possible to use universal cables up to 2 meters long. In addition, the company is working on optical cables from 5 to 50 meters long, but it is not clear when they will appear.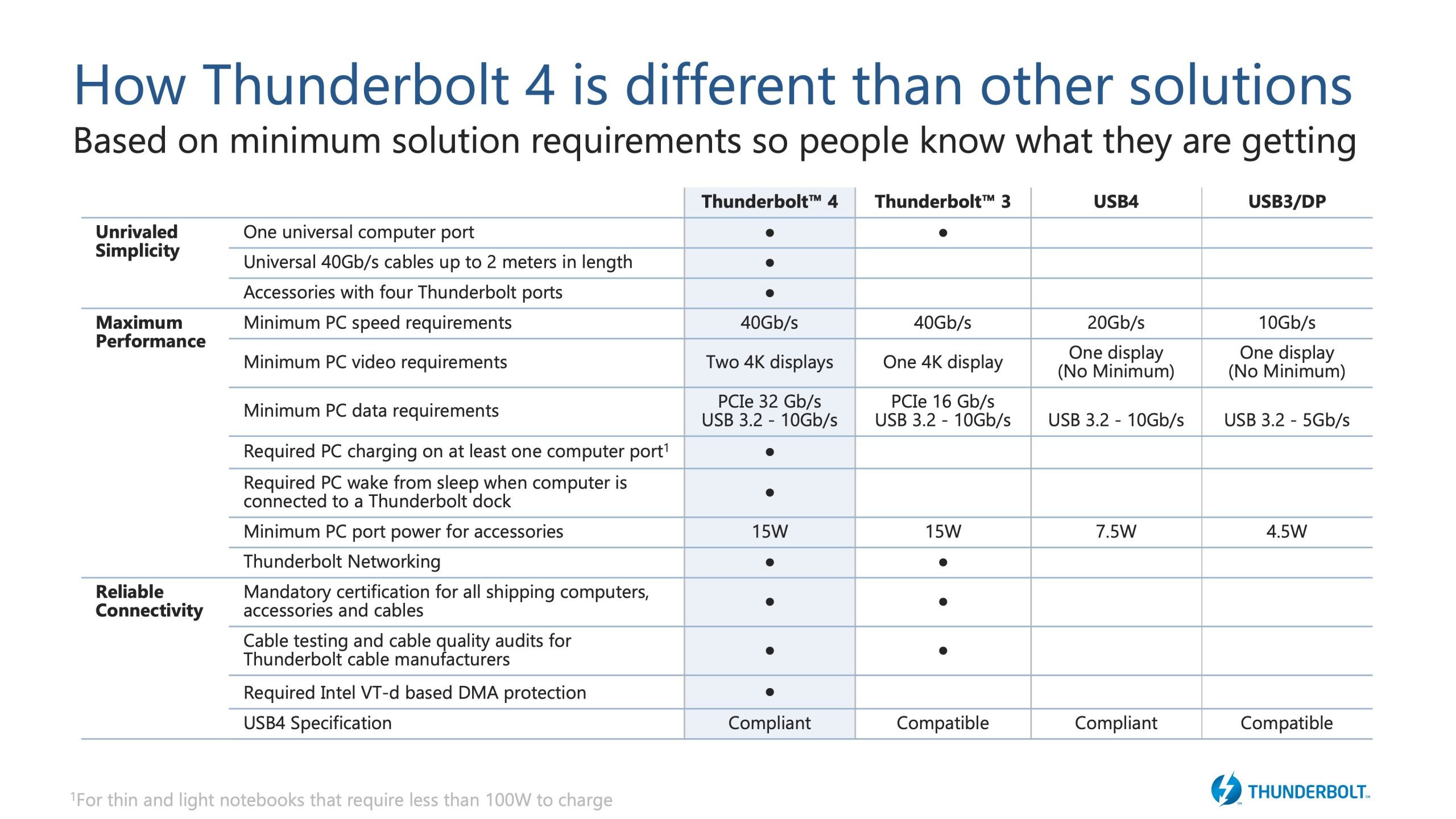 The press release also said that Thunderbolt 4 always provides 40 Gb / s, that is, probably, the new interface does not imply the use of fewer lines with a lower maximum data rate. When connected via PCIe, the data transfer rate doubled, up to 32 Gb / s. In addition, Thunderbolt 4 supports two 4K displays or one 8K and also implies protection against DMA attacks due to Intel VT-d technology. Interestingly, it is completely unclear how this condition will be implemented on systems with AMD processors and upcoming Apple Silicon processors. Intel itself could not explain this, saying that everything will depend on PC manufacturers.
The new interface will enter the market along with Tiger Lake mobile processors, which will receive an integrated Thunderbolt 4 controllers.