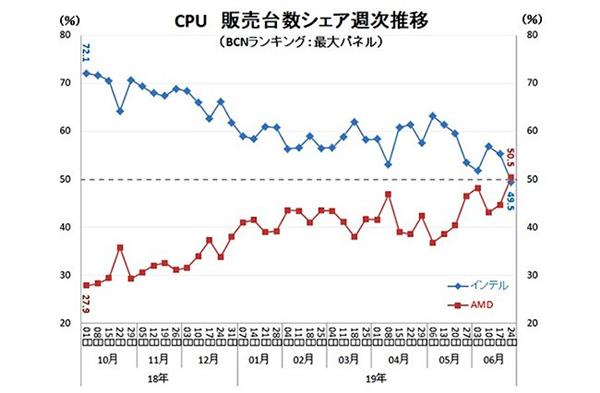 If you look at the overall sales of the global market, the market share of Intel processors is still far ahead of AMD. Although the market share of AMD in x86 processors has recovered to 13.3% in the first quarter, compared with 8.6% in the same period last year, it is clear that Intel still holds the majority of market share. However, in some countries and regions, AMD has made a breakthrough in sales, even surpassing the old rival Intel. According to statistics from BCN Retail, AMD's processor sales share in Japan's retail market reached 50.5% in June, more than half, which means that Intel's sales were below 50% for the first time, and the two sides reversed for the first time.
Also Read: Xiaomi Launches Redmi 7A with Snapdragon 439 and Sony IMX486 Camera
It is worth mentioning that AMD's share of the Japanese retail market last year was only a poor 27.9%, and its current share has almost doubled. The speed of its development is evident. Not only in Japan, according to the statistics of Germany's large hardware vendor MINDFACTORY, but AMD has also surpassed Intel in sales for 10 consecutive months. In May, AMD's share even reached 66%, which is twice that of Intel.
Just yesterday, Intel Japan's executives welcomed AMD's re-emergence. They not only did not worry about AMD's growth but also welcomed AMD in the big PC game market.