Android 12 was shown to the general public during Google I / O 2021. As a result, we now know improvements the Android version will bring. The latest version of the mobile operating system introduces major improvements and will be officially available for download later this year. The major Android update has been extensively tested in recent months and tonight the search giant told everything about the new features of Android 12.
New look for Android 12
Android 12 has been visually completely refreshed and provided with a new design. Google calls the new design 'Material You'. As the name suggests, you now have many more options to customize the appearance of Android. As a result, the software must become more personal, Google says.
That's nice because previous Android versions were quite similar. The design of version 12 is more minimalistic and you can see that in the icons and widgets, for example. Android's appearance also adjusts based on your wallpaper. The colours of the interface therefore better match your background. The lock screen has also been adjusted: the clock is larger and if you have no notifications, the time is shown extra large.
Android 12 also shows notifications differently: instead of the notification bar being filled with app icons, you simply see a number with how many notifications you have. If you tap on this icon, you will see all your notifications. This makes your home screen look calmer and Android becomes a bit clearer again.
The quick settings menu, which you open by swiping down from your home screen, also looks completely different. The whole is more colourful and the buttons have become larger. The widgets will also be overhauled. They are now stacked and also have a playful look thanks to the rounded edges.-
Google Assistant
It has also become easier to call for Google Assistant. You now only have to press the on/off button of your smartphone to call up the smart assistant. At this point, you can already activate the Assistant by pressing the button at the bottom or swiping up the slider from the side of the screen.
Also Read: Honor 50 Series Announced with Snapdragon 778G 5G processor
Also Read: Qualcomm Announced the Snapdragon 778G – Slightly Weakened Version of Snapdragon 780G
More focus on privacy
Another important part of Android 12 is privacy. Google is adding a new Privacy Dashboard for this, where you can see, for example, when (and for how long) certain parts of your smartphone have been used. This allows you to know at a glance which apps, for example, have used your camera or microphone, or have requested location access.
You will also see a notification on the screen when your camera or microphone is being used, and you will be given options to disable these components.
You can also manage your permissions on the Privacy Dashboard, in other words: check which apps have access to your data. If you see permissions here that you do not consider necessary, you can easily revoke them. The dashboard is part of the Privacy section in the Settings app. There was already a Privacy section in Android 11, but it is a lot less extensive.
You also get more control over the location data you share. It was already possible to give apps one-time permission to request your location, but now you can also indicate whether a precise location is shared or a more global location.
Better together with other devices
Android 12 also makes all your devices work better together. For example, the new Android version has a built-in remote control for Android TV devices. This makes it easier to operate them and enter text via the keyboard on your phone. This also works with the Chromecast with Google TV, which was presented at the end of last year.
If you have a Chromebook, you will soon be able to view photos that you take with your Android phone on your laptop very quickly. Now you have to wait for your snaps to sync in Google Photos.
According to Google, Android 12 also works faster and smoother. Smartphones should be easier to use, without this being at the expense of battery life. Thanks to various improvements in the background, the mobile operating system consumes less energy.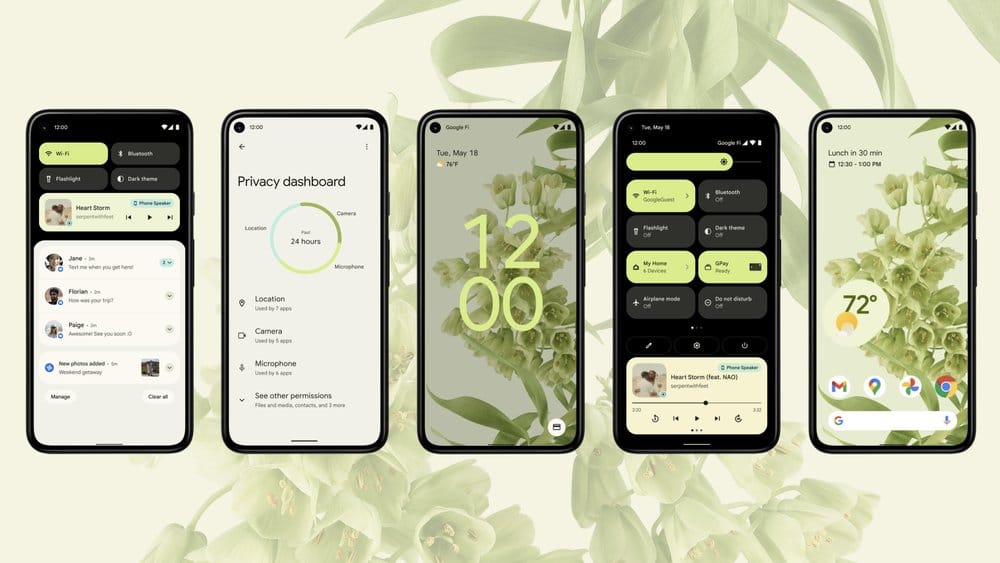 Android 12 beta
Google announces that an Android 12 beta will be released today. This trial version is also available for normal users. In addition to the Google Pixel phones, smartphones from OnePlus, Xiaomi and Oppo also participate in the beta program. This allows users with a device from these manufacturers to test the new features in advance.