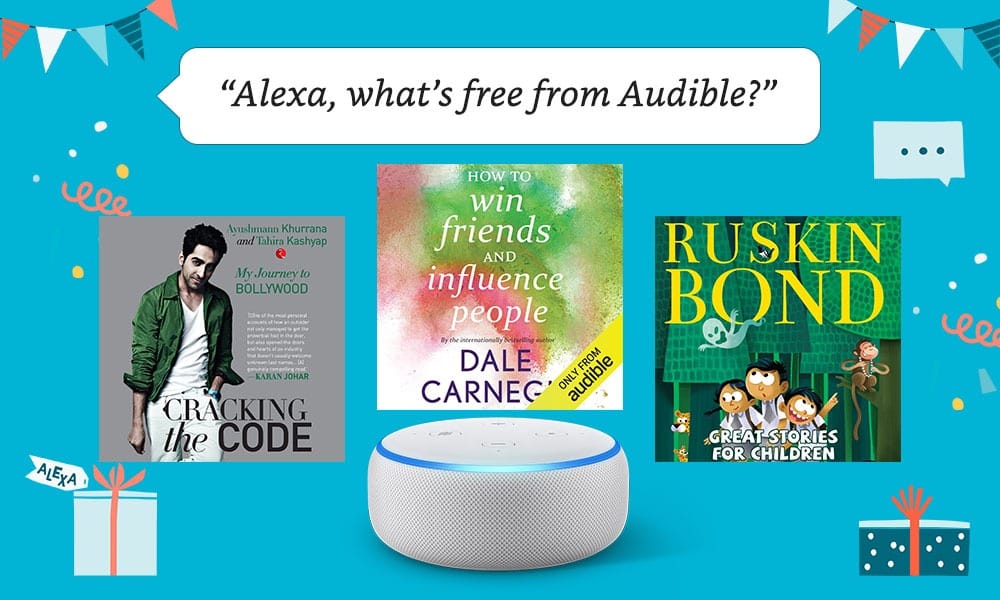 Amazon India announced the 3rd anniversary of Alexa in India earlier this week. To make the occasion more special for Alexa customers, Audible has joined in the celebrations by offering three of its best-selling audiobooks free of cost. Audible audiobooks, 'How to Win Friends & Influence People' by Dale Carnegie (Narrated by Shernaz Patel), 'Great Stories for Children' by Ruskin Bond (Narrated by Adnan Kapadia) and 'Cracking the Code' by Ayushmann Khurrana (Narrated by Manish Dongardive) will be available free of cost, exclusively to all Alexa users in India, from 10th Feb to 28th Feb, 2021.
Also Read: Free Stories from Audible Suno now Available on Alexa
Audible has delighted Alexa customers with popular stories worldwide over several years. In India, Alexa customers can access Audible stories through simple commands like 'Alexa, tell me a story' and 'Alexa, open Audible Suno'. Today, Alexa entertains customers with almost 19,000 audio stories per day, across Hindi and English languages. These include stories narrated by Alexa as well as audio-shows read by renowned storytellers and celebrity narrators through the Audible Suno skill. The top six most requested Audible audio-shows by Alexa users are: Suno Mahabharata by Devdutt Pattanaik Bhoot Kaal and Yoddha by Neelesh Misra, Thriller Factory featuring Nawazuddin Siddiqui, Anurag Kashyap and Tabu, Permanent Roommates featuring Sumit Vyas and Nidhi Singh and Kaali Awaazein featuring Amitabh Bachchan.