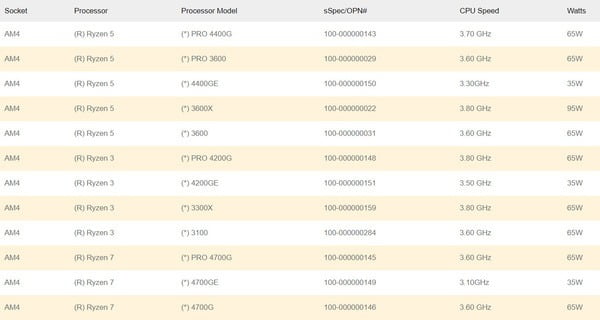 After the recent development around B550 and B520 chipset's, AMD may be preparing refreshes for its Ryzen 7 3700X and Ryzen 7 3800X. Earlier this month we came across details about new company APUs several times. Now Twitter user Komachi Ensaka has shared a list of the new APU's.
The list can be found on a product page of a B550 motherboard from Biostar, with the list of supported CPUs. Meanwhile, the new chips have been removed from the list, but names with corresponding clock speeds were listed. The previously leaked specifications correspond to these speeds and supposed names from which can be deduced what the specifications of the rest of the chips are.
Also Read: AMD Zen 3 and Ryzen 4000 CPU will Support B450 and X470 Motherboards
The highest positioned chip would be called Ryzen 7 4700G, as expected. According to Biostar, it gets a TDP of 65 watts and a base clock speed of 3.6 GHz. There will also be a Pro version with the same base clock speed. A GE version goes up to 3.1 GHz and can consume up to 35 watts. The Ryzen 7's will probably be able to use the full chip, with 8 cores, 16 threads and all 8 compute units in the GPU. A Ryzen 5 4400G with probably 6 cores and 12 threads has a base speed of 3.7 GHz, the more economical 4400GE would go up to 3.3 GHz. The last two chips are known as Ryzen 3 4200G and Ryzen 3 4200GE, which must have 3.8 GHz and 3.5 GHz base clocks, respectively.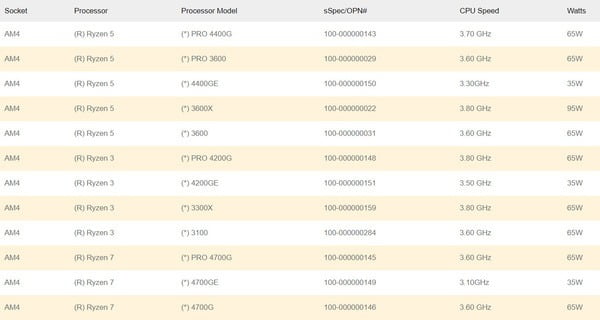 The Pro chips are likely to be similar to the non-Pros, although the boost clock speed may be slightly lower. Most likely you will be able to overclock all chips again, with enough cooling you will probably get a nice speed gain.