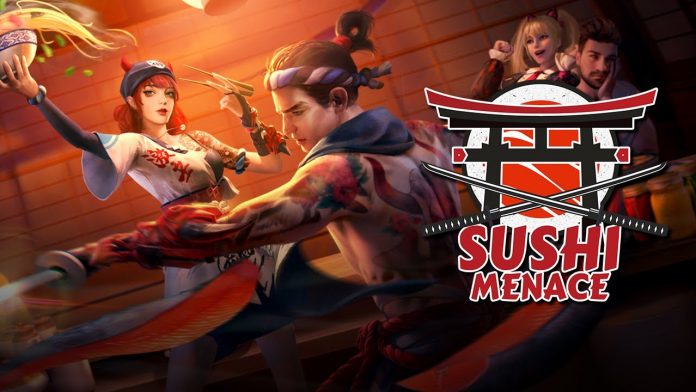 Free Fire, the world's most popular battle royale game on mobile, invites Survivors to take a seat at the bar as it serves up a delicious bowl of its latest Elite Pass (EP), Sushi Menace. The newest EP sheds some more light on the world of Free Fire telling a story of warring mafia factions, a corrupt government, and… a sushi restaurant? Yes — and Survivors can expect a number of sushi-themed rewards to be earned, such as the Sashimi Slasher and Ramen Slayer skin sets.
The Sushi Menace EP features Taku and Shiori who are the owners and head chefs of the House of Knives, a restaurant in which two previously-warring mafia factions have agreed to make a neutral spot for a very important dinner meeting. Both gangs have had an ongoing truce for the past year to stop fighting each other, and instead, turn their focus on the corrupt government. The outcome of this dinner could end in either a continued partnership between the mafia factions or a return to war.
Taku and Shiori are best friends who complement one another quite well. Both martial artists are masters with their blades and guns, with Shiori preferring smaller weapons, like knives and pistols, while Taku enjoys wielding larger ones, like katanas and rifles. Working at a sushi restaurant, they both are able to practice their martial arts while they slice, prepare, and serve delicious meals to their patrons by day. At night, they become the bounty hunters known as Sushi Menace. Regardless of the time of day, they'll often be caught debating one another over various subjects.
Survivors can display their affection for Taku and Shiori by earning several sushi-themed rewards. These include the Sashimi Slasher Bundle male skin set, the Ramen Slayer Bundle female skin set, the Sashimi Boat Backpack skin, the Salmon Surfer skin, and the Sushi Menace grenade skin. Some of the rewards will feature special effects, such as the two skin sets displaying a stylish ink koi swimming and the Sashimi Boat Backpack having cold air surrounding it.
The inspiration for the Sushi Menace comes from Japanese sushi masters and gangs. By fusing elements of tattoos, Hannya, Sushi, katana, koi, and bandage into the design, these two occupations contrast to deliver a unique spark.