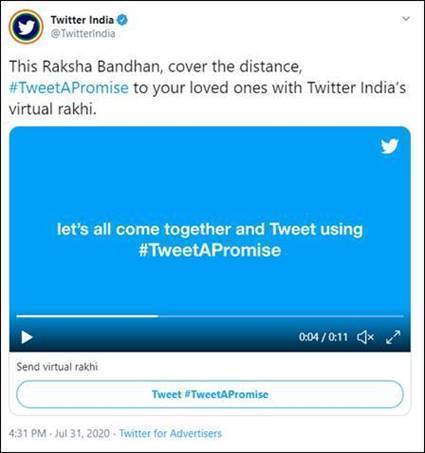 Raksha Bandhan not only celebrates the lovely bond between brothers and sisters, but also ties them closer together through a promise that they make to each other on this day every year. Often people travel across cities to spend this special day with their loved ones. During these current times, families might not be able to come together, as they traditionally would, and revel in the fun and frolic that are characteristic of these gatherings.
This Raksha Bandhan, cover the distance, #TweetAPromise to your loved ones with Twitter India's virtual rakhi.

— Twitter India (@TwitterIndia) July 31, 2020
To make up for the distance, Twitter India is introducing a virtual rakhi, #TweetAPromise, enabling siblings all over the world to celebrate Raksha Bandhan even during a pandemic. Once again, Twitter is doing what it does so well – connecting people.