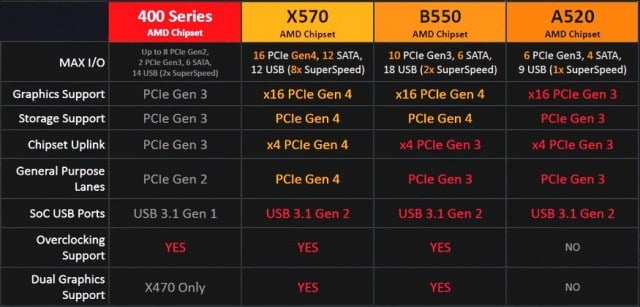 In June the announcement of the AMD Ryzen 3000XT line of processors took place alongside with budget AMD chipset A520. The Ryzen XT Series which are available has already begun to conquer the market. While the A520 chipset motherboards based on the second will appear in August.
It is known that ASRock has prepared at least 12 boards based on AMD A520 chipset, and ASUS has 5. Recently five new models from GIGABYTE were noticed on the website of the Eurasian Economic Commission (ECE):
A520 AORUS ELITE
A520M AORUS ELITE
A520M DS3H
A520M H
A520M S2H
A520I AC
Two of them belong to the top game series AORUS. Models with the prefix "M" in the name are created in microATX format motherboard. The GIGABYTE A520I AC board uses the Mini-ITX format and includes a pre-installed module for wireless interfaces Wi-Fi 5 (802.11ac). The GIGABYTE A520 AORUS ELITE is the only ATX format motherboard.
Also Read: 30 Minutes of Assassin's Creed: Valhalla Early Gameplay Footage Leaked Online
Do recall that the AMD A520 chipset is the successor to A320 chipset and does not support overclocking. The boards based on it are precisely compatible with the current generation of Ryzen 3000 (Zen 2) and the next Ryzen 4000 (Zen 3) and the capabilities of PCIe 3.0 are enough to create relatively inexpensive systems.