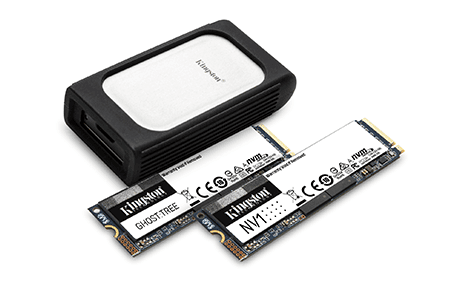 Kingston has unveiled new solid state drives at CES 2021, including the next generation NVMe PCIe 4.0 and external USB 3.2 Gen 2 SSDs. The new items will go on sale later this year.
Ghost Tree: Our upcoming High-Performance Gen 4.0 drive is perfect for the content creator and power user. Codenamed "Ghost Tree," Kingston is targeting speeds of 7000MB/s read and write, stretching PCIe Gen 4.0 x4 8-channel to the limit with capacities ranging from 1TB-4TB.
NV Series: The latest Gen 3.0 x4 SSD is the ideal entry-level drive for first-time NVMe users with capacities up to 2TB.
XS2000: Kingston's all-new USB 3.2 Gen 2 x2 external drive with 500GB – 2TB capacities is perfect as additional storage for photos, videos and other files. The USB Type-C®1 interface allows for super-fast data transfers up to 2000MB/s.
DC1500M: The Data Center 1500M is an update to the DC1000M adding support for multi-namespaces. The U.2 NVMe SSD is designed to support a wide range of data-intensive workloads including cloud computing, web hosting and virtual infrastructures.
Also Read: TCL Strengthens its AI x IoT Roadmap With Latest Innovations
The prices and availability of these product will be announced later.