Xiaomi launched the Mi 10 Youth Edition 5G in China today, Along with this event Xiaomi will also reveal details about their custom skin MIUI 12. Alongside showcasing MIUI12, The Chinese vendor also revealed which phones will be given MIUI 12 updates for internal testing.
MIUI 12 Test Beta registrations will also start from toady.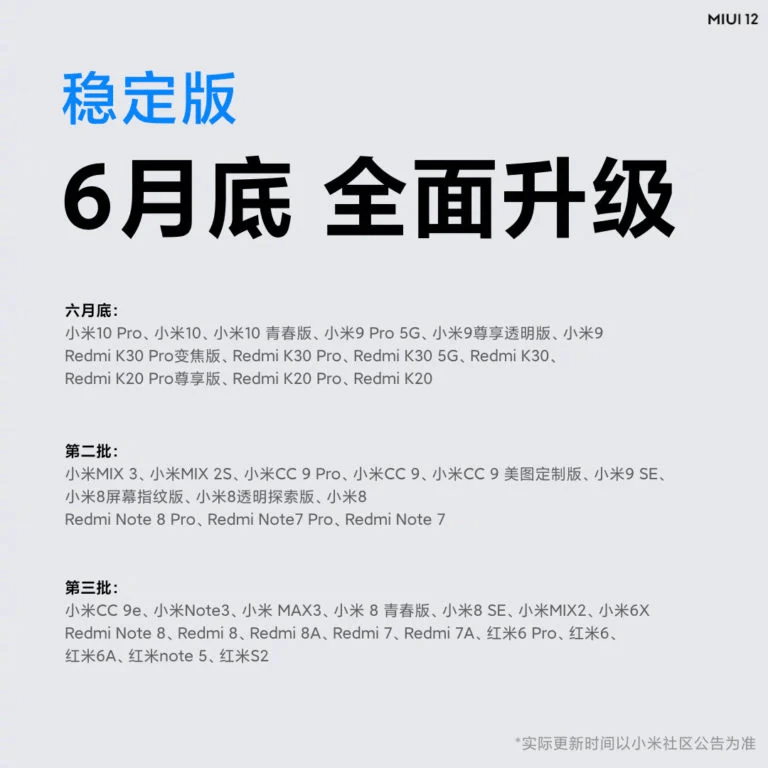 Mi phones that are entitled to try out this new interface include Mi 10 Pro, Mi 10, Mi 9 Pro 5G, Mi 9, Mi 9 SE, Mi 8 Screen Fingerprint Edition, Mi 8 Youth Edition, Mi 8 Explorer Edition, Mi 8 SE, Mi 8, Mi 6, Mi 6X, Mi CC9 Pro, Mi CC9, Mi CC9 Meitu Custom Edition, Mi MIX 3, Mi MIX 2s, Mi MIX 2, Mi Note 3 and Mi Max 3.
For Mi 10 Youth Edition, which is launched today will be directly equipped with MIUI 12.
Also Read: Xiaomi Launches Redmi Note 8 and Redmi Note 8 Pro in India alongside MIUI 11
As for the Redmi line, the opportunity to try MIUI 12 includes Redmi K30 Pro, Redmi K30 5G, Redmi K30 4G, Redmi K20 Pro Premium Edition, Redmi K20 Pro, Redmi K20, Redmi Note 8 Pro, Redmi Note 7 Pro, Redmi Note 8 and Redmi Note 7 and Redmi Note 5.
The above list does not include several other Xiaomi phones such as the Xiaomi Mi 10 Lite (European edition), POCO X2, POCO F1, Redmi Note 6 Pro. This is because Xiaomi still hasn't confirmed the list of phones in the global market that will accept MIUI 12.
The above list is specifically for Xiaomi phones circulating in the Chinese market. Xiaomi is expected to confirm the global list in the near future.
Xiaomi first showed off the development of MIUI 12 in January 2020. Xiaomi's software development director Zhang Guoquan has previously announced that the successor to MIUI 11 will be rolled out on the day of the announcement.
Based on the existing leaks, MIUI 12 will bring several new features such as Dark Mode 2.0, a newer camera interface, more than 1,000 Always-On-Display (AOD) views, more updated Settings applications, and others.
x