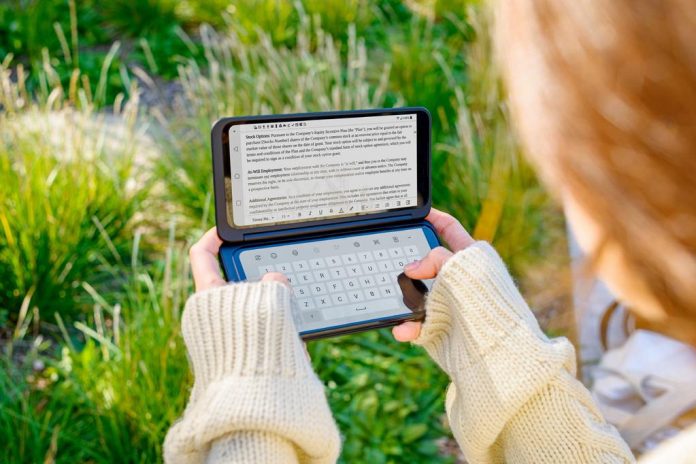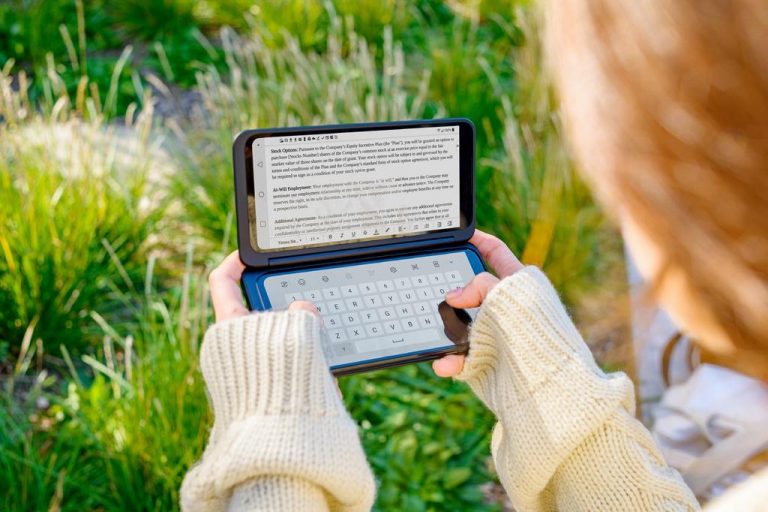 LG Electronics today unveiled the LG G8XThinQ, its newest G series smartphone, and a more advanced LG Dual Screen in India. The LG G8XThinQ Dual Screen smartphone is designed to help users find a whole new way to multitask while being creative in its design and outlook. Taking its consumer experience to the next level, LG G8XThinQ with LG Dual Screen will be available across all retail outlets at INR 49,999 starting tomorrow.
LG G8XThinQ with LG Dual Screen offer consumers an entirely new way to interact with a mobile device and usher in new possibilities for mobile gaming, content creation and consumption, productivity and much more.
LG Dual Screen boasts a convenient cover display, with the essentials like notifications, date, time, battery life available at a glance. With a 360° Freestop Hinge, LG Dual Screen is able to lock into at any angle, making it practical for use as a game controller at 120°, a mini-laptop at 140°, flat at 180°, a stand or tent at 270°, or to take a call flipped back on itself at 360°.
LG G8X ThinQ Specs
LG's newest G series smartphone shares the identical 6.4-inch display of LG Dual Screen for double the productivity and fun. An in-display fingerprint sensor makes locking and unlocking the LG G8XThinQ easier than ever, even with the Dual Screen folded back. While automatic adjustment of a smartphone display's brightness using sensors is nothing new, in the G8XThinQ, an ambient light sensor also adjusts the contrast to maximize image details and reduce eye strain. And the phone's front-facing camera sits within an unobtrusive Waterdrop lens cut out, letting users appreciate the 6.4-inch Full Vision display to the maximum.
The LG G8X ThinQ is powered with Qualcomm Snapdragon™ 855 Octa-Core, 32-bit Hi-Fi Quad DAC, IP68 Water & Dust Proof, In screen Finger Print, Powerful 4,000mAh Battery.
The LG G8XThinQ sports a 32MP front super wide angle 136-degree shooter with a 1.6μm sensor. Also, for the perfect selfie, Reflector Mode ensures clearer, sharper portraits even in dark environments letting users adjust the lighting colour to match their mood or preference. AI Action Shot in the new LG G8XThinQ recognizes and compensates for movement with a shutter speed of 1/480 of a second to keep subjects fully in focus; ideal for taking memorable shots of kids or pets playing. 4K Time Lapse lets users create artistic time lapse videos in stunning 4K resolution while LG Steady Cam provides enhanced image stability for footage that looks more polished and professional. Available for the first time, switching between front and rear cameras while recording video is possible with LG G8XThinQ.
A proven leader in smartphone audio, LG doesn't disappoint with its G8XThinQ. Two 1.2W speakers deliver bold, perfectly balanced stereo sound while the 32-bit Hi-Fi Quad DAC tuned by Meridian Audio. The LG G8XThinQ features a microphone which is automatically turned up when capturing video to ensure that sounds are recorded in vivid detail for the most captivating, ASMR recordings.