After weeks of Morse Code clues on social media, and mysterious in-game sandstorm activity, today PUBG MOBILE released the 0.18.0 version update, delivering massive game updates and introducing alterations and improvements to the Miramar desert map. Today's update also introduces a new Cheer Park, advanced match results viewing options, AG currency, and the new Royale Pass Season 13 coming soon on May 13. Players can test their grit against the revamped map for free on the App Store and Google Play.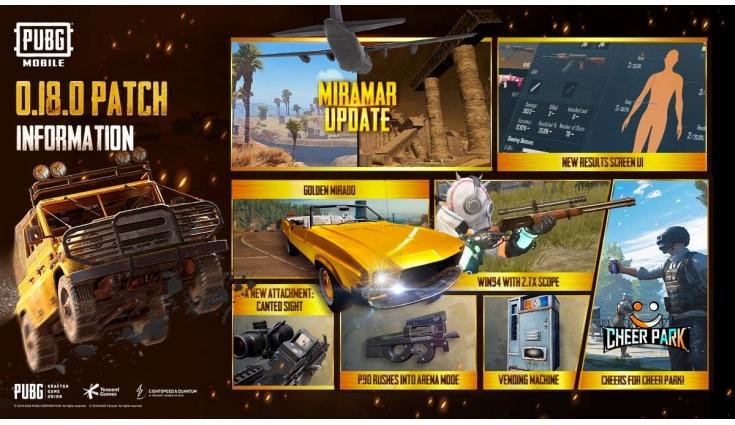 Several weeks ago, strange symbols began to appear in official PUBG MOBILE Twitter and Instagram images, which community members cleverly decoded as "New Maps." A growing sandstorm has enveloped the updated Miramar map as witnessed, while an all-new landscape has been unveiled. In addition to fresh housing areas, roads and resources, an Oasis and Urban ruins have been added for additional landing spot strategy. Similarly, players can test their driving skills in the new race track with the new vehicle Golden Mirado, which only one will spawn on the map. Players can also quickly collect Energy Drinks and Painkillers at added Vending Machines.
Besides the most noticeable changes as above, the new updates of Miramar also include:
Win94 – Comes with its own built-in 2.7x Scope and only spawns in Miramar
Lingering Sandstorm Effects – There will be a chance that areas both in Miramar and the Main Menu will be hit with random sandstorms
New Achievements – A fresh wave of challenges have been added for players to test their skills on the updated map
Special Events – Players can participate in new Miramar events to earn exclusive new rewards, in addition to added achievements for other game modes
Main Menu Theme – The PUBG MOBILE main menu has been updated to match the Miramar theme.
New Arena Exclusive Weapon: P90 – Equipped with 9mm rounds and a default magazine of 50 shots, the P90 offers single shot, burst or fully automatic fire modes and can be equipped with all SMG attachments
Canted Sights – Almost all weapons can now be equipped with new canted sights to toggle between with all other scopes. Canted sights can be looted on every map
Miscellaneous Improvements – The "Play another Match" feature, Death Replay, Settings, Team Invite option, LIKE feature, Character Creation, Classic Mode combat, firearm balancing, weapon and attachments, Season Recap, Brothers in Arms system, download options and other bug fixes have been applied.