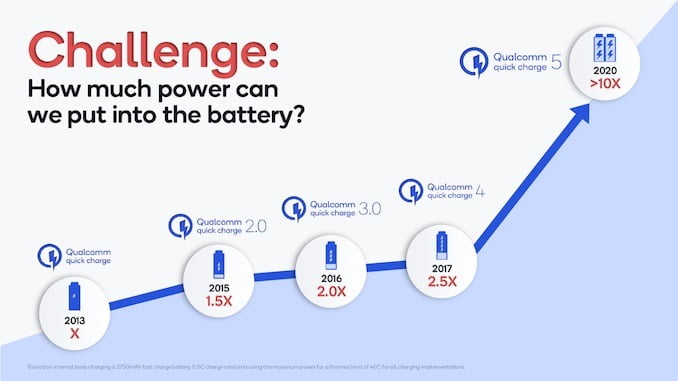 Qualcomm announced today a new fast-charging technology called Qualcomm Quick Charging 5 (QC 5). Qualcomm claims that this new standard will charge a 4500mAh battery from 0 to 50% in 5 minutes, and to 100% in 15 minutes.
Qualcomm said that QC 5 will be suitable for devices equipped with Snapdragon 865, Snapdragon 865 + and future high-end chipsets. The standard supports chargers with a rated power of 100W. The new solution is 4 times faster than the previous generation and the temperature is 10 degrees lower. In its demonstration device, Qualcomm uses two batteries to drive the voltage up and charge them in series.
Also Read: Lenovo Launches IdeaPad Gaming 3i in India; Price Starts at Rs 68,990
Recently, many mobile phone manufacturers have announced new fast-charging technologies, but they are either in the concept stage or will be limited to a few phones of the brand. Earlier this month, OPPO launched 125W SuperVOOC charging technology, Vivo announced a 120W fast charging solution, and Xiaomi's 120W charger has also been certified in China. Qualcomm's new charging solution is expected to cover more users.
Qualcomm said that devices supporting QC5 will be launched in the third quarter of 2020, and Xiaomi has promised to launch devices equipped with QC 5.