Samsung today announced that Galaxy S10+  tops the DxOMark Selfie scale, a new ranking system to evaluate the image quality of smartphone front cameras. The new smartphone also earned a first place spot for its rear camera in the DxOMark Mobile scale.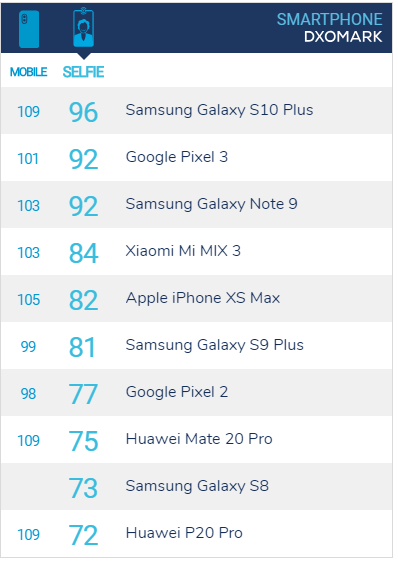 Galaxy S10+ scored a standalone first place position on the DxOMark Selfie ranking for its front camera with a score of 96. The DxOMark Selfie test verifies that Galaxy S10+'s dual front camera helped push the new smartphone to the top of the list with its Dual Pixel Selfie camera and second RGB Depth camera. Galaxy S10+'s dual front camera supports artistic bokeh effects, and can shoot videos and pictures in up to UHD quality so you can elevate your social game.
Also Read: The Difference between Samsung Galaxy S10, S10 Plus, and S10e Cameras
Galaxy S10+ also received a joint number one position on the DxOMark Mobile ranking, with an Overall score of 109 (114 Photo score and 97 Video score), the highest score ever for a rear camera. To evaluate smartphone camera performance, DxOMark looked at Galaxy S10+'s triple rear camera for Exposure and Contrast, Color, Autofocus, Texture, Noise, Artifacts, Flash, Stabilization (for Video), Zoom and Bokeh.