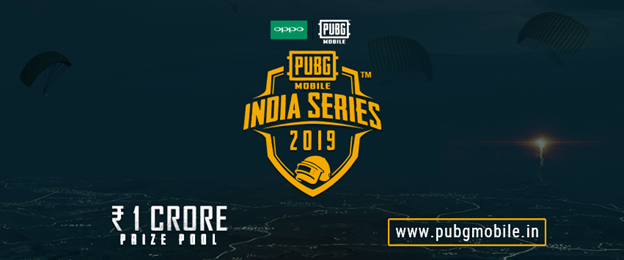 Tencent Games and PUBG Corp. are all set to bring the OPPO PUBG MOBILE India Series 2019, which marks the first official open-to-all tournament hosted in India. This is a definitive step, in their commitment toward building a sustainable eSports ecosystem in the country. The tournament will boast one of the biggest prize-pool for an Indian eSports tournament. A staggering prize-pool of INR 1 Crore, including cash and phones sponsored by OPPO are up for grabs.
The tournament is open to all Indian residents who possess a PUBG MOBILE account above level 20. It would be a squad-only tournament with more diverse battlefields for the players. Squads will engage in intense battles in different maps, with Erangel – the original PUBG MOBILE map, being one of them. The competition will pan out in First-Person and Third-Person perspective modes to accommodate a comprehensive experience for different gamers. Basis the points accrued by registered squads playing together during the In-Game Qualifier phase, the top 2,000 teams will be selected for the Online Playoffs. The pool will be further filtered down to the 20 best teams who will fight it out at the Grand Finals. The tournament is unique as it puts all PUBG MOBILE players on a level playing field. There is no limit to the number of registrations from players. However, these will be filtered down basis the online-cutoff (Pre-determined metrics). The prizes promise a chance to walk away with INR 30,00,000 for the team ranking first, INR 10,00,000 for second and INR 5,00,000 for third. Cash prizes are there for the taking, up to rank 10.
There are several individual awards in the grand finals set to be won as well
MVP Award – Awarded to the player with maximum number of MVP
The Exterminators – Awarded to the team with maximum kills
The Healers – Awarded to the team with the highest number of revives
The Redeemer – Awarded to the player with highest amount of health restored
The Lone Ranger – Awarded to the player with the maximum survival time
The Rampage Freak – Awarded to the player for the maximum number of kills in one game.
Each of these categories would receive a cash prize of INR 50,000.
PUBG MOBILE has exceeded 30 million daily active users and 200 million downloads in 8 months globally (excluding China). The game has seen unprecedented success in India and the upcoming India Series is sure to be a treat for its plentiful PUBG MOBILE enthusiasts! Registrations for the India series begin on the 3rd of January 2018 and are absolutely FREE. The finals are set to take place on the 2nd and 3rd of March 2018. The tournament will be streamed via the official channels of PUBG MOBILE on YouTube and Facebook.
You can register on http://pubgmobile.in/