Adata XPG SPECTRIX D40 series is the company's first entry into the RGB RAM market. The major difference is the inclusion of RGB LEDs. The SPECTRIX D40 RGB is compatible with RGB control schemes from Gigabyte, Asus, MSI, and ASRock. SPECTRIX D40 provides a wide frequency range from 2400MHz to over 4000MHz with support for the Intel X299 platform and it is also compatible with the AMD AM4/Ryzen.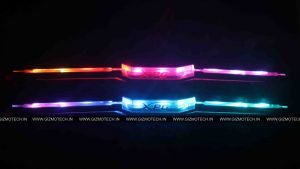 Packaging
The SPECTRIX D40 kit's packaging shows a clear representation of the memory modules as the featured graphic on the front. The back of the box has information about the modules in different languages. Inside the box, you'll find the memory modules encased in a clear plastic package. Included with the kit is a quick guide on installing the modules unfortunately there were no XPG stickers.
Features
Series: SPECTRIX D40
 Aluminium heat spreader with Red Colour and black design
 Feature Overclock: XMP 2.0 support for automatic overclocking
 Easy to use software application (beta)
 5 Customizable RGB zones to add some flair to your PC
Compatibility: Tested across the latest Intel and AMD platforms for reliably fast performance
Compatible with motherboard partners' RGB Sync application
Limited lifetime warranty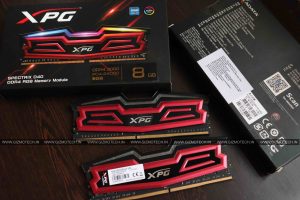 Specifications
• Capacity: 8GB (1 x 8GB)
• Base Frequency: PC4-24000 (3000MHz)
• Base Timings: CL-16-16-18
• Voltage: 1.35V
• Format: NON-ECC Unbuffered DIMM
• Pin Out: 288-Pin
Software, Test System and Benchmarks 
Software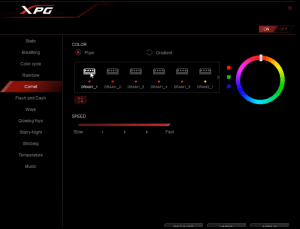 If you have an older motherboard that doesn't have LED controls, SPECTRIX D40 provides a small piece of software. The software allows you to choose the individual colours of all 5 zones on the SPECTRIX D40 RGB RAM kit as well as the style of lighting. The available options include Rainbow, Breathing, Static etc. All said there are 10 different effects to choose from.
In this review, I am using GA-AB350-Gaming 3 motherboard. This motherboard does have LED controls on the motherboard; the SPECTRIX D40 RGB RAM kit is compatible with the software called RGB Fusion. With Fusion you can choose one colour for all the compatible components such as motherboard, RAM and Crossfire. You can also drill down to each individual component and set the colours for each zone on the motherboard and a different (or same if you choose) colour on the RAM.
Test System
• Ryzen 5 2600
• Gigabyte AB350 Gaming 3
• Nividia GTX 1050
• 16 GB XPG SPECTRIX D40 DDR4 3000MHz.
• EKWB Predator 240
• Antec DF 500(RGB)
• Antec VP 500
In order to reach a speed of 3000Mhz the XMP Profile 1 has to be selected from the BIOS.
Benchamarks
ASUS ROG Realbench
ROG Realbench is an open source program, designed to test your PC as it would run in real-world scenarios. It's a semi-synthetic testing suite that collects four different programs and can perform controlled runs of each related to image editing (GIMP), video encoding (Handbrake H.264), OpenCL (Luxmark) and Heavy Multitasking (Combination of all three at the same time).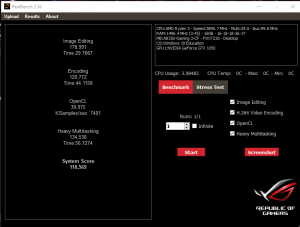 Passmark Performance Test – Memory Mark – Threaded
"Fast, easy to use, PC speed testing and benchmarking. PassMark PerformanceTest ™ allows you to objectively benchmark a PC using a variety of different speed tests and compare the results to other computers." Performance Test 9.0 is an overall benchmark that tests every area of your PC. For this review, we didn't do the entire Performance Test.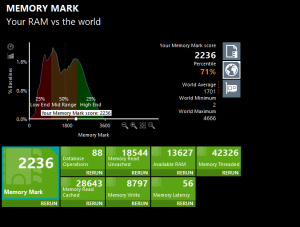 Conclusion
The Adata XPG SPECTRIX D40 is a great looking kit. The RGB heat spreaders with the black and red designs will fit in a lot of builds. The RGB LEDs are well hidden inside plastic diffusers at the top of the memory modules. It does a great job and gives a smooth flow from one LED to another.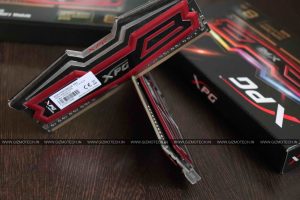 While I do like the opportunity to get to choose my own colour scheme whether it is a single colour or a combination of colours. By default, the modules do go out of sync with each other without any software running to manage them. The XPG RGB Sync App Beta software worked well enough and is easy to use. Gigabyte's RGB Fusion, in my opinion, worked better for my set up as I could set all the RGB lighting on the motherboard and the memory modules except for the few times. Overall, the LED lighting is done well on this kit. Not only is the kit compatible with Gigabyte's software, but it will also work with Asus, MSI's and ASRock's LED software solutions.
Performance wise and at stock XMP settings, the XPG SPECTRIX D40 kit met my expectations. Testing against other DDR4 3000Mhz modules yielded similar results. Overall, I'm impressed with the speed and stability of the XPG SPECTRIX D40 RAM kit at its stock speeds. If you're looking to upgrade or swap out kits, give this one a look.