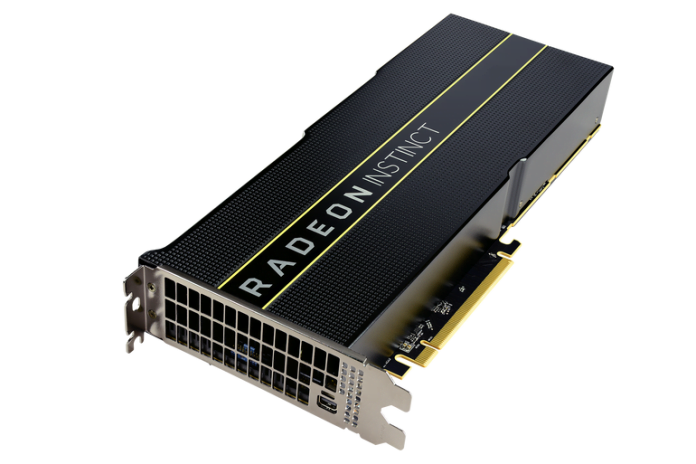 AMD officially released a new GPU and the corresponding computing card MI60 and MI50 which is the world's first 7nm-based GPU, AMD said the new MI60 and MI50 professional card will Prepare for the next generation of deep learning HPC and cloud computing. Researchers, scientists and developers will use AMD's Radeon Instinct computing card to solve the problem including large-scale computing, biological simulation and other research.

Specific to the parameters AMD said that the Radeon Instinct MI60/MI50 computing card will use TSMC 7nm process. In addition, MI60 provides 32GB of HBM2 ECC memory while MI50 provides 16GB of HBM2 ECC memory while MI60/MI50 will also be used. PCI-E 4/0 transmission standard. AMD said that the MI60/50 computing card will be connected using "infinite bandwidth" technology providing 200GB/S point-to-point bandwidth speed which is six times faster than PCI-e 3.0. In addition, it can support the interconnection of four GPUs, due to PCI- E 4.0's excellent scalability four MI60 will be 7.64 times that of a single GPU.

In addition to the Radeon Instinct MI60/MI50 computing card, AMD also launched AMD ROCm, and now companies such as Google are beginning to support AMD ROCm.
In terms of performance, the MI60 has 14.7T FP32 performance and 7.4T FP64 performance, and the floating point performance will be 2.8 times that of the Vega architecture MI25. AMD said that the MI60 will be officially launched at the end of 2018, and the MI50 will be launched in early 2019.
Based on the company's roadmap, this will include Ryzen and Ryzen Threadripper third-gen CPUs with the 7nm Zen 2 architecture as well as AMD's line of GPUs – the Vega series – getting the 7-nanometer treatment.
While Nvidia is ahead in game with its recent RTX 20-series, including the beastly GeForce RTX 2080 Ti, we're yet to hear anything solid regarding its work with the 7nm architecture.