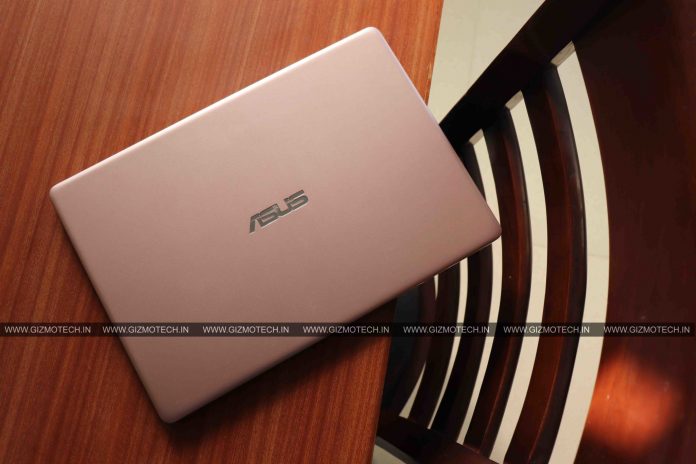 Asus ZenBook 13 (UX331UAL) is the latest Ultrabook from the house of ASUS, which comes with a 13.3-inch screen. The look looks elegant in ZenBook style. The machine's surface is polished like a crystal, besides the beautiful design and easy to carry. The machine is only 13.9 mm thick and weighs only 1.12 kg/ 985g. It can be used in a variety of applications including photo editing, video editing, watching movies or playing games.
Asus ZenBook 13 will have two models, which are the models that come with Core i5-8250U and 256GB SATA3 M.2 SSD and with the Core i7-8550U CPU and 512GB PCI-E Gen3X4 SSD. The price for the Zenbook priced at Rs 69,990 (INR). The model that we will review is the ZenBook 13 UX331UAL.
ASUS Zenbook13 Specs
13.3-inch screen, IPS FHD panel, 60Hz screen, colour gamut 72% NTSC, viewing angle 178° degree.
Intel Core i5-8250U Processor
Integrated Intel UHD Graphics 620
Memory (RAM) is 8GB LPDDR3.
256GB SATA3 M.2 SSD
Illuminated Chiclet Keyboard
VGA Webcam
WiFi + Bluetooth 4.2
Harman Kardon stereo speakers and array mic
Fingerprint sensor + Windows Hello integration
2 x USB 3.1 Type-A, USB 3.1 Type-C, audio jack, HDMI 1.4 port
50 Whr battery that can last for 14 hours with fast charging option
There are 2 colours to choose from Rose Gold and Slate Grey
Windows 10 Home 64-bit Preinstalled
ASUS ZENBOOK 13 Inside the Box
For the items that come in the box, have to say that it is enough and quite enough, including a cloth bag and a towel, which the back cover is quite shiny.
Notebook Asus Zenbook (UX331UAL)
Charger Adapter
Notebook bag
Manual
Black towel
Fabric cord for fasteners
Adapter USB-LAN
Design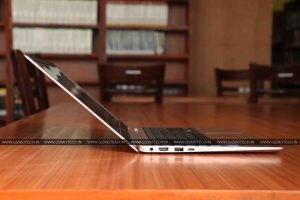 In terms of the design, the Zenbook 13 is elegant and sleek. playing various patterns and using this colour can be trusted. The back cover of this Zenbook is very shiny with clear ASUS brand identity, of course. The gloss pattern we have been familiar for a long time, including following in both mobile phones and other products. Really different, which must be said to be good, beautiful, very shiny, but of course, it is a fingerprint magnet. The Space Grey edition sticks more fingerprint marks while the Rose Gold edition lacks the gloss pattern and protects from fingerprint marks.
Read More: List of Phones with the Best Selfie Cameras According to DxOMark
Display
The Zenbook 13 is equipped with a 13.3-inch NanoEdge screen with a resolution of up to FHD 1920X1080 pixels. The frequency of the monitor is 60Hz and has Anti-Glare support with 72% colour gamut.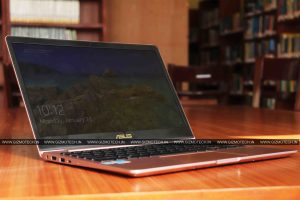 There are 4 display modes which you can customize with just one click. Normal Mode is suitable for daily tasks. Bright mode (Vivid Mode) enhances clarity in displaying beautiful pictures and videos. Eye care mode (Eye Care Mode) helps reduce blue light levels by up to 30% to reduce eye strain and Manual Mode allows you to customize your own colours freely.
The screen opens to a maximum of 178 degrees.
Performance
The ZenBook 13 is powered with the Intel Core i5 8250U CPU (Kaby Lake-R) with (6 M Cache) can increase the speed to 3.4GHz in Turbo boost mode with a base clock of 1.6 GHz. In addition, this model comes with onboard graphics Intel UHD 620 memory, 8GB RAM and Windows 10 Home.
In terms of usage, it is extremely smooth. Open many programs simultaneously Switch programs without delay. The more Chrome can be opened in multiple tabs without running out of memory, 8GB RAM is easily able to take up day to day task without hassle.
The Intel UHD Graphics 620 onboard graphics card must say that this unit supports 2D functionality and is comfortable with a little bit of 3D. The Intel UHD 620 struggles to get playable (FPS) under lower settings a separate video card would have helped to make life easier.
The storage is 256GB SATA3 M.2 SSD storage capacity which quite limits the storage, but it is recommended to use the additional drive for backups.
SSDs allow the device to boot, launch programs, and run very quickly. Of course, Much faster than normal disk drives. In terms of CPU processing power, it is quite good. The CPU Multi-Core and Single-core performance are good while the OpenGL scores are just acceptable.
Battery
The Asus Zenbook13 features a 3 Cells 50 Whrs Polymer Battery. For charging into it takes about 50 minutes to charge up to 60% and in about 80 minutes it is fully charged.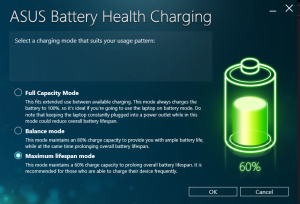 Asus claims it should offer up to 15 hours of usage, but in our testing the battery backup is between 9-11 hours more, but if gaming or rendering videos the battery backup is between 3-4 hours.
Miscellaneous
Keyboard and Trackpad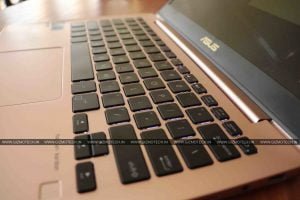 Zenbook13 features a LED Illuminated chiclet keyboard with three different brightness settings – has a surprisingly high resistance and deep travel (1.4mm).
It can be used at night or at low light. Typing on the keyboard is reliable and positioning the button is well done. Distance is reasonable and comfortable to use.
The trackpad is good in size with a glossy metal edge. It's smooth and responsive and feels good to use.
Speakers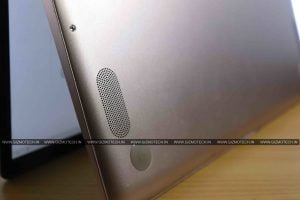 Zenbook13 has harman / Kardon (1W) Dual speakers with ASUS SonicMaster Technology is quite full. Collaborating with harman adds trust in the sound quality.
As compared with some 13-inch models the sound it is quite loud, but at full level or 100% distortion can be felt in the sound.
Fingerprint Sensor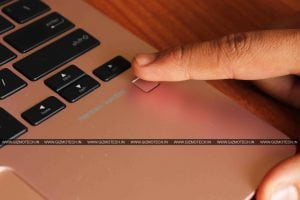 The Zenbook 13 comes with a finger scanner is also available. For maintaining the security system, this finger scan is a square shape that fits exactly 1 inch. Fingerprint scanning is very sensitive and accurate. Scanning is just a tap.
Connectivity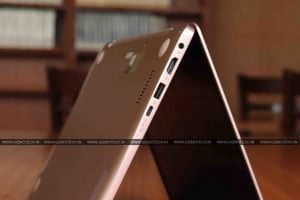 On the right side, Zenbook13 has a MicroSD port – 3.5mm headphone jack and USB 3.0. On the other side of the device is a charging slot, HDMI, USB3.0 and including TYPE-C, it is also quite modern, and the notification light, battery status and operation of the device are placed together in the side of the machine.
In today's world where most devices are removing the slot for microSD card having one doesn't make a lot of sense.
Also Read: Is One Plus 6T McLacren Edition Fast Enough To Beat iPhone XS Max
Verdict
The Zenboook13 is a powerful Ultrabook with strength and good specification making it more versatile Whether it is light work Like printing, using Word, Excel in general, or a bit more efficient Decorate images with Lightroom, Photoshop or illustrator. It is designed for the people who work on the go.
With the device not having a separate video card gaming on this is terrible the UHD 620 can barely get the payable FPS (Frames Per Second), but you should worry about the heat of the device. As far as trying it was found that if using heavy graphics, the machine will work hard and heat quickly. The cooling fans are a bit louder but get the work done.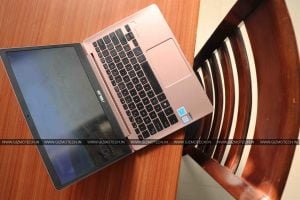 The Ultrabook has only 8GB RAM and only 245GB storage which is less. The 8GB RAM is good for low and medium loads but often gives up with high-end tasks or opening many tabs in Chrome. But you do get to open plenty of web pages before they run out of memory. The 245GB storage is low as compared to today's standard but the speed of the SSD is great, you will need to upgrade the SSD or carry an additional HDD (Hard Disk Drive) to carry more data.
But on everyday use, the Backlit keyboard helps a lot while working under the low light and with Military grade chassis and weight of 985gm the Ultrabook do feel great to work and carry around. The battery backup is also good which will get you through the mild usage. Overall the Ultrabook is good with little compromises which can be neglected.
What we Liked👍
• The device is thin and lightweight, easy to carry.
• The design is beautiful and looks good, including the body assembly.
• Bright screen and comfortable screen + Wide viewing angle
• The battery can be used for a long time and is ready to charge.
• CPU + GPU specification is strong enough for use
What we didn't liked👎
• Speaker is loud but distorts at higher levels.
• The VGA webcam is below-average.