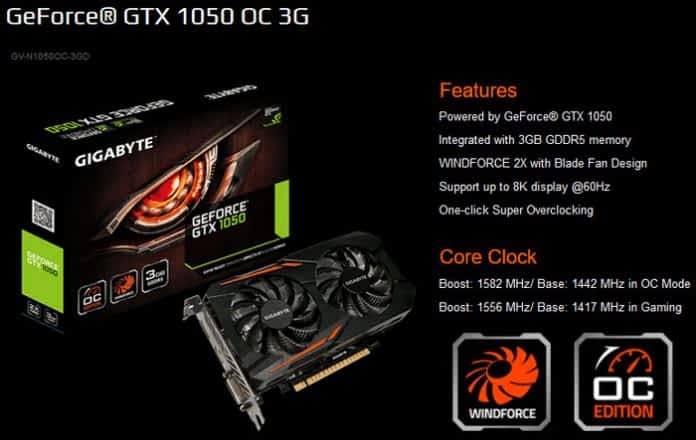 Less than a week after
NVIDIA
quietly introduced the
3GB GTX1050 variant
, Gigabyte has now rolled out their own version. The product page for the
GeForce GTX 1050 OC 3GB
is now available. As expected this uses the "new" GTX 1050 Pascal GPU which has a different configuration from the 2GB and Ti Version.
GTX 1050 OC 3GB
Gigabyte is the first one to publish a product page on it, and it confirms the specs. As you can see, the 3GB version is a real thing, there, however, is a significant change in the memory controller, it's 96-bit and that is a significant change, low-end and entry-level graphics cards are always very memory deprived in bandwidth. So you gain 1GB more memory, your memory bandwidth will drop by roughly 25% a good thing. However, is that the shader processor count and base clock has been increased a fair bit over the 2GB model. The 1050 3GB gets a bump on Shader processors, now at 768 shader processors (coming from 640 on the 2 GB 1050), straightening things out shaders wise at the level of the Ti model.
Gigabyte clocks its newest entry-level GeForce GTX 1050 OC 3GB card at a 1417-MHz in base speed in gaming mode and 1442 MHz in OC mode. Those core clocks could rise to a 1556 MHz boost range in gaming mode and 1582 MHz when OC mode is active, although Pascal chips' GPU Boost 3.0 smarts tend to push custom-cooled cards like this even further. For reference, Nvidia's reference spec calls for a 1392 MHz base clock and 1582 MHz when thermal and power conditions allow.
The semi-passive fans will remain off when the GPU is under a set loading or Low temperature.
Overclocking means extra heat, so Gigabyte uses the Wind Force 2X cooling system on the card. Two 80mm "3D" blades actively cool the aluminum radiator underneath. There are no heat pipes since the GTX 1050 does not generate much heat anyway. The fans are also semi-passive. Which means they do not operate under a certain GPU load or until necessary. Resulting in a much quieter operation for most of its life.
In terms of connectivity, Gigabyte's card has one HDMI 2.0 port, one DisplayPort 1.4 output, and a dual-link DVI-D connector. The HDMI port is good for a 4096×2160 display at 60 Hz and the DisplayPort has enough bandwidth for a 7680×4320 monitor at the same refresh rate. It supports three displays simultaneously.