Review
HyperX Savage EXO Portable SSD Review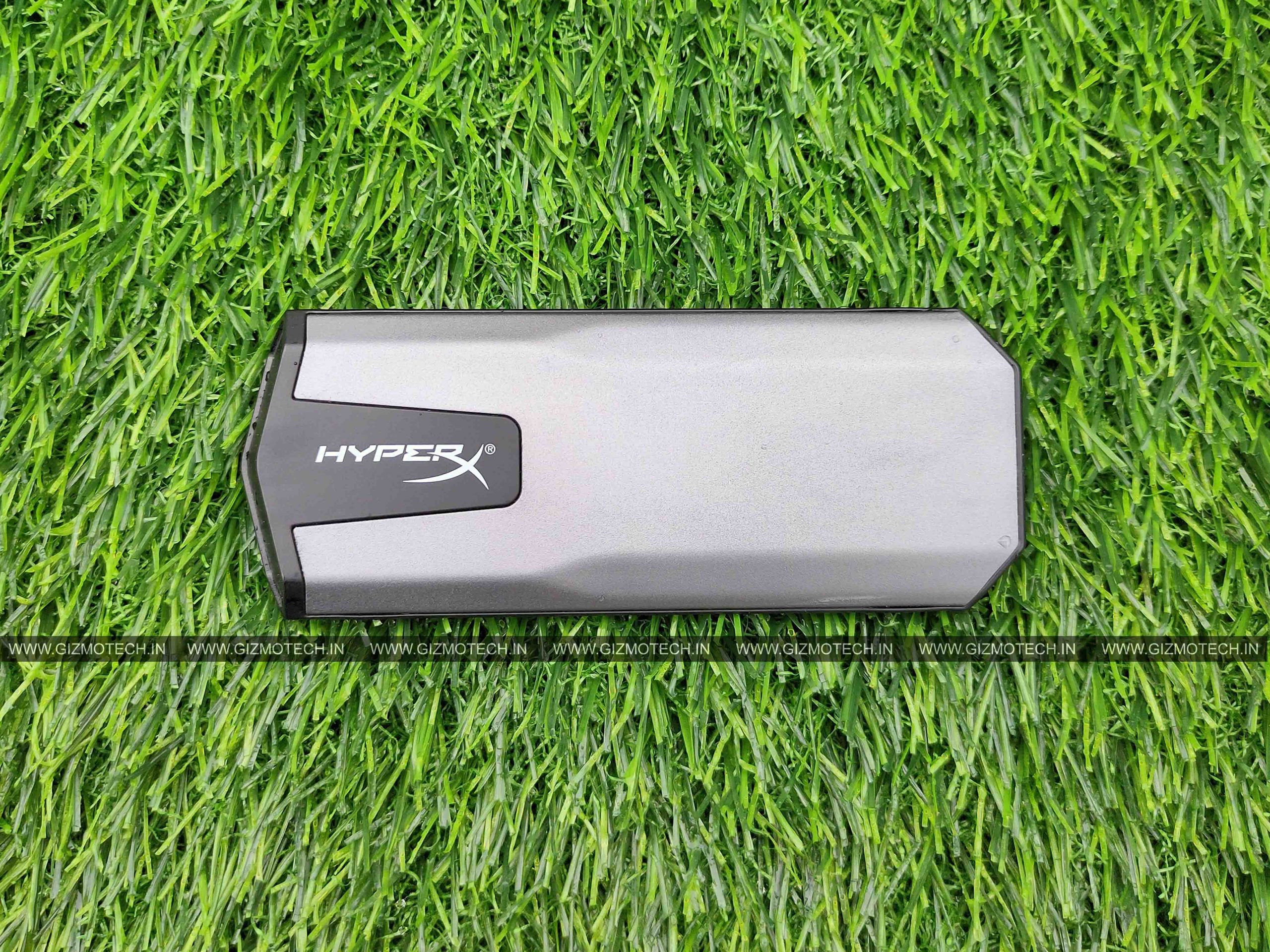 HyperX Savage EXO is the latest addition of the HyperX to the external SSD market. The HyperX Savage EXO is available in different versions with a capacity of 480 and 960 GB and connected via Type C. In our HyperX Fury RGB SSD Review, we will be reviewing the base variant of 480 GB.
The HyperX Savage EXO is priced at Rs 7,299 for 480 GB variant and is already available in Indian stores and online markets.
Inside the Box
About HyperX Savage EXO
HyperX Savage EXO uses a 64-layer 3D NAND TLC flash memory (Toshiba BiCS), Marvell 88SS1074 controller, as well as a SATA-USB 3.1 bridge – ASMedia ASM235CM.
SSD has dimensions of 123.8 × 48.6 × 10.2 mm and weighs only 56 g. The drives are initially formatted for exFAT, allowing you to immediately use SSD on Windows, Linux, Mac OS or PS4 and Xbox One game consoles.
The data transfer rate for read/write operations is 500 MB / 480 MB /s. This is only slightly lower than the classic SATA drives. In this case, USB 3.1 Gen2 interface is used for data transfer.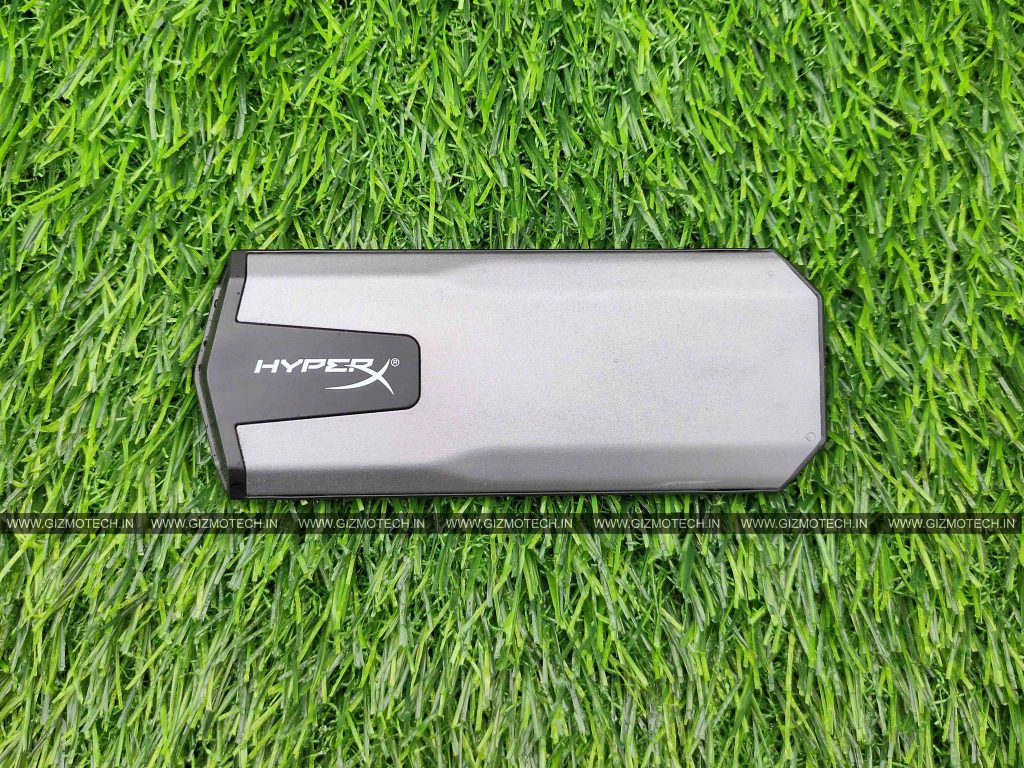 HyperX Savage EXO Performance and Benchmarks
The data transfer rates can reach 500 MB/s. However, it is important to note that these results were obtained when connecting HyperX Savage EXO to the high-speed USB 3.1 Gen2 port. In this case, the format of the port itself was not of fundamental importance – Type-A or Type-C.
Also, do not forget that the maximum speeds are achieved when transferring data from one SSD to another. If you, for example, copy files from your hard drive to an SSD, then the slower HDD will be the limiter.
SLC is caching and there's no way to get away from its features. This means that the speed of continuous recording will be reduced after filling the buffer. In the case of the 500 GB variant, it is possible to write about 3-5 GB of data at high speed, and then the speed will be reduced to 130-150 MB s. But this can be said to absolutely all drives with a similar SLC caching mode. Only there are cases when there are speed drops (30-50 MB/s) and in our case, the speed remains higher than any external 2.5 "HDD. Also, you need to handle "HDD carefully And you won't especially carry them in your pocket.
We tried using a portable SSD via a USB 2.0 port. As expected, you can get some data or save small amounts of information using the already outdated interface, but the performance of the drive is drastically reduced. There is an assumption that low performance when working with 4K blocks while reading may be due to insufficient current strength. Standard USB 2.0 ports provide only up to 500 mA, while a guaranteed 900 mA source is required for the drive to function normally.
Also Read: HyperX Fury RGB SSD Review: The RGB Hotness
A drive activity indicator is located next to the interface connector. The compact white LED lights up when accessing the SSD. A useful little thing, which makes it possible to determine for sure whether the system's access to the device has ended.
Kingston offers a utility called SSD Manager for free download. If you don't know this, then you're out of luck, because there's not a single word about it and there's no information, even in retail packaging.
The software is extremely poorly designed and does not even scale properly on our monitor, with a high resolution of 4K in Windows 10.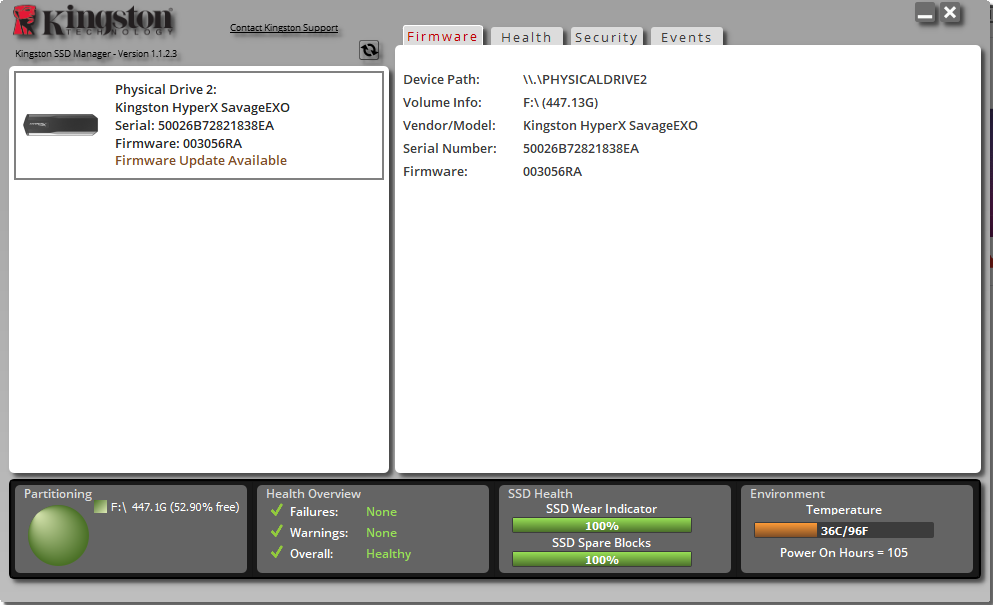 In terms of functionality, it covers everything you need, including a wear level meter, the ability to safely erase a disk and upgrade firmware, as well as detailed diagnostic reports.
Conclusion
HyperX Savage EXO drives are available in India, the 480 GB model costs about Rs 7,299 (~ $ 145), and for the 960 GB version they go almost twice as much (~ $ 285). On average, the price is comparable to those for alternatives in this class.
Portable drives cost a bit more than internal SSDs of a similar size, but external devices additionally require a case, a controller bridge and associated wiring, as well as interface cables. Portable SSDs no longer look like an overly expensive purchase, especially for those who need a high-speed external drive.
Overall, the HyperX Savage EXO looks good, performs well and you also get that 3-year warranty with the drive for added peace of mind.