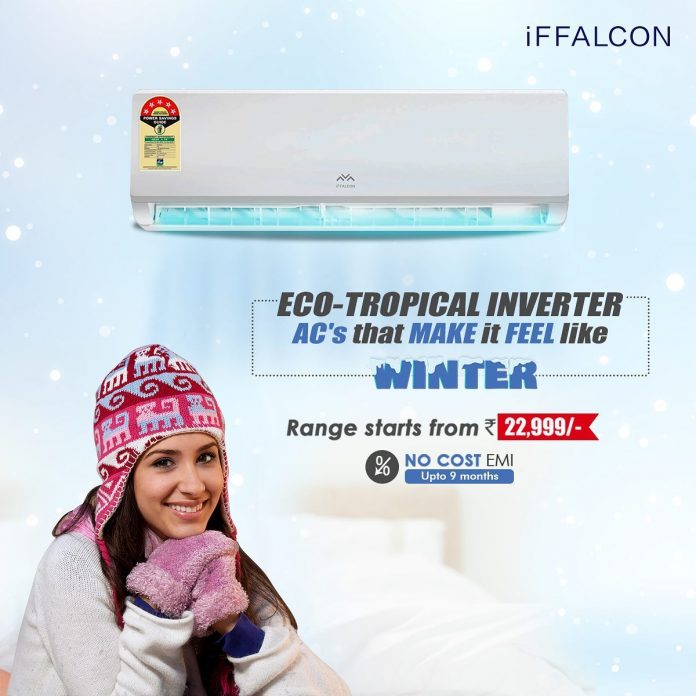 Leading television brandiFFALCON, a part of TCL Electronics, has today announced the launch of its range of Eco-topical Inverter air conditioners on Flipkart. Introduced at an entry price of Rs 22,999, the Smart AC will be available to millions of Flipkart consumers across the country in a safe and hygienic manner.
Powered by advanced technologies, the Eco-topical Inverter air conditioners works with Google Assistant and TCL Home APP to ensure Smart Connectivity. Equipped with premium Cooling Technology, these ACs ensure strong cooling even at high ambient temperature up to 60°C. The device starts with high frequency and can run at maximum RPM to bring down the temperature to 18°C in just 30 Seconds.
Another impressive feature of iFFALCON ACs is that it is designed to reduce power consumption by 50%. The smart air conditioners also sport a Titan Gold Evaporator and Condenser, which not only adds efficiency to the process but also extends the life of the Air Conditioner. It also features a Silver Ion Filter to remove bacteria and ensure fresh air in the room.
An advanced remote sensor with I Feel Technology enables the device to sense the room temperature with high precision. Besides these offerings, the elite series comprise additional features such as R32 eco-friendly refrigerant, digital temperature display, 100% copper tubing and 4-way airflow, which will provide users with uniform cooling in the room.
Commenting on the launch of smart ACs on Flipkart, Mike Chen, General Manager of TCL Electronics said, "Since inception, we have strived to remain at the forefront of technology and delivered high-end entertainment to the Indian youth. With our new generation air conditioners, we are now trying to add comfort to their lifestyles and make home experience smarter than ever before. We're pleased to partner Flipkart to offer millions of its consumers across the country access to industry-best smart cooling appliances in the form of iFFALCON ACs to truly experience connect living."
Hari G. Kumar, Senior Director, Large Appliances at Flipkart said, "Flipkart, as a homegrown e-commerce marketplace, has always laid emphasis on bringing the best-in-class technology innovations to our consumers' doorstep. The new product offerings from TCL are a compelling choice for consumers to choose from and we are pleased to bring these products to millions of Flipkart's consumers coupled with the affordable payment constructs such as No Cost EMI to make their purchase a truly seamless experience."