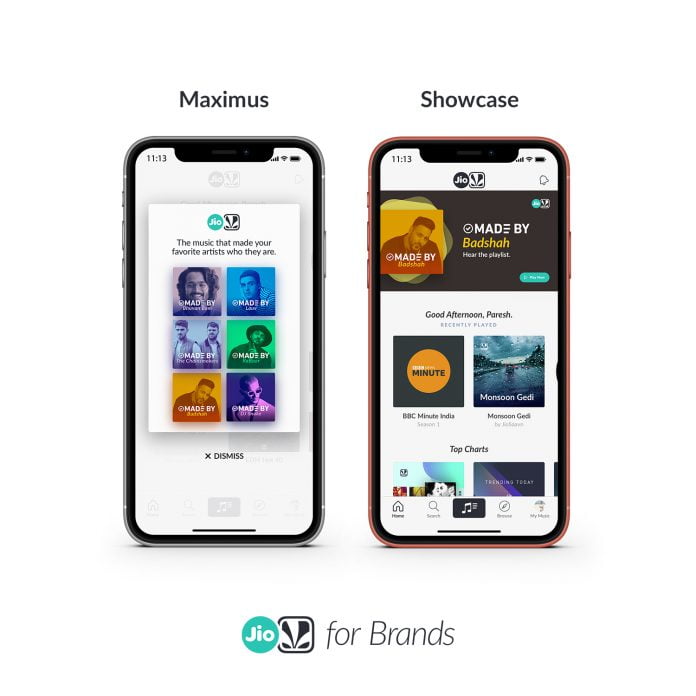 JioSaavn, the largest audio streaming service for South Asian music and entertainment, has led the market in audio and content association solutions for advertisers since 2014. The streaming platform has experienced five-fold growth in terms of MAUs (Monthly Active Users) in the last year alone, with greater expansion into tier-1 and tier-2 cities.
The largest music service in the country, JioSaavn is addressing Jio's unmatched 340 million user footprint and has become the most downloaded OTT music platform in app stores today. As a unit of Jio, the streaming platform will now offer brands the opportunity to connect with its exponentially growing listener base, announcing today the addition of all-new display ad products – Maximus and Showcase.
Maximus and Showcase are designed to ensure that brands grab the attention of millions of listeners on the platform in the most effective way. These high-impact offerings reach the entirety of the streaming platform's ad supported user base while continuing to keep the user experience at its optimum.
Maximus is a full-screen display ad takeover that renders at the launch of the JioSaavn app. It is a 5-second non-dismissible branding product that ensures maximum visibility as the first impression.
Showcase is an interactive display product that offers brands a customizable ad placement at the top of the JioSaavn app's homepage. This always-on ad experience stays anchored and doesn't disappear for the duration of the campaign.
Also Read: Cyberpunk 2077 Coming to Google Stadia
"Over the last few years JioSaavn has become a premier destination for advertisers in India. As the industry continues to evolve, we are committed to delivering the most effective ad experience possible for our brands. The newest offering is an opportunity to go outside small targeted areas to reach all of our listeners. Designed for high visibility and maximum reach, Maximus and Showcase are a powerful way for brands to connect instantly with our growing user base. They are our highest-impact ad products yet." said Gaurav Kaushik – Global Vice President, Advertising Platform, JioSaavn.
Having run a number of successful campaigns in the past two months, both ad experiences have seen traction and significant results for brand partners.
JioSaavn has been at the forefront of advertising on digital audio – among the first to launch native ad products in addition to bringing programmatic audio to India. With its new display ad offerings, and a forthcoming video unit, the streaming platform aims to give brands unparalleled exposure in an immersive listening environment.