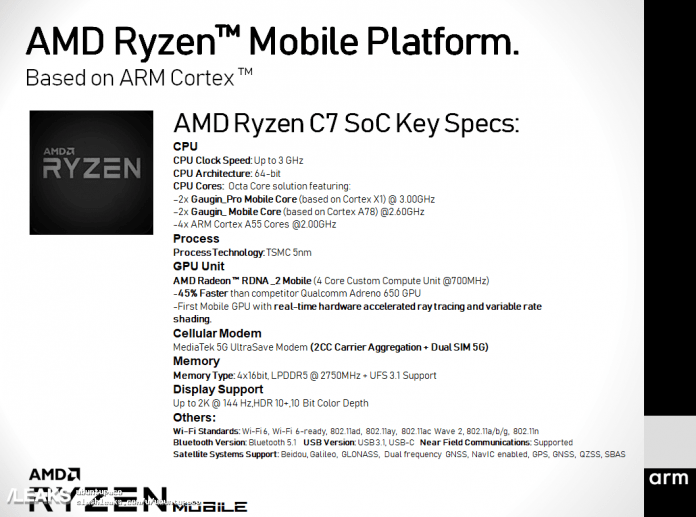 After defeating Intel it looks like AMD is ready to take on the mobile chipset market with Ryzen C7 from AMD. Ryzen C7 a 5nm manufacturing process chipset that will integrate the Cortex-X1, Cortex-A78 and Cortex-A55 cores of ARM along with AMD's RDNA2-based graphics chip and 5G modem. Is it real? Maybe, is it possible? Yes.
We all know that AMD is developing an RDNA-based graphics chip designed for Samsung's chipset. However, this needs to be taken with an extra pinch of salt, the screenshot reveals the Ryzen C7 which was uploaded from an unknown source to the slashleaks site from where it was subsequently deleted.
According to the leaked screenshot, the chipset will Ryzen C7 processor with 8-Core configuration 2 + 2 + 4, consisting of coupler cores based Gaugin_Pro Mobile Core Cortex-X1 frequency of 3.0GHz in addition to a pair of cores Gaugin_Mobile based Core Cortex-A78 frequency of 2.6GHz, together With 4 Cortex-A55 cores at 2GHz frequency. On the graphics side, we will find the AMD Radeon RDNA 2 Mobile graphics chip with 4 700MHz processing units, which should deliver up to 45% performance over the Adreno 650 chip found in Qualcomm's Snapdragon 865 chipset.