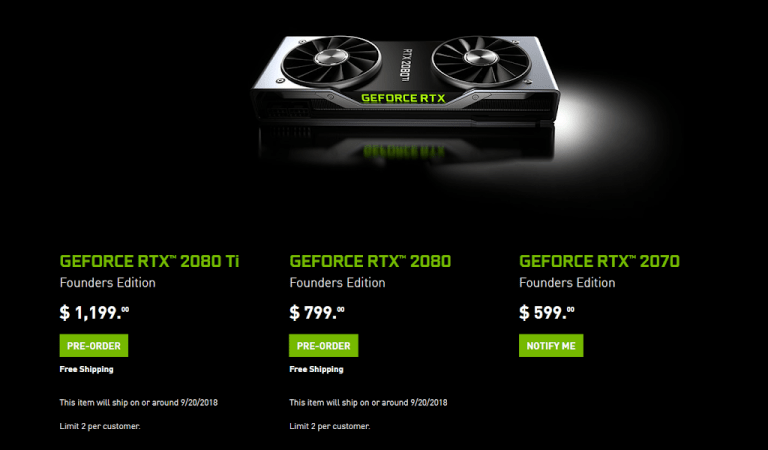 Performance results from 3DMark Time Spy for allegedly being the Nvidia Geforce RTX 2080 with the latest drivers have now appeared and show that the upcoming graphics card can beat Titan Xp and overclocked GTX 1080 Ti on the fingers.
When Nvidia first uncovered its future RTX graphics cards, no traditional performance figures were mentioned. Nvidia's focus has been on the future graphics cards performance in real time real-time racing and not how the upcoming models stand against their predecessors.
Now, however, figures for what is said to be an RTX 2080 run through the UL Benchmark test suite 3DMark Time Spy have emerged. The graphics card has been tested with the latest 411.51 driver, which officially supports the upcoming RTX series. In the test, the graphics card was flanked by an Intel Core i7-8700K and 16 gigabyte (GB) DDR4-RAM.
The above picture shows that the system managed to bring home a general score of 10,147 and a graphics score of 10,659. This with the clock clocked to 7,000 megahertz (MHz), which becomes an effective 14,000 MHz clock frequency. Graphics processor clock frequency is listed as 1 875 MHz. With this, the upcoming graphics card's score is well ahead of the results of the GTX 1080 Ti and Titan Xp, which are in 3DMark's database.
As usual with leaked numbers, they should be taken with a pinch of salt. Geforce RTX 2080 and 2080 Ti will land on store shelves on September 20, and performance figures from independent testers should appear right before launch.
This was tweeted by Tum Apisak (via WccfTech), who has spilled previous GPU leaks, the score achieved was 10,147, with a graphics result of 10,659.
— APISAK (@TUM_APISAK) September 14, 2018