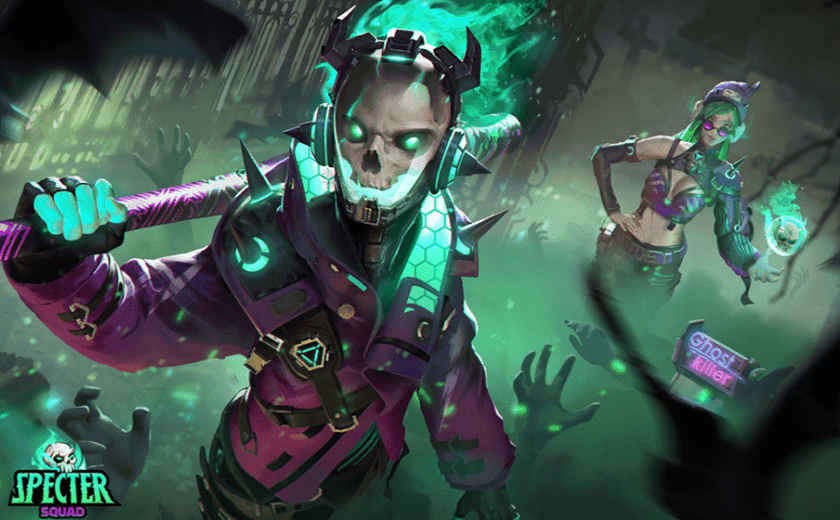 Free Fire, one of the world's most popular mobile games, invites Survivors to the first Elite Pass (EP) of 2021, Specter Squad. The EP takes place in the not-too-distant future in a world where specters exist, some of which have turned to evil. As a result, many countries have secretly started to hire their own specter squad with their own advanced technologies and intimidating ghost-themed outfits.
 
The Specter Squad EP focuses on two particular members – Huge and Enid. These old friends have been hunting specters together for some time, and in this EP, have tracked down an especially annoying and dangerous one inside of an old house within a small town. Prior to this location, the specter had rampaged through two larger towns by setting homes ablaze. They even started fights with the humans they possessed and killed an innocent man in the park. It is up to the Specter Squad to put a stop to this menace.
 
In the Specter Squad EP, players can earn several rewards that will make them feel like they're a part of this elite team. This includes the Specter Raider Bundle and Specter Basher Bundle, which represent outfits worn by Enid and Huge, respectively. Additional rewards include the Specter Squad Thompson weapon skin, the Ghost Trapper Backpack, the Specter Squad Surfboard, the Ghost Gamer Loot Box, and the Specter Mischief Grenade skin. A Crystal Skull avatar and Specter Squad banner are also available.
Also Read: Free Fire's Latest Update to Feature Clash Squad Season 
 
In addition to an all-new EP, Free Fire will launch a site that enables Survivors to browse an EP's story, CG, and rewards. To celebrate its launch, Survivors who purchase an EP for the first time or cumulatively in the future can earn extra rewards.
 
The style behind the Specter Squad EP was inspired by a combination of punk aesthetics, such as spikes, as well as near-future streetwear elements. A clash of purple and green colors help make this EP more expressive and unique when compared to others.
 
Survivors looking to become specter busters can either go through years of rigorous mental and physical training, or they can jump into Free Fire's Specter Squad EP when it releases on January 1st, 2021