The latest update for PUBG MOBILE introduces several new weapons, an all-new Scooter vehicle, dynamic weather in the Sanhok map and the much-anticipated Royal Pass Season 4, which includes all kinds of rare outfits, new hairstyles and more. The update goes live today on the App Store and Google Play.
The most important update will be Royale Pass Season 4. With Royale Pass, players complete daily and weekly missions to earn points and increase their rank. Complete a certain number of missions every week will win additional crates and currency.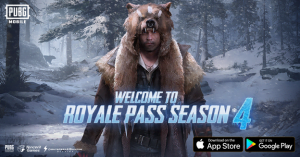 In Royale Pass Season 4, PUBG MOBILE will
Add more firearm finishes, rare outfits, new character faces and hairstyles.
Fine-tuned the redemption feature.
Add Mission Cards.
Add an event where packs are discounted heavily during Black Friday.
What's New in Version 0.9.5
Added M762 automatic rifle, available in all maps.
Added new Sanhok vehicle: Scooter.
Added dynamic weather to Sanhok.
Added hardcore mode to provide the same experience as PC.
Increased the odds of certain crate drops
Hardcore Mode
This update also brings in a Hardcore Mode to the game to add into the replayability and competitive aspects of the game. In this mode, footstep sounds and audio cues are removed, making it significantly more difficult to hunt down other players. The mode will be available periodically in the form of "Hardcore Week".
Though Tencent rolled out the update on November 20, users had to wait until a day later on November 21 for the global servers to get connected. Users should also keep in mind that the game will wipe out all ranks and scores from the previous season and players will begin with a clean slate in Season 4.