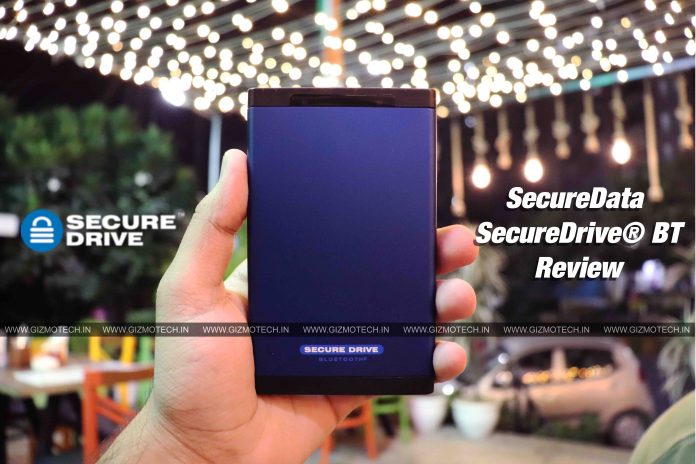 Secure Data, SecureDrive BT is a Hardware Encrypted External Portable Drive, it is made for people who want to take data security one step ahead. The Drive is Hardware-level encrypted, OS Independent, Remote Management, Secure Wireless User Authentication portable storage that has several awards including (Red Dot 2019 Award Winner and CES 2019 Innovation Award) and this is just digging into the features. The FIPS 140-2 Level 3 Validation Certificate #3349 can be found here. The Drive uses your mobile device and Bluetooth to unlock the device. 
Our SecureDriveBT Review device comes with 1TB SSD storage and is available online for $559 and the Secure Data SecureDriveBT starts from $285. The drive is available for purchase on Amazon, Secure Data.
Features:
FIPS 140-2 Level 3 Validated: Certificate #3349
Hardware Encryption – AES256-bit XTS
Convenient Unlocking Options – TouchID, FaceID, Face Recognition, Fingerprints (iOS & Android)
Password Recovery, 2FA, Remote Wipe
OS Independent. Works across and with any OS and Devices
Useful Locking Step-Away Option
What's in the box?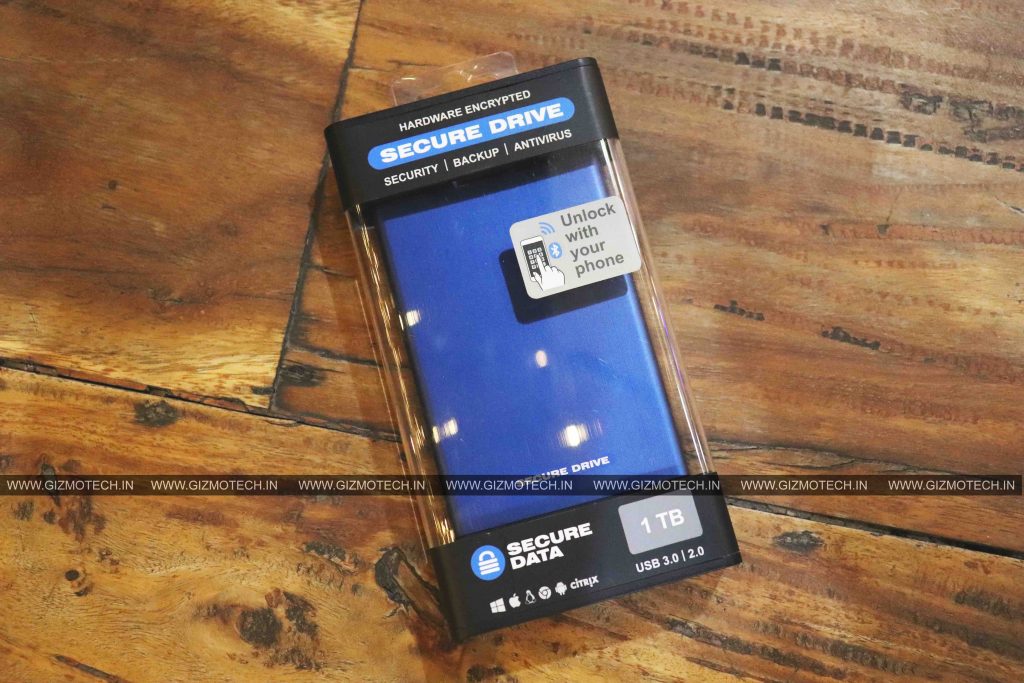 Export Notice information sheet
Design
In terms of design, the SecureDrive BT has a premium aluminium case with 3 indicator lights (Red on Locked and Green on Unlocked). The 3rd light would be the blue dash which indicates the drive is communicating with the host device.
The device doesn't feel fragile in any way and was designed to travel with your data safe and secure.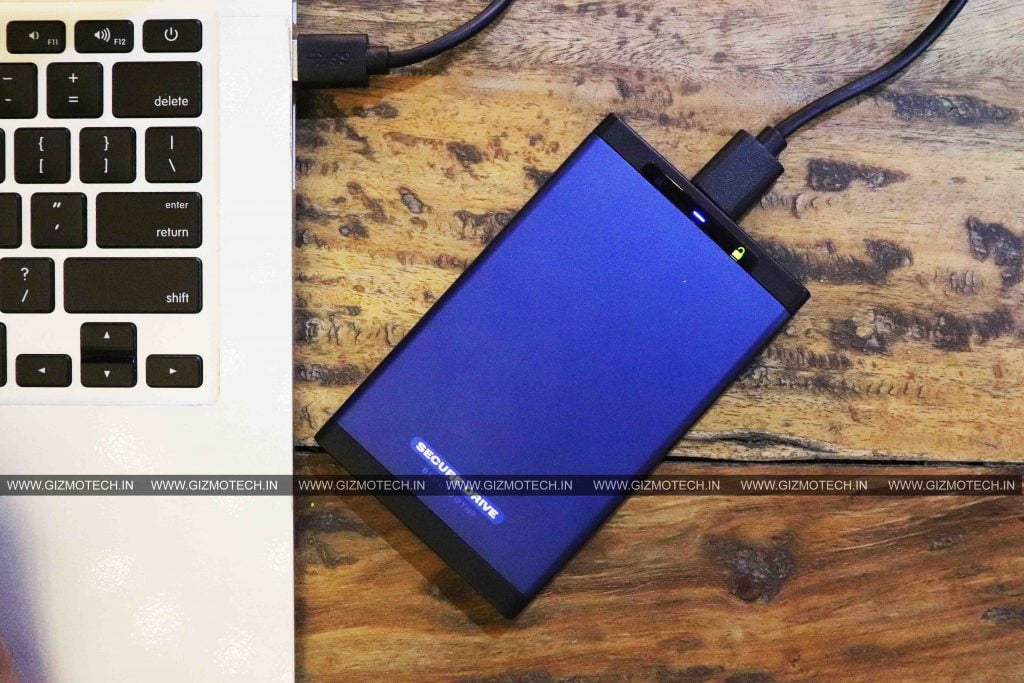 The device doesn't feel fragile in any way and was designed to travel with your data safe and secure.
Like the other SecureDrive KP it doesn't attract a lot of attention and looks like any ordinary premium SSD.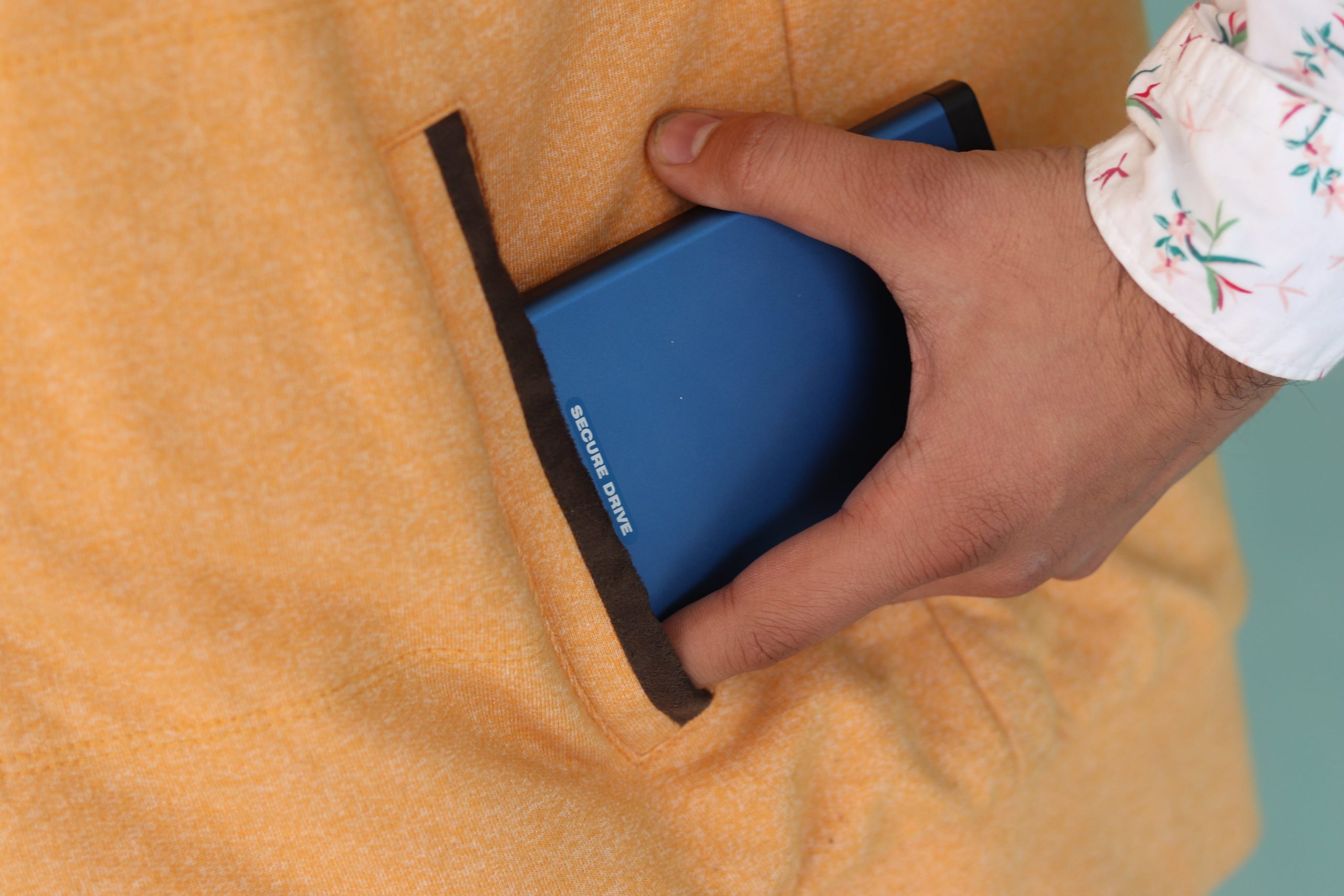 Also Read: HyperX Fury RGB SSD Review: The RGB Hotness
Performance
In terms of performance, SecureDrive is quoted at 355MB/s read and 333MB/s for the SSD version.
The drive comes in both HDD and SSD models, so if you are looking to for extra speed than you need to shell out some extra money. Although in 2019 buying an SSD is a clever decision as it saves a lot of time when transferring a large amount of data. We ran a few tests to check out how the drive performs.
We used the drive in different platforms and hardware. For Windows we used the ROG Zephyrus M GU502 as our test bench and for Linux we used a HCL ECO Prebuilt with Intel Core i3-530 paired with 8 GB RAM and 240 GB WD Green SSD.
Following Software's were used to benchmark the drive.
Crystal Disk Benchmark, ATTO Disk Benchmark (Windows)
Benchmark (Ubuntu)
BlackMagic (Mac)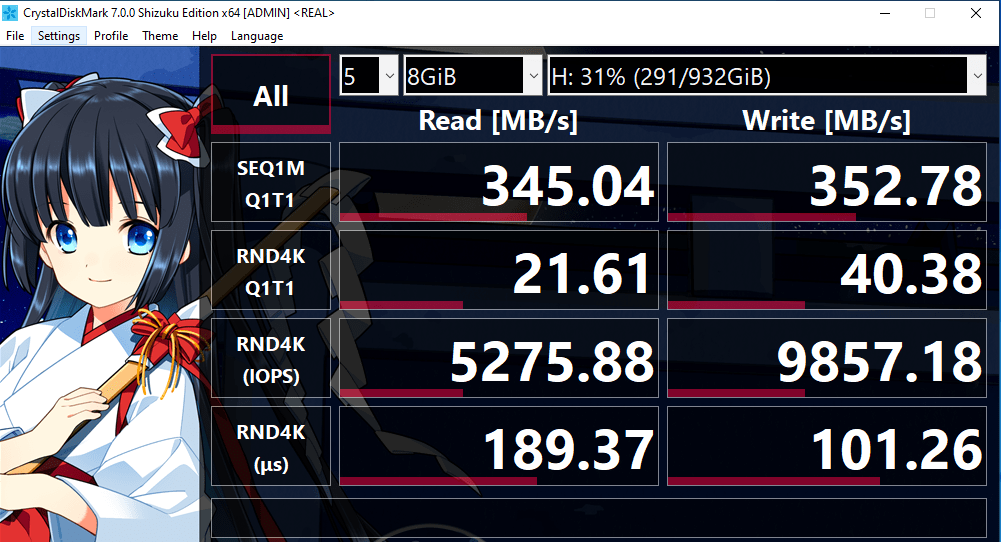 The performance is good the read and write speed are average to a normal SSD. While the main USP of the drive is not the performance but the security it offers.
The drive was able to give a speed of 240 MB/s until the drive cache runs out after that the speed is 75MB/s.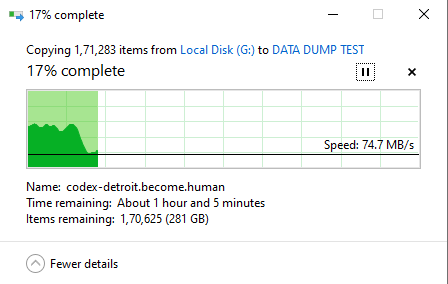 Software And Special Features
The main reason anyone will consider buying the drive is for its security and as promised to protect your data. The drive is FIPS 140-2 Level 3 validated and protected by military-grade AES 256-bit XTS encryption. In short, there is no way for you to get back your data if you forget the security credentials.
To set-up and use the SecureDriveBT you need to install the DATALOCK APP, to unlock the drive via Bluetooth.
In order to pair the drive with the app. You need to enter eight-digit number stamped on the drive in the app. Once paired over Bluetooth the drive appears in the app with its status of being locked or unlocked.
The default password is 11223344 so that's also what you will need to input the very first time you will unlock the drive.
More detailed process can be examined here from the PDF by SecureData.
Users wanting to go an extra mile with their security, few extra settings can be applied to safeguard your data. You get options like Inactivity Lock, Step Away and Read-only.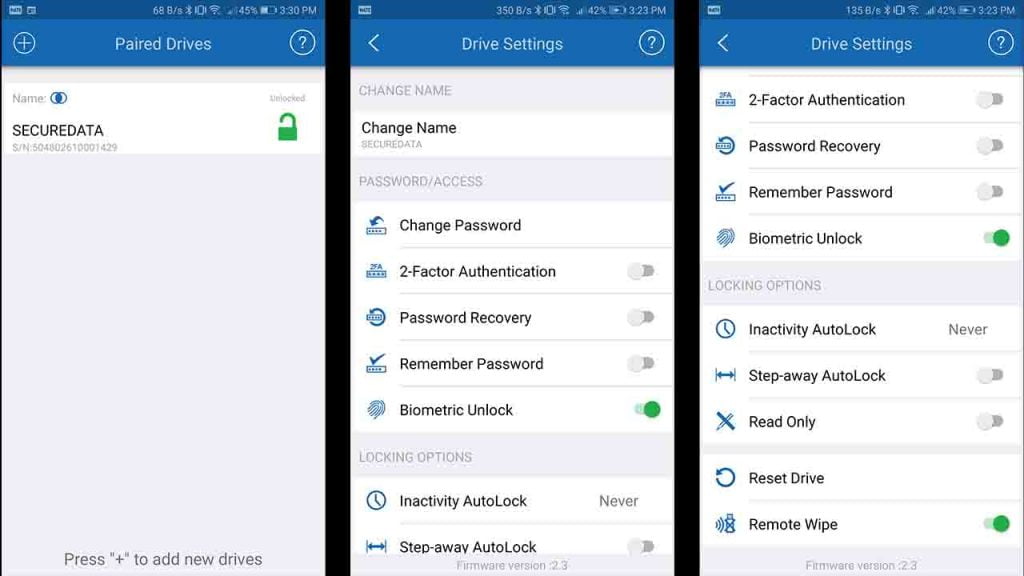 Additionally, Secure Data has also options like DriveSecurity® Powerful Antivirus which automatically scans for Virus and malware and Remote Management (RM) License which can Remotely enforce security policies.
The app will work with most smartphones and tablets, but it's also compatible with the Apple Watch.
Conclusion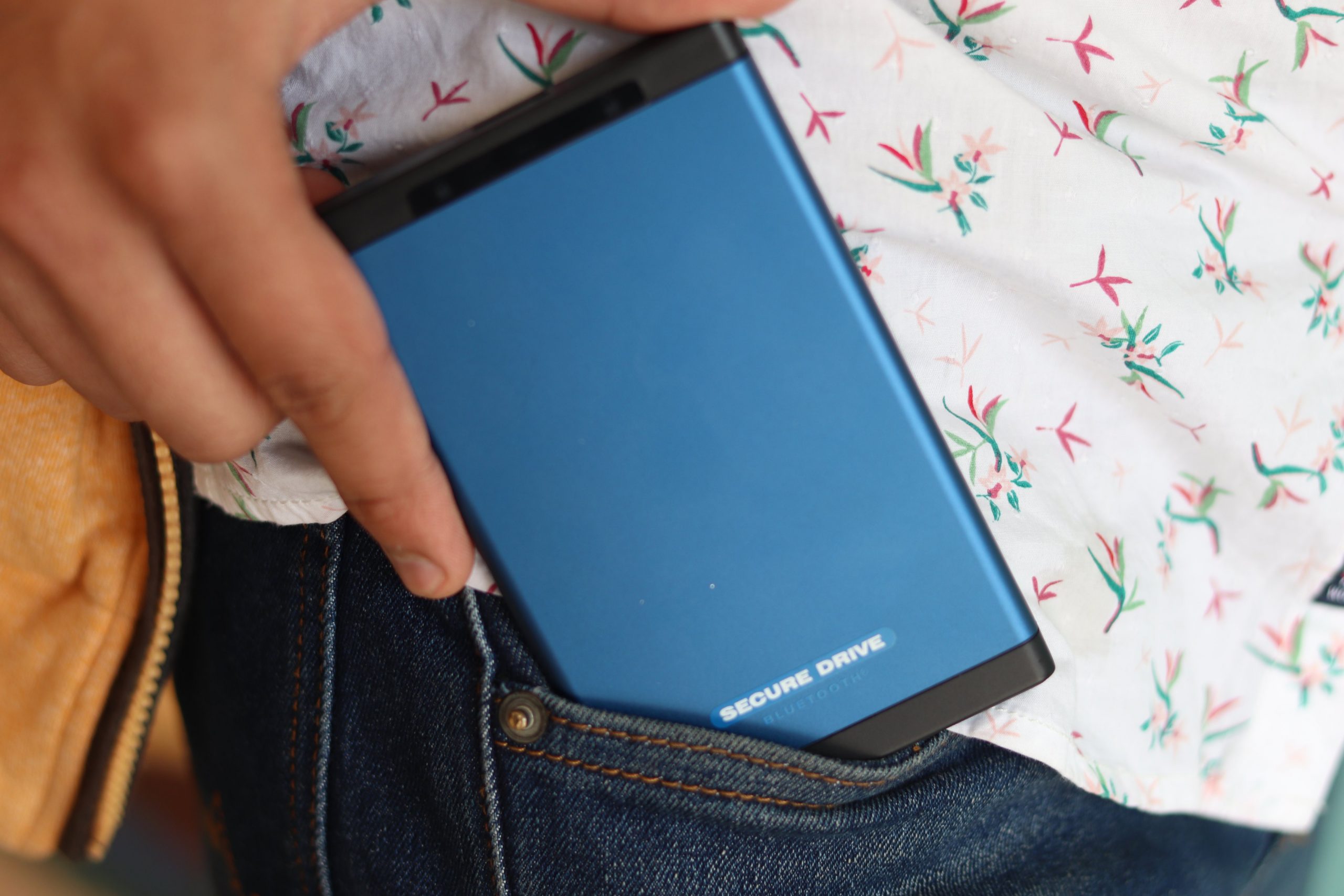 Overall in our SecureData SecureDrive BT review, we found the drive deserves your attention if data security is your top priority. The hardware-encrypted external storage device uses the Bluetooth authentication approach which is very different from the others we have seen in the market. Earlier we have seen the hardware-encrypted pen-drives, but those couldn't help people carry a large amount of data. The wide range of availability in capacities makes it affordable for the end-users. Users can choose from HDD and SSD with capacities up to 8TB. 
When compared to the traditional hardware-encrypted drive, the SecureDrive BT keeps a low profile doesn't attract a lot of attention and looks like an ordinary external drive with premium design.
Although you will always need a BT enabled device to unlock the drive, and if you want to use some cool features like Data Security and Remote Management you do need to purchase a separate subscription.