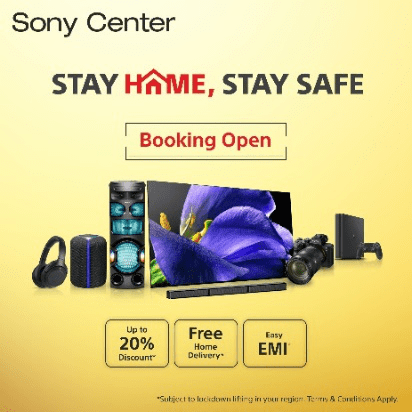 Sony has announced its 'Stay Home, Stay Safe' programme under which Sony is offering a huge discount and offers on its products range. Sony wants to offer the best Home entertainment offers to the customer who are spending time at home, during the lockdown.
Sony India has also launched the first-ever online purchase option www.ShopatSC.com via a third-party portal, supported by the retail and distribution channel. The after-sales services have also been geared up fully to provide seamless and protected customer service experience to consumers. Sony is also offering a special Warranty extension till 15th June 2020 for customers whose product warranty lapsed during the lockdown period.

On the combined purchase of BRAVIA KD-55X9500G and HT-Z9F soundbar, customers can avail a massive discount of Rs. 24,000/-. Even better, on the combined purchase of KD-65X9500G and HT-Z9F soundbar, customers can save Rs. 44,000/-. Additionally, there are other TV and Soundbar combo offers with all BRAVIA TVs from 102 cm (40) and above.
Also Read: Realme Narzo 10, 10A Set to Launch in India on May 11
Avail Rs. 20,000/- discount on a purchase of any Full Frame Body (α7 III, α7R III, α7R IV, α9, α7S II, α7R II) together with SEL24105G & SEL2470Z Lens. A discount of Rs. 15,569/- on exclusive Vlogger Kit α6400 (ILCE-6400L).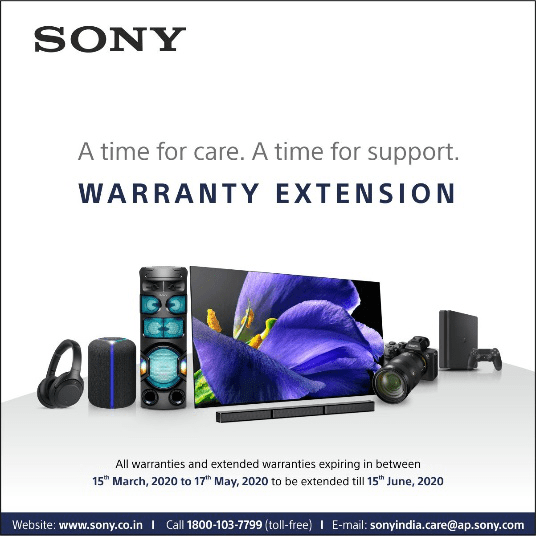 Amazing discount of up to 20% with special price offers for key BRAVIA TV models; priority delivery and installation on advance booking
Rs. 20,000/- discount of purchase of any Alpha Full Frame body together with select lenses
For the first time, a 216 cm (85) TV with advanced technologies will be available in the Indian market at a very special best buy price of Rs.5,99,990/-
Get an immersive Home Theatre Experience with attractive TV and Soundbar combo offer to 'Create Your Own Cinema at Home'
| | | | |
| --- | --- | --- | --- |
| Product | Previous Best Buy (In INR) | New Best Buy (In INR) | Reduction (In INR) |
| KLV-32R202G | 17,990 | 15,990 | 2,000 |
| KLV-32W622G | 25,990 | 23,990 | 2,000 |
| KD-49X7002G | 66,990 | 64,990 | 2,000 |
| KD-49X8000G | 76,990 | 74,990 | 2,000 |
| KD-55X8000G | 86,990 | 84,990 | 2,000 |
| KD-55X8500G | 104,990 | 89,990 | 15,000 |
| KD-55X9500G | 139,990 | 119,990 | 20,000 |
| KD-65X9500G | 219,990 | 179,990 | 40,000 |
| KD-55A9G | 249,990 | 229,990 | 20,000 |
| KD-65A9G | 349,990 | 329,990 | 20,000 |
| KD-75X8000G | 249,990 | 219,990 | 30,000 |
| KD-85X9500G | 999,990 | 799,990 | 200,000 |