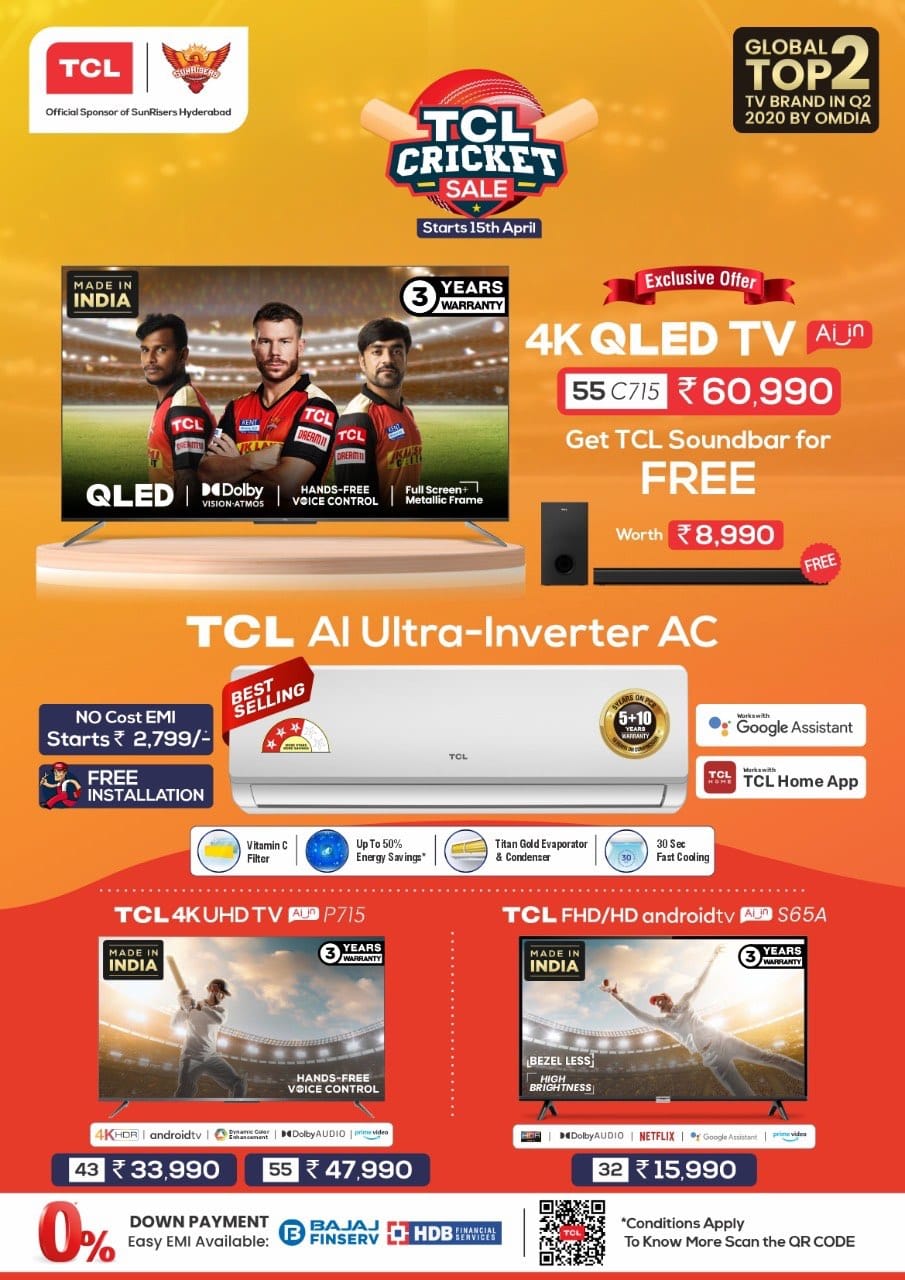 As part of its official partnership with Sunrisers Hyderabad (SRH) for the second consecutive year, TCL, a global top-two television brand and leading consumer electronics company has rolled out Cricket Special Offers on 4K UHD and QLED TVs along with AI-Ultra Inverter AC that comes with free installation charges. TheTVs on offer are P715, C715 and C815, starting at INR 33,990.
To make shopping more convenient and affordable, the brand is also providing Bajaj Finance offers on both TVs and ACs. All these products will be available in the nearby physical stores.
P7154K UHD TV
A 4K UHD model, P715 comes equipped with advanced display technologies like Dynamic Color Enhancement, Micro Dimming, and 4K Upscaling, delivering stunning video and picture quality to users. It also offers Hands-Free Voice Control for better control of the device, where users can operate and play their favorite TV shows and movies or open apps using simple voice commands. The device supports Dolby Audio for an enhanced audio quality and superior entertainment experience. Available in 43-inch and 55-inch, the models are priced at INR 33,990 and INR 47,990.
C715 4K QLED TV
A QLED model, C715 features Quantum Dot Technology, Dolby Vision, HDR 10+ and IPQ engine for truly immersive video viewing. It also supports Dolby Atmos and DTS Smart Audio processing for unmatched audio output in addition to Hands-Free Voice Control, enabling users to operate the device by giving direct commands. Available in 55-inch and 65-inch, the models are priced at INR 54,990 and INR 60,990, respectively. Along with this variant, the TCL soundbar comes for free which is worth INR 8,990.
Also Read: iFFALCON Launches Eco-tropical inverter ACs on Flipkart
C8154K QLED TV
Another advanced QLED TV, C815 offers Dolby Vision, Quantum Dot Technology, HDR 10+, and MEMC for crisper content viewing experience, especially action-packed shows and movies. In terms of voice, the device sports integrated ONKYO soundbars placed at the bottom and supports Dolby Atmos for a powerful and superior audio quality. It also has Hands-Free Voice Control, giving users a better control of the device using direct voice commands. Available in 55-inch, the TV is priced at INR 79,990.
All the aforementioned models come with TCL's in-house AI-IN feature built-in, which ensures smart interconnectivity at home by allowing users to connect other smart home devices with their TV and operate all of them simultaneously through one medium.
AI-Ultra Inverter AC
Backed by artificial intelligence, the device comes with AI-Ultra inverter compressor technology, ensuring up to 50% of power saving and reduce the room temperature to 18-degree Celsius in 60 seconds. It supports Google Assistant and TCL Home app for hands-free control. It also sports Titan Gold evaporator and condenser for their increased efficiency and life, along with Silver ion filter to keep the living area completely safe and bacteria-free. Some of the other features are digital temperature display, four-way airflow, 'I Feel' technology and R32 eco-friendly refrigerant.