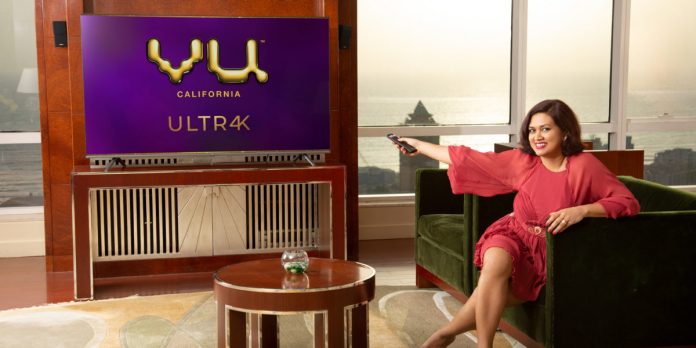 VU Televisions, a leader in the premium television segment and the largest seller of 4K TVs in India, will unveil its new range of Vu Ultra 4K Television. This is the first time that any television brand across the world has done a product launch from home. This fully loaded TV comes with an Ultra-edge 4K Display with 40 % Enhanced Brightness, Backlight Controller, Upbeat Surround Sound, Pro-picture Calibration and Parental Block to make your home quarantine experience blissful. The new Vu 4k Ultra television is available in 4 sizes – 43", 50", 55" and 65" in the price range of Rs.25,999 to Rs. 48,999.
Speaking about the launch, Devita Saraf, Chairperson and CEO, Vu Technologies said, "In the last one month Vu has emerged as the #1 television brand in India. We have sold over 50,000 television sets in May. This just goes to prove that our product quality, innovations, features and customer service are unmatched. Our new 4K Ultra TV has been designed keeping in mind the needs of our customers who of working from home, binge-watching, and looking at television as an entertainment source for the entire family."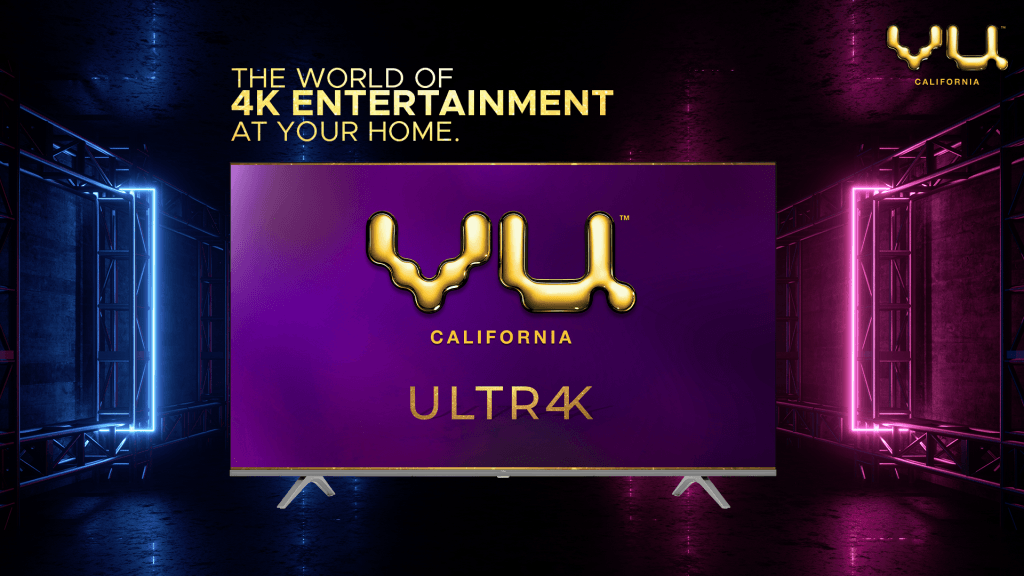 1) Ultra-edge 4K Display with 40 % Enhanced Brightness
The Vu Ultra 4K TV comes with the next-gen, high-performance special optical film that controls the amount of light entered through the backlight LEDs, increasing the viewing angle through its wide reflection. With the light reflection enhanced by 40% and the overall brightness improved with accurate white balance, you get to avail the best viewing experience even in the daylight.
2) Ultra Advance Picture with Dolby Vision & HDR10
Vu Ultra 4K TV comes with Dolby Vision, HDR10 & HLG technology which enhances colour details, depth, sharpness and the black and white level by maximising the contrast and colour accuracy to bring out true colours and enhanced levels of clarity during your viewing experience, even in the darkest areas.
Also Read: TCL Launches P715 Flagship 4k Android Model with Far Field Voice Recognition
3) Pro- Picture Calibration Mode
The Vu Ultra 4K TV comes with advance picture calibration based on your viewing preference.
This expert picture calibration combines of color temperatures, MPEG noise reduction, HDMI dynamic range, Gamma correction & Color calibration to deliver the most crisp, sharp and realistic images on a 4K TV panel for an ultimate visual experience.
4) 100 % Ball Visibility with Vu Cricket Mode
Get the stadium home with Vu Ultra 4K TV Cricket Mode! Our advanced technology ensures you get 100% Ball Visibility even when it is in full motion, irrespective of what environment it is in so that you stay ahead of the game!
5) Upbeat Surround Sound audio with DTS Virtual X
Vu Ultra 4K TV comes with three main features of the Digital Theatre System add overhead sound effects to deliver surround sound with greater realism than older sound formats.
TruBass HDX: Optimizes overall sound quality by increasing bass, making dialogue clear and natural, and widening the sound field.
TruSurround X: Provides surround sound experience with psychoacoustic processing to place sounds beside, behind, and above the viewer. For best results use with Surround X Sound