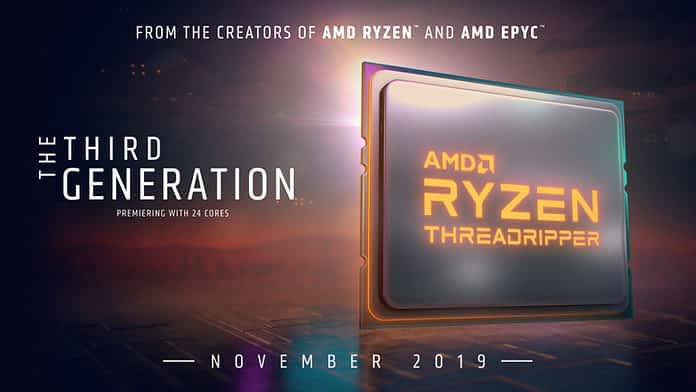 AMD today officially announced the launch of its third-generation Threadripper processors, designed for the HEDT market, based on Zen 2's 7nm production. In the first phase, two new models will be available, the 3960X and 3970X , offering 24 cores with 48 capillaries and 32 cores with 64 capillaries, respectively.
The third generation of Threadripper processors will replace the previous generation and align with the Ryzen 3000 desktop processors as it moves to use the Zen 2 core in advanced 7nm production. The two new Threadripper processors will be available starting November 25, along with the 16-core Ryzen 3950X processor and 32 capillaries announced in June.
Also Read: Windows 10 will Speed Up After the 19H2 Update, As Long as You have an Intel Processor
The new Threadripper processors will first use a new sTRX4 model that will force users to use new motherboards that come with the new TRX40 chipset offering 72 PCIe 4.0 channels, 16GB/s data transfer speed and support for the increased power consumption of the new 280W.
Athlon 3000G
In addition to the Threadripper and Ryzen processors, the company has also introduced the Athlon 3000G processor, an upgraded version of the Athlon 200GE designed to be a low cost solution for users looking for a simple 720p gaming processor when it comes with 2 cores and 4 capillaries 3.5GHz with overclocking option. Its Vega 3 graphics core gets a speed upgrade to 1.1 GHz.
The Athlon 3000G will be available for sale starting November 19 at $49.
AMD's new Threadripper processors give the company another edge in the Intel Core Core race with a 32-core processor for the HEDT market, with the Ryzen 3950X processor increasing the number of core CPUs to 16.
Finally, the Athlon 3000G processor gives AMD a cheap response to low-demand users and provides very high performance relative to the $ 49 low price tag.