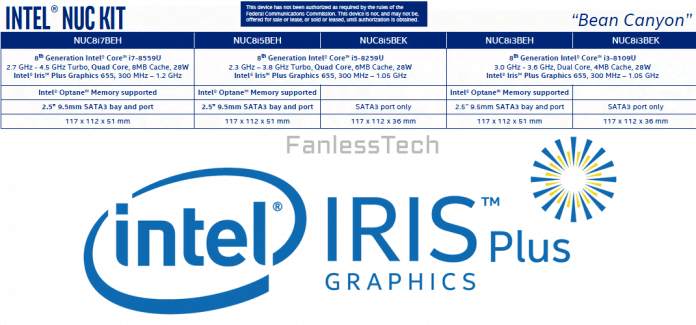 Intel has launched the NUC based on Kaby Lake-G processor, but now there is news that Intel will carry the new Iris nuclear display HADES CANYON (Pluto Canyon) and equipped with i7- 8650U DAWSON CANYON.
FanlessTech currently reports on Intel's next-generation NUC, which includes a new 8-generation Core low-voltage processor equipped with a sharp-enhanced version of the suffix number "9."
There are five new NUC models, including NUC8i7BEH (Core i7-8559U), NUC8i5BEH (Core i5-8259U), NUC8i5BEK (Core i5-8259U), NUC8i3BEH (Core i3-8109U), and NUC8i3BEK (Core i3-8109U).
The new Iris Plus 655 comes standard with 128MB eDRAM, the highest frequency (i7-8559U) 1.2GHz, 48 execution units, and supports 4K 60FPS output.
These processors will be equipped with quad-core and eight-thread CPUs, Iris cores, onboard 128MB of eDRAM, support for 802.11ac wave2 Gigabit Wi-Fi, and 48 EUs, significantly enhancing graphics capabilities. The specific release date of the NUC of the new Kaby Lake-G processor is currently unknown.