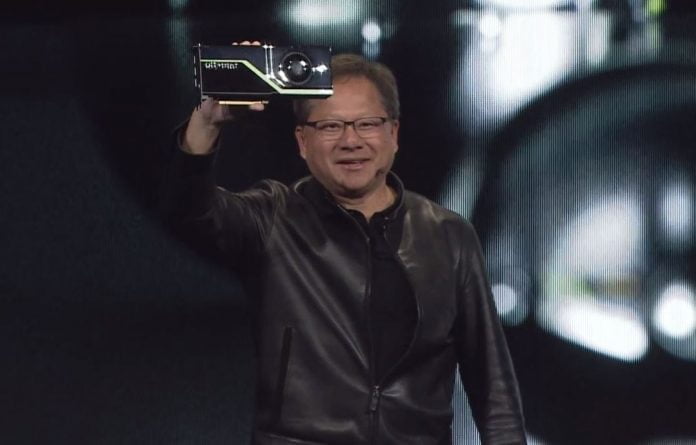 NVIDIA announced the " Quadro RTX " series. The company's CEO (Jensen Huang) positions the new generation Quadro with the new generation GPU core " Turing " as "the first ever raytracing GPU".
Mr. Jensen Huang with Quadro RTX card
Turing is a GPU that integrates 18.6 billion transistors into a huge silicon die of 754 mm 2. It is 1.2 times faster than the 3840 group of " Quadro P6000 " which had the largest number of CUDA Core in Pascal generation, and 1.8 times compared with 2560 group of " GeForce GTX 1080 ".
Specifically, Turing is a shader and computing processor with a maximum of 16 T FLOPS with the accumulation of up to 4608 "CUDA Core" and a processor capable of processing 10 G Ray / s (10 billion rays per second). It is a racing engine "RT Core", and AI inference engine "Tensor Core" that can execute AI inference for 500 T times per second (500 T Tensor OPs).
Quadro RTX GPUs with new Quadro Infinity software (available in the first quarter of 2019) to deliver a powerful and flexible architecture to meet the demands of creative professionals. Quadro Infinity will enable multiple users to access a single GPU through virtual workstations, dramatically increasing the density of the data centre. End-users can also easily provision render nodes and workstations based on their specific needs.
Specification outline of 3 processors making up Turing
With the industry-leading content creation and render software pre-installed, the Quadro RTX Server provides a powerful and easy-to-deploy rendering solution that can scale from small installations to the largest data centres, at one-quarter of the cost of CPU-only render farms.
Also, from the past case that Quadro and GeForce often share institution design, expectations are also growing in the specifications of the next-generation GeForce that is expected to be announced on August 20.
Although the maximum graphics memory capacity is 48 GB, it is possible to use two GPUs as one GPU by "NVLink Multi-GPU Interface", in that case, you can use up to 96 GB.
The lineup at the time of the announcement and the manufacturer's estimated selling price in the North American market are as follows.
Quadro RTX 8000 : 4608 CUDA Cores, 576 Tensor Cores (10 G Rays / s), graphics memory capacity 48 GB (GDDR 6), $10,000
Quadro RTX 6000 : 4608 CUDA Cores, 576 Tensor Cores (10 G Rays / s), graphics memory capacity 24 GB (GDDR 6), $6,300
Quadro RTX 5000 : 3072 CUDA Cores, 384 Tensor Cores (6 G Rays / s), graphics memory capacity 16 GB (GDDR 6), $ 2300