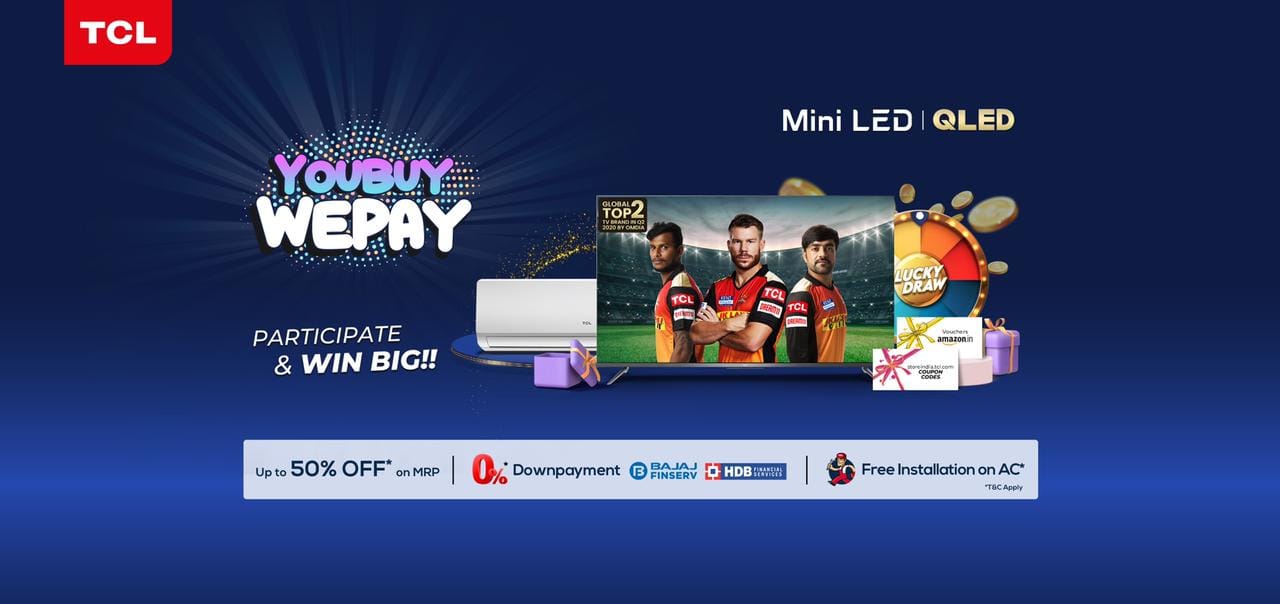 TCL, a global top-two television brand and leading consumer electronics company has launched the 2021 #YouBuyWePay Campaign, giving consumers an opportunity to win TCL's latest 4K TVs at great discounts and cashback. The 6-week campaign is already live on the brand's social media handles and official website.
It is divided into three phases: Up to 100% Cashback (week 1 and 2); ; Rs 1 Spin Wheel (week 3 and 4); and Share & Win (week 5 and 6).
1st stage: Win up to 100% Cashback

For online buyers
Customers who recently bought or are going to buy any TCL product online need to share their receipt(invoice) via a Google Form (link available on the contest post on TCL social media handles). Participants can also share their product experience in the comment section. Once it's done, they can share the contest post and tag 3 friends/relatives.
1st winner holder will get 100% cashback on the recent purchase, followed by 75% and 50% cashback for the 2nd rank and 3rd rank holders, respectively. Please note that the product's MOP should be within INR 1 lac.

For offline buyers
Customers who bought a TCL product from an offline Reliance store will also be rewarded. Those who bought or planning to buy a 4K or any QLED model will get a free 1-year Prime Video subscription worth INR 999. And to get the aforementioned prizes, they will be required to share their experience of TCL product(s) on the offline channel partner social media handles.
Also Read: TCL Connects with Customers Through #YouBuyWePay

10 runner-ups apart from the top 3 winners, who purchased TCL product offline will also get the chance to win 20% cashback. Again, do not forget that the product's MOP should not exceed INR 1 lac. (The prizes can vary with offline partners).

2nd stage: Rs. 1 Spin Wheel

Register yourself as a TCL Member by clicking on the campaign's social media post link or by directly going to the TCL website. Participate in the spin wheel and get a chance to win and make a purchase of big sized 4K products on TCL's official online brand store (storeindia.tcl.com) at Rs. 1 Customers also get discount codes to buy TVs and ACs on online brand store.

3rd stage: Share & Win – Promote Mini LED, Win big with TCL

In this round, customers need to promote any teaser of Mini LED on their social handles. The top 3 customers with the highest likes or shares or quality posts will be the winners of this contest and will be rewarded TCL QLED TVs. Winners also need to pay Rs. 1 for claiming their prize.