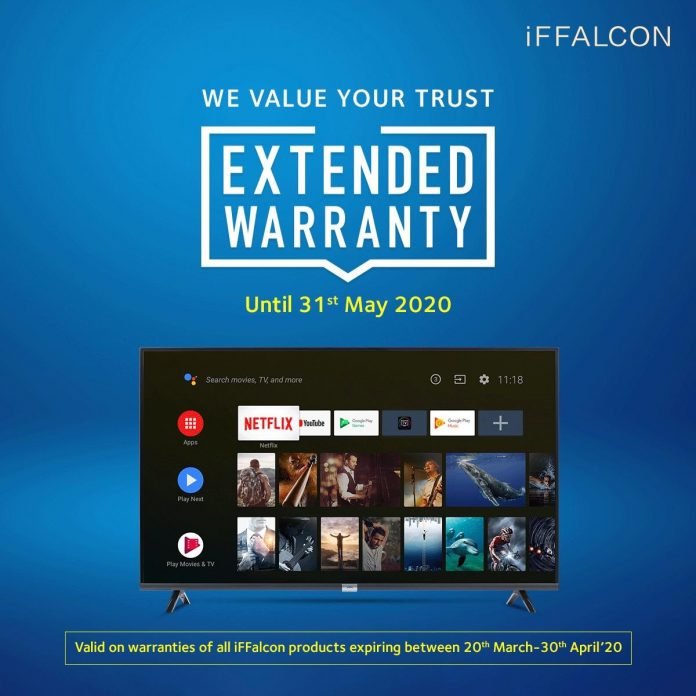 Leading smart TV manufacturer from the house of TCL aims to support its customers through this initiative
iFFALCON, a part of TCL Electronics, has announced a warranty extension on its range of smart TVs. In the current situation of nationwide lockdown, the warranty on iFFALCON products will now extend to 31st May from the original warranty that expired between 20th March and 30th April.
As the nationwide lockdown has now been extended to 3rd May 2020, iFFALCON has also decided to extend the date of arrival (DOA) period for its products from 7 days to 30 days. This will be valid for all purchases made between 15th March and 30th April 2020.
Commenting on the decision to extend warranty, Mike Chen, Managing Director, TCL India, said, "Our endeavor is to extend support to our consumers amid the lockdown situation. In the current situation, we have decided to extend warranty for our televisions till 31st May 2020. This move will help to strengthen our association with consumers. We also wish to remind our consumers that we are a constant partner in their entertainment and stand by them in this hour of global crisis."
Also Read: iFFALCON F2A TV Series Starts Receiving Android 9 Update
Talking about the iFFALCON brand, Mike Chen said, "iFFALCON from the house of TCL is focused on delivering high-end entertainment technology to the Indian youth. Our products are constantly innovating and we want to give our customers technology that is advanced and provides a superior TV entertainment experience."