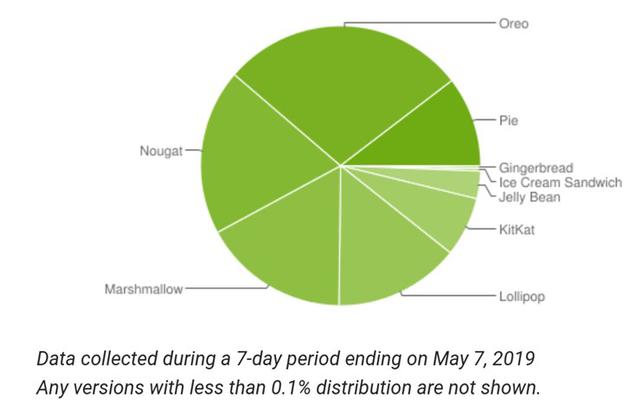 After announcing 2.5 billion active Android devices at its I/O 2019 developer conference in Mountain View, Google announced that 10.4% of the total number of Android devices currently running the Android 9 Pie system, the system was officially released on August 6, 2018, about nine months from now.
Compared with last year, Google's data has improved: As of May 2018, Android Oreo is only installed on 5.7% of Android devices, which means that the installation speed of Pie is twice.
Also Read: Here is the list of 21 Mobile that will Taste the Android Q Beta 3
Android Oreo still accounts for the largest percentage of Google's current installed base, with Android 8.0 and 8.1 totalling 28.3%, followed by Android Nougat of 19.2% (versions 7.0 and 7.1), Android 6.0 (Marshmallow) of 16.9%, and Android Lollipop ratio. It is 14.5% (4.1 and 4.0). Android Pie accounted for 10.4% and ranked fifth in the Android version.
Although the latest Android system is praiseworthy in terms of installation rate, it is still incomparable with Apple's iOS system. For example, iOS 12 took only 23 days to achieve a 50% installation rate. As of February 24, 80% of Apple devices use the iOS 12 operating system, and only 8% of the devices use systems older than 2017 iOS 11.