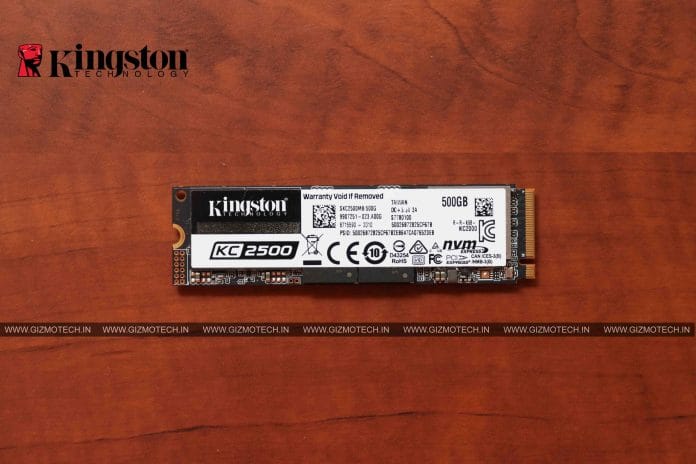 Kingston KC2500 SSD is the latest addition to the SSD market launched in April and successor to the KC2000. The Kingston KC2500 uses NVMe PCIe Gen 3.0 x 4 Lanes the drive is available in different capacities of 240 GB, 480 GB, 1TB and 2TB with a slight improvement over its predecessor in performance. In our Kingston KC 2500 Review, We will be reviewing the 500GB variant of the Kingston KC2500 which is priced at Rs 9,639 (Amazon) and is already available in the Indian market. (Amazon)
Kingston KC2500 Specs
The Kingston KC2500 is based on BiCS4 96L 3D TLC NAND from Toshiba (recently known as Kioxia) combined with a Silicon Motion SMI 2262EN NVMe controller. The KC2500 SSD uses a 256-bit XTS-AES hardware encoder with support for end-to-end encryption, which will be of interest to professionals first of all. The KC2500 contains support for TCG Opal 2.0 and Microsoft eDrive-based programs featuring Bitlocker. In terms of TBW (Total Bytes Written) for 250 GB model – 150 TB, for 500 GB model – 300 TB, for 1 TB model – 600 TB. Well, for the most capacious 2 TB version, 1.2 PB are promised. The KC2500 comes with an additional 5-year manufacturer's warranty which adds to the confidence in the drive.
As for the drive, we have a standard 80 mm long plate made on black PCB with a two-sided arrangement of elements. The front panel has a large sticker with some technical information. There is also a note that the drive is assembled in Taiwan. Under the sticker are four flash memory chips and a controller chip with a thin copper plate that improves heat dissipation. On the back, there are four more flash chips and two DRAM buffer chips.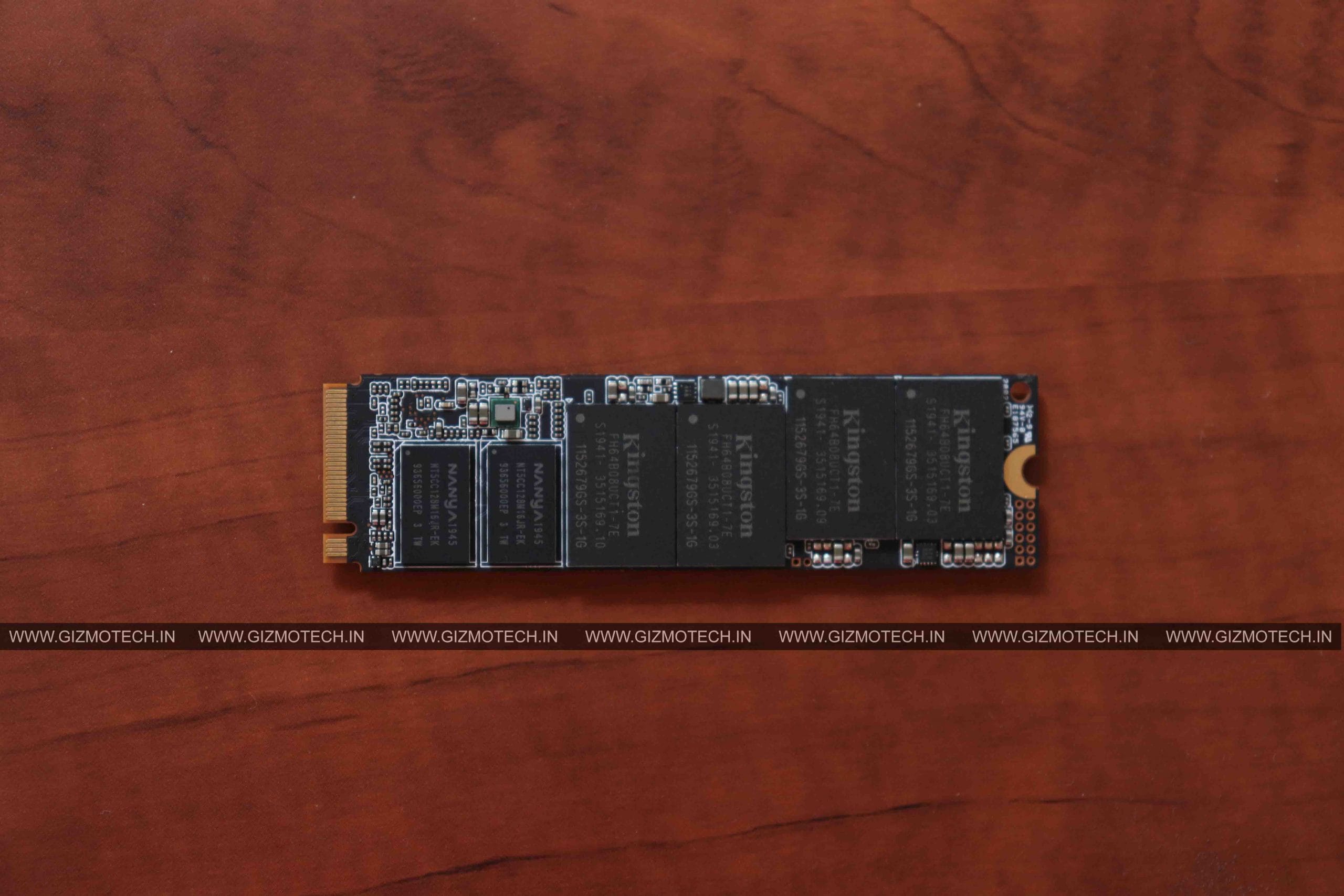 250 GB
500 GB
1 TB
2 TB
Model
SKC2500M8 / 250G
SKC2500M8 / 500G
SKC2500M8 / 1000G
SKC2500M8 / 2000G
Controller
Silicom Motion SM2262NE
Flash memory
96-layer 3D TLC (BiCS4)
Form factor, interface
M.2 2280, PCI Express 3.0 x4, NVMe 1.3
Sequential reading
3500 MB / s
3000 MB / s
3200 MB / s
3200 MB / s
Sequential write
1200 MB / s
2000 MB / s
2200 MB / s
2200 MB / s
Random Read 4K Blocks
375,000 IOPS
375,000 IOPS
375,000 IOPS
375,000 IOPS
Random write 4K blocks
300,000 IOPS
300,000 IOPS
300,000 IOPS
300,000 IOPS
Guaranteed Recording Capacity (TBW)
150 TB
300 TB
600 TB
1200 TB
Encryption 
AES-256, TCG Opal 2.0, eDrive
Energy consumption
0.003W (idle) / 0.2W (average) / 2.1W (max read) / 7W (max write)
Manufacturer's warranty period
5 years
Kingston KC2500 Performance and Benchmarks
CrystalDiskMark
In the Crystal Disk Mark benchmark, we get a peak of 3500 MB / s in reading and over 2900 MB / s in data write operations. When displaying the results in the form of I / O operations per second on 4K blocks, we have up to 350,000 IOPS.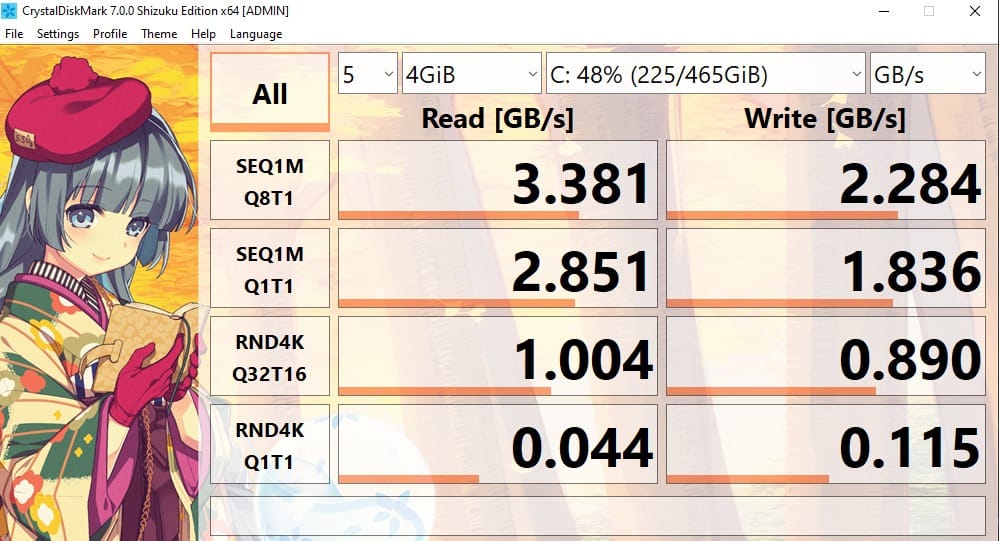 An SSD Benchmark
AS SSD Benchmark 2.0.7 confirms the excellent 4K QD1 performance with nearly 16,000 read IOPS. The benchmark also contains a small copy test that simulates three basic sequential write options: one large file (ISO), many small files (Program), and a combination of the two (Game).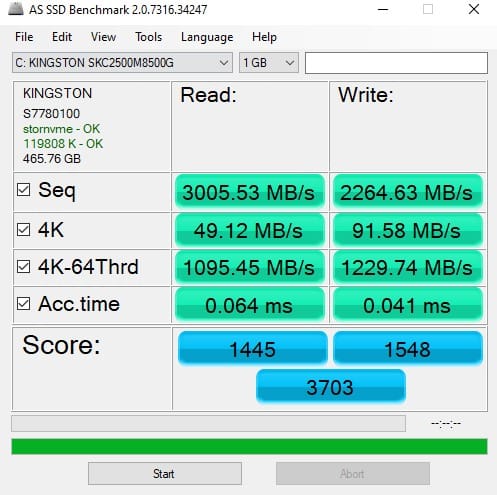 Also Read: Kingston Technology Top DRAM Module Supplier in 2019
Also Read: Xbox Series X will Arrive in India for 49,990 INR, Series S at 34,990 INR; Pre-Order Starting September 22
Temperature
Due to the different locations of the M.2 slots on different motherboards, temperatures can vary greatly from system to system. Somewhere the M.2 slots are under the video card, somewhere above it. Also, most modern motherboards contain a small heat spreader for M.2 drives. In my case, the SSD was installed in a slot below the video card. The load was simulated by copying 400 GB of files to an SSD. At the same time, the NVMe drive from Kingston warmed up to 51 degrees, judging by the built-in sensor. There was no talk of throttling or loss of speed. Also, when tested inside a laptop there was not much rise in the SSD temperature with a maximum of 57 degrees under a simulated test of copying 100GB.  
Kingston SSD Manager
Kingston SSD Manager is the Kingston's proprietary software which helps you with all the necessary functions: drive performance monitoring, firmware update function and a separate page for managing TCG Opal 2.0 and IEEE-1667 protection functions.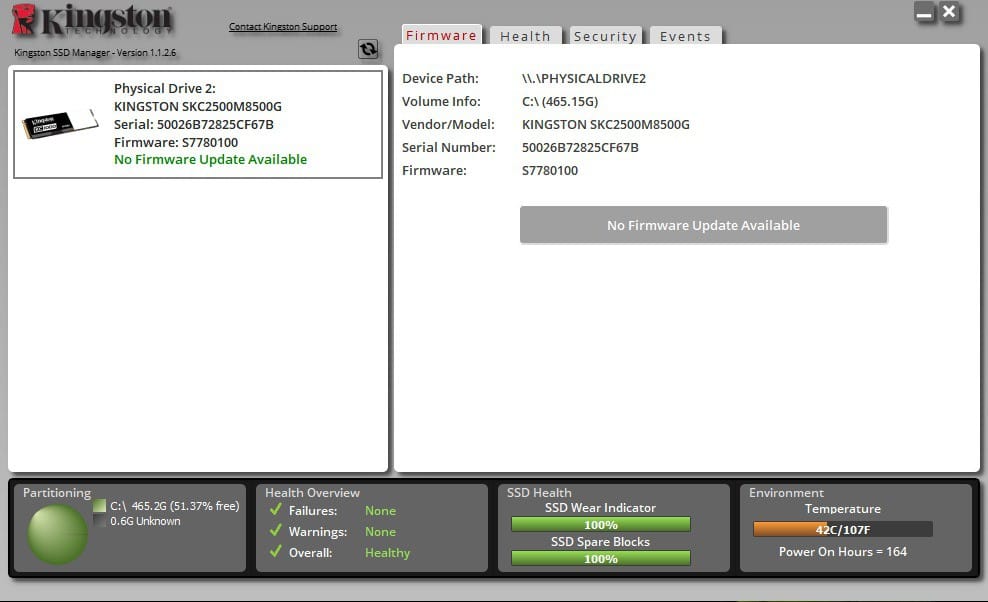 Conclusion
In our Kingston KC2500 Review we found that the drive performs excellently in all tests, including those that matter to gamers. If you are looking for an enthusiast performance the KC2500 won't disappoint with its capabilities, but if you are not so enthusiastic and are on a budget you have different options to look for like Kingston A2000 or Crucial P2.