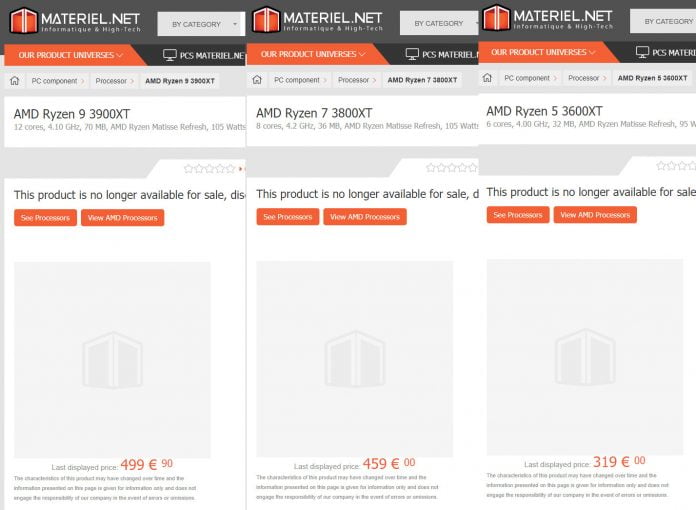 The upcoming Ryzen 3000XT processors have surfaced at a French retailer. It concerns three chips of the 'Matisse Refresh' generation, including a Ryzen 5, 7 and 9. The new models will have higher clock speeds and maybe sold alongside the current chips.
Although the existence of these chips was already known the webshop confirms previous rumours about this. So there are three chips: the Ryzen 5 3600XT, Ryzen 7 3800XT and Ryzen 9 3900XT. These are clocked 200-300 MHz higher than the current models, but otherwise appear identical and the specified TDP's are also the same.
Also Read: HyperX Cloud Stinger Core PC Gaming Headset Launched in India
Prices are also stated in the webshop, but it should be noted that this retailer usually charges higher prices than the recommended retail price. According to sources, the Ryzen 5 3600XT is about $ 28 more expensive than the 3600X. So they will probably be slightly more expensive than the current generation, but cheaper than this retailer has online.
| | |
| --- | --- |
| Ryzen 9 3900XT | 12 cores / 24 threads, 4.1GHz to 4.8GHz, 64MB L3, 6MB L2, 105W TDP |
| Ryzen 9 3900X | 12 cores / 24 threads, 3.8GHz to 4.6GHz, 64MB L3, 6MB L2, 105W TDP |
| Ryzen 7 3800XT | 8 cores / 16 threads, 4.2GHz to 4.8GHz, 32MB L3, 4MB L2, 105W TDP |
| Ryzen 7 3800X | 8 cores / 16 threads, 3.9GHz to 4.5GHz, 32MB L3, 4MB L2, 105W TDP |
| Ryzen 5 3600XT | 6 cores / 12 threads, 4GHz to 4.7GHz, 32MB L3, 3MB L2, 95W TDP |
| Ryzen 5 3600X | 6 cores / 12 threads, 3.8GHz to 4.4GHz, 32MB L3, 3MB L2, 95W TDP |
Source: Twitter, materiel.net